Exclusive Preview of the 2016 Student E-Expectations Survey in 4 Parts
The results of the April 2016 Ruffalo Noel-Levitz survey on the E-expectations of college bound seniors and juniors (n=3,117) will be officially released next Wednesday.
But, I managed to get the results – before anybody else – courtesy of Stephanie Geyer from RNL who will present the results of this survey next week for the first time and later this year at several other conferences (eduWeb, HighEdWeb and the AMA Symposium for Higher Ed).
If you've worked in higher education marketing for more than a year, you know how important this annual survey launched in 2005 has become for marketers and communicators. It's the gold standard of research on the digital expectations and habits of the new class of college freshmen (high school seniors) and the new crop of prospective students (high school juniors).
It's fresh, reliable data at its best for higher ed marketers!
Since there are so many great insights in this research, I've decided to break them down into 4 different posts this year:
As you'll see in some of the charts I'm sharing with you in this post, RNL has also included data from previous surveys.
Here's the key to understand the abbreviations used in the charts:
Co16 Jrs Spr 15: Juniors from the spring study in 2015, class of 16
Co16 Srs Fall 15: Seniors from the fall study in 2015, class of 16
Co16 Srs Spr 16: Seniors from the spring study in 2016, class of 16
Co17 Jrs Spring 16: Juniors from the spring study in 16, class of 17
The Magic 4 of Social Media Use: YouTube, Facebook, Snapchat and Instagram
While higher ed marketers can (and do often) fall prey to the shiny object syndrome with social media platforms, it's important to keep up with the top channels used by prospective students.
When it comes to weekly usage, YouTube, Facebook, Snapchat and Instagram are all used by a majority of surveyed high school students.
Things change very fast as digital expectations and habits of college-aged students evolve from one generation to another – and sometimes even faster.
Snapchat has suprised more than one college marketer by its rise as a major social media platform over the past 2 years.
According to the survey, it's now the top DAILY social media platform with 60% of the surveyed high school students using it every day (vs. 53% for YouTube and Facebook).
Best Social Media Channels for College Info
Now, it's not because college-bound students use a social media platform every day to interact with their friends that they think it's the best one to find college information.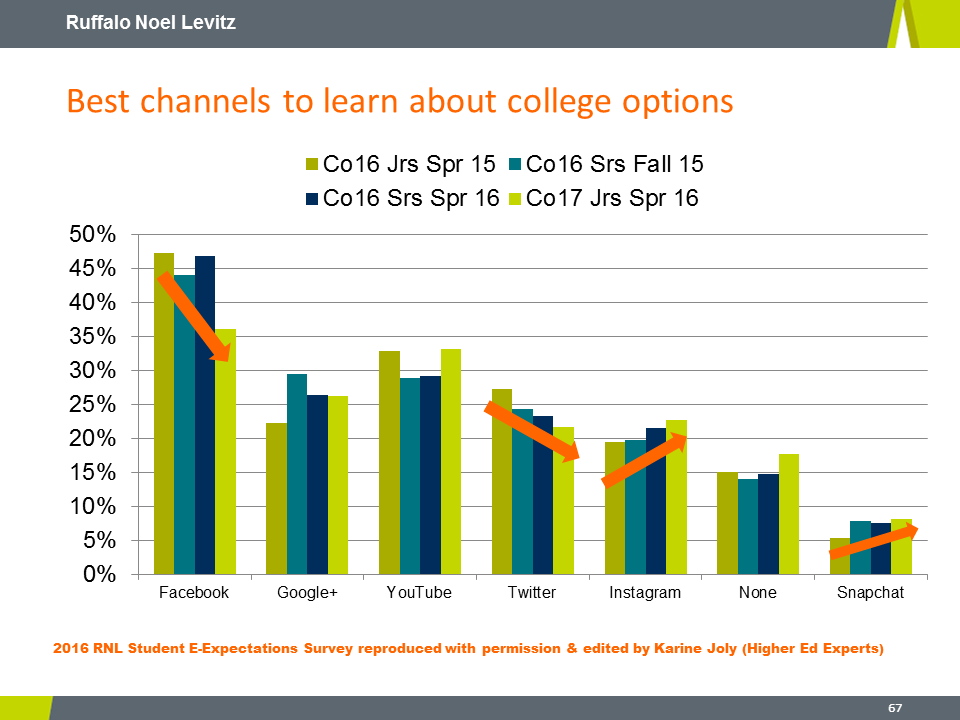 Facebook is still perceived as the best social media channel for college info by 47% of HS Seniors and 36% of HS Juniors, just before YouTube and far before Snapchat (7.6% for Seniors and 8.1% for Juniors).
However, I think the 52%-increase in Snapchat use for Juniors year-over-year is impressive and shows great potential as Snapchat adoption among higher ed institutions is still low.
Most Interesting Topics and Best Formats for Social Media Content
Great content is the key to social media success. If your content doesn't hit its mark with your audience, your social media reach will plunge.
The vast majority of your prospective students is interested in content featuring your current students: their life, their activities, their places, their successes, etc.
Students also want to look at photos (77% of seniors, 74% of juniors), videos (52%, 50%) and then news stories and features (47%, 46%).
Social Media Accounts: Not As Reliable As Websites and Email
According to the survey results, social media accounts from colleges and universities are still not seen as reliable as other digital channels by 37% of HS Seniors and 48% of HS Juniors.
This "trust gap" with institutional websites and email can be explained by the type of content that works well on social media.
Beautiful photos, memes and funny content might get engagement, but they don't convey a sense of reliability and authority – another reason why the multi-channel integrated marketing approach is crucial to communicate with prospective students as I often tell your colleagues in my 8-week online course on social media marketing for higher ed.
Yet, as you can see, trust in the information shared by schools on social media accounts increases over the duration of the admissions cycle (from CO16 Juniors to CO16 Seniors), a true testament to the hard work of all the higher ed social media professionals.
Next: Insights on Higher Ed Websites
Stay tuned (or subscribe to my newsletter) for my next post in this series with insights from the 2016 RNL Student E-Expectations Survey about school websites.
Tags:
2016 E-Expectations Research
,
Higher Ed News