Want to post a job?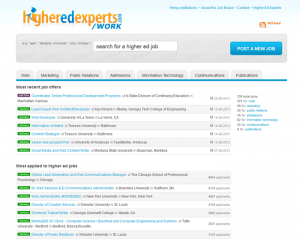 This job board, maintained by Higher Ed Experts for the higher ed community, was launched in July 2008 at higheredexperts.com/work.
In August 2013 we moved to a new system to make it easier to use, maintain and reduce spam issues.
You can post job openings from your university, college or school for free.
Once posted, your job posting will be:
listed on this website
automatically distributed on the @higheredexperts Twitter account
syndicated on collegewebeditor.com and the Higher Ed Experts homepage
included in Karine Joly's weekly email newsletter sent every Wednesday to more than 2,500 professionals working in web, communication, social media and marketing for universities and colleges.
How to post a job if you don't have a free EMPLOYER account yet?
Register now to manage and update all your job postings easily
Post your new job by completing and reviewing the job form
You will be notified via email when your posting is published
You will be able to edit your job postings after you log in
How to post a job if you have an Employer account
Log in your employer account
Post your new job by completing and reviewing the job form
You will be notified via email when your posting is published
Edit your job postings if/when necessary