Karine Joly, Social Media Marketing Educator and Expert
Karine oversees the development of the professional development curriculum at Higher Ed Experts. She also taught the capstone graduate course of the MBA in Social Media Marketing at Southern New Hampshire University: Social Media Marketing Campaigns, a course she designed and authored for this SNHU online program.
Karine shares her insights about emerging web and social media trends on collegewebeditor.com, a popular and independent blog launched in February 2005. She also authors the Internet Technologies column for University Business. She has presented on social media marketing, web analytics and online courses at leading higher ed conferences (CASE, American Marketing Association, EduComm, eduWeb, CUPRAP, HighEdWeb, etc.).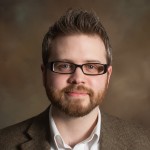 Joshua Dodson, Google Analytics Qualified Web Expert
Joshua is a Google Analytics Qualified Web expert who has worked with numerous colleges and universities to improve their Web presence and better understand their user trends. His extensive back-end Web knowledge is equally matched with an understanding of the importance of driving results on the front end—and proving return on investment. His in-depth SEO experience ties campaigns to results to show true impact.
Before joining Eastern Kentucky University as a SEO and Web Analyst, Joshua worked as a Web Analytics Strategist and a Web Developer for Lincoln Memorial University in Harrogate, TN.
Joshua has presented at industry conferences on advanced Web analytics, open source technology, WordPress for academic libraries, and other topics. He has published extensively on WordPress and his most recent publication for the American Library Association explores methods of Website architecture as related to academic libraries.
Stewart Foss, Web Designer and eduStyle Founder
Stewart has spent the last decade working in higher ed. He has worked in web management for two institutions, Athabasca University and Grant MacEwan University, and as an instructor at another, Lethbridge College.
He is the founder of eduStyle and the eduStyle Higher-ed Web Awards. He is the co-author of the eduStyle Guide to Higher-ed Homepage Usability. He is also the co-founder of Demand Creativity, a web design agency. He is an author, teacher, blogger, coder and designer.
Donna Lehmann, Director of Online Communications, Fordham U
As Director of Online Communications, Donna is leading a complete overhaul of the content and design of the Fordham University website. She joined Fordham in 2013 after fourteen years at the Fashion Institute of Technology where she led two full-site redesigns, both earning CASE Circle of Excellence awards. While at FIT, Donna also served six years on the board of the SUNY Council for University Advancement (SUNYCUAD) with active roles in planning their annual conferences.
She holds a bachelor's degree in English and master's degree in American Literature from Kansas State University and completed coursework toward a PhD at the University of Delaware. In her five-year graduate school career, she taught expository and business writing as well as literature courses.
Sofia Tokar, Web Writer, University of Rochester
Sofia is the web writer for University Communications and Arts, Sciences and Engineering at the University of Rochester. Her work includes creating, editing, and curating content for the university's homepage and top-level pages, departmental web pages, and social media accounts.
Before joining UR, Sofia worked as the assistant editor in the marketing and communications department at Nazareth College. There she also taught introductory seminar courses for freshmen. Her work as part of the team at Nazareth has been recognized with awards from CASE and PRSA.
Sofia earned her master's degree in English language and literature from Queen's University in Canada. She is also a graduate of the Higher Ed Experts web writing certificate program.
Julie Campbell, Interactive Marketing Director Ball State University
Julie Campbell is the director of interactive marketing in the University Marketing and Communications (UMC) department at Ball State University.
Alongside UMC and university leadership, she develops an interactive and integrated marketing communications strategy that advances the university's marketing and communications goals, especially on digital platforms. She is also responsible for training clients across campus on content strategy best practices.
Prior to Ball State, Julie worked at Taylor University as the director of online communications and as an adjunct professor teaching consumer behavior, branding, and marketing best practices.
Julie has also given speeches on storytelling at various conferences, including EduWeb in 2012. Julie earned a master's in business administration from the University of Notre Dame, and has nearly a decade of experience with developing content for web sites and other marketing communication materials.
Michael Powers, Director of Electronic Communications
Michael Powers is currently Director of Electronic Communications at Indiana University of Pennsylvania, where he has worked since 1999. A former English professor, Michael coded his first HTML in 1993 when he probably should have been reading Shakespeare.
Since that time, he has moved from web-enabled English professor to e-learning developer to web developer to Director of Web Services and then to his current position. (He is looking forward to returning soon to his regular position as Director of Web Services and getting back to the web full time.)
As IUP's Director of Electronic Communications, Michael has overseen the university's transition from its static HTML website to its first content management system. He has worked to leverage the CMS throughout IUP's communications infrastructure, including the development of IUP Daily: a daily e-mail newsletter for faculty and staff that draws on content from the university website. This publication has served as the model for several similar e-mail publications including newsletters for parents, alumni, and students. He is currently working on creating mobile solutions for IUP, both web-based and app-based.
Michael serves on IUP's Academic Computing Policy Advisory Committee and its Emerging Technology Committee. He has presented on user research at eduWeb and blogs over at Museyroom.