Why did so many of my higher ed colleagues take this course?
More than 200 of your higher ed colleagues have dramatically improved their web and social media writing skills by taking this constantly updated professional certificate online course since 2012.
Want to write stronger Social Media and Web Content for Higher Ed?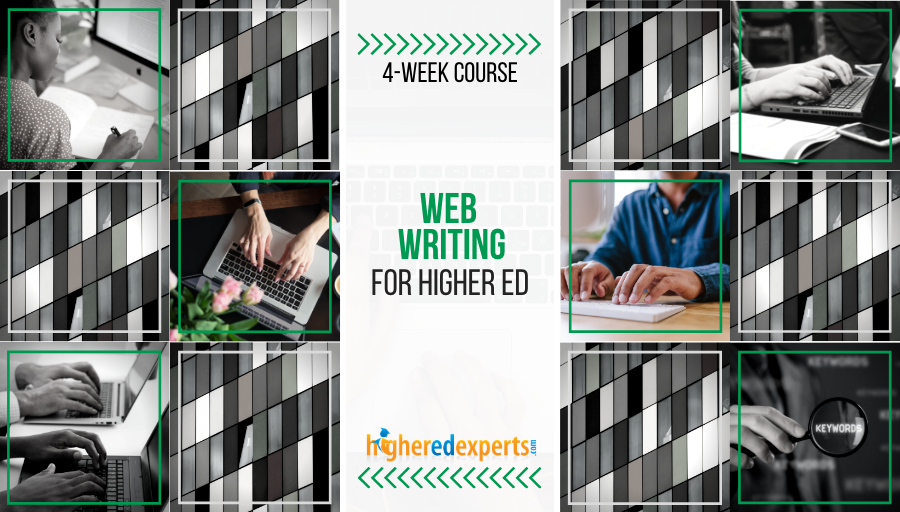 Do you write the content for your school's website or social media channels, even though you've never had any formal web writing training?
Has social media and web writing recently been added to your job responsibilities at your university, college or school?
Do you need to optimize your web content so it ranks well in search engine results, gets shared on social media and is read by your target audiences?
Web writing for higher ed is not easy.
It is very challenging to master without guidance and practice.
We want to help you as we've helped more than 200 of your colleagues working in universities and colleges.
This course was designed for YOU, to help you learn more by practicing and improve your web writing skills as result.
Jul 12, 2021

-

Aug 08, 2021

Register by Jul 09, 2021
Tuition & fees: $1200

$

800

Only 10 seats left
What will I learn about Writing for the Web and Social Media in Higher Ed?
You will study and practice what you need to know to write better social media and web content for your higher ed institution during this 4-week online course:
How to write for online readers (conversational style, microcontent, etc.)
How to optimize your web content (SEO, headlines, lists, tables & visuals)
How to tell great stories with the right voice, tone and techniques
How to use content strategy to help you make better web writing happen
How will I learn?
You'll learn by:
investing 10 hours per week of your time on course materials, quizzes, discussions with your classmates and assignments.
studying when it's convenient for you as long as you meet the weekly deadlines for class discussion posting and assignment submissions.
exchanging with a small group of your peers in our sessions limited to 10 participants working in institutions of higher education.
working on weekly web writing hands-on assignments you can use the next day at work: program page, email message, tweets, blog posts, user persona, page template, etc.
getting detailed and prompt feedback on all your graded assignments from your professor.
Who will be my professor?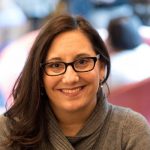 Dr. Corie Morell Martin, Professor of Marketing - Gordon Ford College of Business, Western Kentucky University
A professional writer and communicator, Dr. Corie Martin has worked in higher education since 2008, currently as a professor of Marketing for the Gordon Ford College of Business at Western Kentucky University. She served as the Director of Web Services and Digital Marketing for Public Affairs at WKU until the summer of 2019, when she began serving as the Executive Director of Marketing and Public Relations for Med Center Health, a system of six hospitals and subsidiaries in Southcentral Kentucky.
Her career spans nearly 25 years in journalism, advertising, media relations, web services, social media and marketing. She began her career at WKU as the first ever social media recruiter for the Office of Admissions, before moving to Public Affairs, where she led award-winning website redesign efforts, unique social and digital media initiatives, and major marketing outreach campaigns.
A frequent speaker at conferences, events (HighEdWeb, eduWeb, Ruffalo Noel-Levitz NCSRMR, NACAC, AASCU, and Higher Ed Social Media and Content conferences for Higher Ed Experts), and a contributor to higher ed publications, Dr. Martin shares best practices in social media, collaborative content strategies, and innovative outreach solutions.
Dr. Martin holds a BA in Communication, an MA in Organizational Management, and an Ed.D. in Postsecondary Educational Leadership. She is a member of the Higher Ed Experts faculty, teaching the 4-week online course on Social Media and Web Writing for Higher Ed, a course she also completed.
Should I take this course on Web Writing for Higher Ed Course?
This course is recommended for:
How will this course pay off for my institution?
Your institution should invest in this course for these top 5 reasons:
No travel expenses or down time while you learn much more than you would by attending any workshop or conference: 4 weeks give you the time to absorb all the concepts and acquire new skills.
The focus of this course is social media and web writing for higher ed: everything will apply to your situation
Your classmates will all work at universities, colleges or schools: you'll find out how other institutions tackle web writing challenges.
You will learn by working on practical assignments: you'll be able to implement best practices at work even before the end of the course.
Your course registration covers everything you need including a 1-year access to all the course materials.
What is included in my course registration fee?
Course materials: screencasts, readings, quizzes, 4 graded discussions & 4 graded assignments.
Unlimited questions via the "Ask the Prof" discussion board during the 4-week session.
1-year access to the regularly updated online course materials.
Recognized certificate of achievement in social media and web writing for higher ed upon completion of the course with a final grade of 80% or more.

Really interested in this course?
If you're thinking about taking this course, request more information by filling out this online form:

Don't miss the next session!
Jul 12, 2021 - Aug 08, 2021
Register by Jul 09, 2021
Tuition & fees: $1200 $800

Only 10 seats left