Aaron Baker, Associate Director of Content Strategy- Harvard University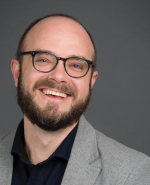 Aaron is a 15-year veteran in the Higher Education industry, with experience in Admissions, Academic Affairs, Information Technology, and Marketing Communications. Aaron is the associate director of content strategy for Harvard University Public Affairs and Communications, where his primary responsibility is measuring the impact of digital content produced by Harvard or written about Harvard. He also serves as a data evangelist, helping writers, editors, and content distributors get a sense of how engagement metrics can inform their work.
Aaron's experience in many aspects of the digital product lifecycle gives him unique insight into what metrics matter most and to whom. He produces reports and dashboards, organizes professional development events for digital communicators, and translates business objectives into action items for developers.
Aaron is a faculty member at Higher Ed Experts where he teaches web analytics for higher ed. He holds a Master of Arts degree in Technical Writing and a Graduate Certificate in Data Science from the University of Arkansas at Little Rock. Aaron has also taught upper-level technical writing and information technology college courses.
---
What does Aaron Baker teach at Higher Ed Experts?