What will help you "win" social media for higher ed in 2015?
Are you in charge of social media at your school?
Do you spend more time on Twitter, Facebook, Instagram and/or LinkedIn than you do in meetings on campus?
Do you smile (or cry, sing or even jump) each time Facebook, Twitter and Instagram announce new features?
Have you tried SnapChat or Social Advertising yet?
This on-demand conference was designed for you: it is all about social media, only about social media and includes 15 sessions of 10 minutes each (So many proposals submitted this year were great that we decided to include 3 more sessions than last year while keeping the same price).
This conference is THE annual online event for higher ed social media professionals and teams.
The next edition will take place on December 2, 2015. The call for proposals will open in September.
Want to watch the #HESM14 Conference sessions?
If you previously registered and paid your registration fee, LOG IN!
If you didn't attend the conference live, buy a $400 on-demand 12-month pass now and get access to the:
15 session recordings
handouts (PDF)
Audio recording of the general Q&A Session
2014 Higher Ed Social Media Conference Program
Higher ed social media: Latest trends & next big things
Cara Rousseau, Digital & Social Media Strategy Manager at Duke University
Innovation in higher ed social media never stops. In this presentation, Cara will give you a fast-paced overview of the latest social media trends and strategies used in higher education. From post-Facebook conversations to brand ambassadors and "trendjacking," you'll take away lots of ideas and practical information to try at your school.

Listen, respond, and take action: Using resources you have to reach students and your goals
Corie Martin, Creative Web Services Manager at Western Kentucky University
How do you use social media to engage students during their college search process? Do you simply share information, or do you invite student feedback? Relationships that you establish early on can encourage your students to enroll and persist at your institution. In this presentation, Corie Martin will explain how you can use the resources you already have in place to create a winning social media student service program for both new and existing students to help meet enrollment goals, excite students, and get the job done.

#FollowTheLeader: Best practices in social media for higher education presidents, provosts, deans & VPs
Dan Zaiontz, Marketing Professor & Special Projects Coordinator at Seneca College
Is your college president on social media yet? Do you wish s/he was doing a better job at it? After conducting a major research study including more than 20 confidential interviews with Canadian and American university and college presidents, Dan Zaiontz wrote the book that will help you get your leader there: "#FollowTheLeader: Best Practices in Social Media for Higher Education," to be published by mStoner Media in December 2014. In this presentation, he will share best practices in social media engagement by higher education leaders and a few recommendations for strategic advisors in assisting leaders to do social media right.

10 steps to successfully launch a social media ambassador program
Sandra Ordonez, Assistant Director of Social Media at St. John's University
Don't have a social media ambassador program yet? Want to revamp yours? In this presentation, Sandra Ordonez will tell you how to launch a Social Media Ambassador Program for your department with 10 effective steps. She'll explain how to get your social media ambassadors to create social content, promote and attend events, as well as assist with the growth of your social media following.

Building your programs searchable reach: Using social media to help in searchability and findability.
Andrew Smyk, Program Coordinator at Sheridan College
How to use simple strategies for web and social media content to help build your programs reach and findability? In this presentation, Andrew Smyk will explain how social media content can help promote your academic program and help potential students find your program. You'll also learn how to be selective with cross posting content and use multiple social media streams to create an opportunity for potential students to stumble across your program.

Surprise & Delight: How to build engagement when they least suspect it
Tyler Thomas, Social Media Specialist at University of Nebraska–Lincoln
Our audiences are busy, have strong 'baloney detectors' and are often inundated with information. The Surprise & Delight tactic allows your brand to enter the conversation and build positive sentiment without your audience even knowing it. In this presentation, Tyler will introduce you to the ins and outs of this tactic from the simplest Surprise & Delight social situations to more advanced campus wide initiatives that make a huge splash.

Social media success story: How U of G overcame the "We Don't Do Stupid" Generation.
Angi Roberts, Information Services Manager at the University of Guelph
This generation of prospective students belong have always been bombarded with savvy marketing campaigns. They're a tough audience to crack. They don't do stupid. In this presentation, Angi will tell you how the integrated campaign to hand-deliver admissions letters launched last spring helped wow students. You also find out how you can make these students your fans, influencers and marketers by giving them what they want: something remarkable.

Facebook Case-Study: Far from dead for incoming students and current parents
Kat Hasenauer Cornetta, Assistant to the Dean of Students for Programs, Communications & Technology at Boston University
Survey after survey and article after article, the demise of Facebook as a communication platform for students is announced everywhere. At Boston University, the Dean of Students Office had begun to buy into the idea that students were straying away from Facebook to get information or interact with their community. Yet, after being asked to collaborate on two new Facebook properties, Kat Hasenauer Cornetta was surprised to witness the most engagement she had ever seen in 8 years of managing Facebook for her division. In this presentation, Kat will share details on the audience research and strategy leading to this success story as well as lessons learned in managing communities of incoming students and current parents.

Instagram case-study: "Thanks for the #NazMoveIn memories"
Alicia Nestle, Assistant Director-Multimedia and PR at Nazareth College
From Orientation weekend to Labor Day weekend, Nazareth College asked students to capture their first few weeks of school and show their school pride by taking part in the #NazMoveIn Instagram Challenge. The Challenge encouraged incoming freshmen and transfers to feel connected via the Nazareth College social community, while providing the College an opportunity to crowdsource and curate authentic photos taken by Nazareth students. In this case-study, Alicia Nestle will present the strategic goals, dynamics, lessons learned and results of this Instagram challenge.

Instagram case-study: The #LifeAtCentral Challenge
Rachel Esterline Perkins, Associate Director of Public Relations and Social Media at Central Michigan University
In its inaugural year in 2013, CMU's #LifeAtCentral Instagram Challenge reached 47,500+ people with 120,000+ impressions, and increased followers by nearly 40 percent in one month. In this presentation, Rachel Esterline Perkins will review the successes and challenges of running a month-long photo-a-day challenge at a large university. She will also explain how the challenge evolved after the first year to encourage further growth and engagement in its 2nd edition in October 2014.

Facebook promoted posts and Twitter ads: Is it worth it?
Julie Winch, Social Media Director at Emory University
To promote, or not to promote? That is always the question. Promoting your posts on Facebook or Twitter can sometimes give you hundreds more likes and shares than organic posts , and other times it's a total waste of money. What does promoting your post really give you – impressions or engagement? Can you accomplish both? In this session, Julie Winch will help you find the best bang for your buck when it comes to boosting your social posts.

It's time to venture into the world of Tumblr
Stephanie Leishman, Social Media Strategist at MIT
Have you stepped into the wonderful world of Tumblr yet? Tumblr is not another Facebook and works very differently. In this presentation, Stephanie Leishman will tell you what's different and how you should approach this platform. You'll learn the basics of Tumblr for higher ed and find out how to reach a younger demographic through several case studies.

Snapchat won't bite: Why your university should give Snapchat a try
Tony Dobies, Senior Writer at West Virginia University
Don't fear Snapchat! It can be a powerful tool in higher ed. WVU wasn't the 1st university to start, but did its homework. In this presentation, Tony Dobies will explain how WVU launched its Snapchat account and how it has used it so far for football games, presidential snaps & campus visits.

Photo Friday: Your website can be more social than you think
Lori Packer, Web Editor at the University of Rochester
Every Friday for more than five years, the University of Rochester has turned over the large photos on its homepage to the People: students, faculty, staff, alumni, and parents. In this presentation, Lori Packer will tell you all about the goals, dynamics and results of Photo Friday, so you can make the case for publishing social user-generated content on YOUR school website, too.

More than just a #: How hashtags can take your event from good to great
Tiffany Broadbent Beker, Social Media Coordinator and Web Developer at the College of William & Mary
Hashtags are associated with nearly every marketing campaign nowadays, but are they actually useful? More than just a trendy # symbol, hashtags can create conversations and buzz long before an event starts and help them continue after the last participant has left. Are you using this marketing and social media tactic effectively for your organization and its events? In this presentation, Tiffany Broadbent Beker will explore how to create a great hashtag, how to publicize it, and some of the best ways to showcase it before, during and after your event using examples from W&M's 2014 admission and commencement programs.

Who teaches the Higher Education Social Media Conference?
Cara Rousseau, Social Media Strategy Manager, Duke University
Cara joined Duke University in 2011 after serving as director of partnership initiatives for the Research Triangle Foundation of North Carolina, where she focused on marketing, strategic initiatives, social media efforts and partnership relations.
She worked previously at the City of Durham's Office of Economic and Workforce Development. She holds an MBA from the Kenan-Flagler Business School and an undergraduate degree in economics and political science, both from the University of North Carolina at Chapel Hill.
Corie Martin, Creative Web Services Manager, Western Kentucky University
Corie Martin joined Western Kentucky University in 2008 as the Manager of Creative Web Services for the Division of Public Affairs. Her office oversees the WKU.edu website, major marketing initiatives, and WKU's award-winning social and interactive media programs.
Corie is a member of the WKU News team, chairs the WKU Web Council, and Web Standards Committee. She serves on the Uversity Product Council, and is an proud member of the Higher Ed Web Association and the American Marketing Association. You can read about some of Corie's projects in LINK: The Journal of Higher Ed Web Professionals, and she has been featured in University Business Magazine.
Corie has presented at HighEdWeb, CASE-KY, the Noel-Levitz National Conference on Student Recruitment, Marketing, and Retention, the OmniUpdate User's Conference, and at the AASCU Academic Affairs Provost's Meeting. Ms. Martin will become Dr. Martin in 2015 after three years of reading theories, writing papers, and researching the role of social media in collegiate recruitment and retention. Please connect @coriemartin or linkedin/in/coriemartin.
Dan Zaiontz, Special Projects Co-ordinator, Seneca College
Zaiontz is part of the communications and strategic planning team at Seneca College, serving previously as the college's Sports Information and Promotions Coordinator and currently as Special Projects Coordinator and Professor.
Dan Zaiontz, MCM is a Toronto-based professional communicator with more than eight years of diverse experience representing some of Canada's largest media brands. Including stints at Rogers Sportsnet and Canada's Olympic Broadcast Media Consortium, Dan has helped to share the stories of a number of major events and properties from the Vancouver 2010 Olympic Winter Games to the Toronto Blue Jays.
Specializing in social media strategy, speechwriting, and public relations, he completed a Master of Communications Management (MCM) from McMaster University-Syracuse University in 2014. In spring-summer 2013, Zaiontz conducted a major research study entitled #FollowTheLeader. The study was the culminating capstone project of the researcher's tenure in the MCM program. The findings of the study served as the foundation for Zaiontz's new book #FollowTheLeader: Best Practices in Social Media for Higher Education CEOs to be published in December 2014.
Dan loves to talk leadership, politics, the frustrations of being a Toronto sports fan, health foods, running, motivation, great TV and film (see: Aaron Sorkin), rock music (see: Foo Fighters) and ethical shopping (see: bleeding heart). Dan resides just north of Toronto with his wife, Rebecca, and their daughter, Samantha. He can be reached on Twitter: @danzaiontz.
Sandra Ordonez , Assistant Director of Social Media, St. John's University
Sandra Ordonez is the Assistant Director of Social Media at St. John's University. She has driven the success of social networking programs at SJU through effective planning, implementation, and constant assessment of impact. Her sociological background in research has helped her to design new social media trends and develop data analysis.
Sandra has had the opportunity to co-moderate a chat on using social media for accepted students and discuss St. John's Google+ presence on CASE Social Media and Community. She has also presented at a NYSACAC conference to discuss the components of a great acceptance campaign with administrators in higher ed.
On her time off Sandra loves to explore her hometown, New York City. Follow Sandra on Twitter @NYCOrdonez.
Andrew Smyk, Educator & UX Designer, Sheridan College
Andrew Smyk is dad, educator & UX designer with a focus on Mobile Design, a coffee aficionado, avid cyclist, all-round pirate and HTML5 Evangelist. Andrew has a Master of Education from the Ontario Institute for Studies in Education (OISE) at the University of Toronto and coordinates a postgraduate program in Interactive Multimedia at Sheridan College and writes about how kids adapt and use technology on his blog.
Tyler Thomas, Social Media Specialist, University of Nebraska–Lincoln
Tyler Thomas graduated from the University of Nebraska–Lincoln with a degree in Advertising and Public Relations and shortly after found his natural roots in building interactive online experiences as an Interactive Project Manager at Nebraska's largest advertising agency Swanson Russell.
After nearly 2.5 years at SR, Tyler is now knee-deep in building award-winning brand engagement via social media for the "BIG RED" brand as the Social Media Specialist for the University of Nebraska–Lincoln. Along with building social communities, Tyler is a self-proclaimed foodie and runs his own Nebraska focused food blog "NebraskaFoodie.com." Follow him on Twitter at @TylerAThomas.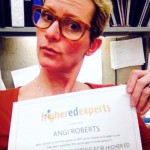 Angi Roberts, Information Services Manager, University of Guelph
Angi Roberts has worked in higher ed admission and recruitment for 20 years. Currently, as Information Services Manager at the University of Guelph she is responsible for all print and digital communication and marketing for admission and student recruitment. Winning a CCAE award for Best Use of Social Media three years ago, set in motion her – and consequently, her office's – headfirst dive into using social media marketing for higher ed.
She is also a graduate of Higher Ed Experts' professional certificate course on social media marketing for higher ed.
Angi is step-mom to three adult children and one grandson, mom to one teen, one tween, one dog and one cat. When she's not working her paid job, she spends her time playing taxi, teaching manners, resourcefulness, good penmanship, nutrition, and how to post safely on Instagram, YouTube, Snapchat, Twitter, Vine, and Tumblr. Occasionally, she will paint or make a pie.
Kat Hasenauer Cornetta, Assistant to the Dean of Students for Programs, Communications & Technology, Boston University
Kat Hasenauer Cornetta is the Assistant to the Dean of Students for Programs, Communications and Technology at Boston University. In her over eight years in the office, she helped establish one of the leading social media campaigns for a senior student affairs officer in the nation.
She has extensive experience in crisis response via social media. Yahoo! named her a Trending Now Insider in 2011, because of her personal social media outreach combined with her social media work experience. She credits her personal social media work for taking her from sports blogger to a part-time sports writer for a major daily newspaper. Kat holds a Bachelor of Arts in History from Binghamton University and a Masters of Education from Boston University. You can follow her sports writing and higher education adventures on Twitter at @sportsgirlkat.
Alicia Nestle, Assistant Director-Multimedia and PR, Nazareth College
Alicia Nestle started her career as a television producer and reporter for WXXI Public Broadcasting, a PBS affiliate in Rochester, N.Y. She's currently the Assistant Director of Multimedia and Public Relations for Nazareth College in Rochester, and is responsible for the institution's social media strategy and activities.
Nestle is currently pursuing a master of science in management at Nazareth College, and earned her bachelor's in film and television production from Hunter College, City University of New York.
She is also a graduate of Higher Ed Experts' professional certificate course on social media marketing for higher education.
Rachel Esterline Perkins , Associate Director of PR and Social Media, Central Michigan University
Rachel Esterline Perkins works for Central Michigan University as the associate director of public relations and social media within University Communications. In her role, she manages the university's official social media channels and counsels colleges/departments on how to effectively use social media.
Previously, Rachel worked at a nonprofit and a marketing communications firm where she developed and integrated social media strategies into marketing programs for Fortune 500 companies, local businesses and nonprofit organizations.
Julie Winch, Social Media Director, Emory University
Julie is the Social Media Director at Emory University.
She oversees the main Emory social accounts while conceptualizing and implementing the social strategy university-wide. Julie worked at CNN for 5 years before making the switch to Higher Ed.
Stephanie Hatch Leishman, Social Media Strategist, MIT
Stephanie develops social media strategy for university initiatives at MIT.
She advises departments on social and digital strategy and develops resources and guidelines for social media.
She also trains staff members on many topics including analytics and performance measurement.
Tony Dobies, Social Media Strategist - West Virginia University
Tony Dobies is the social media strategist at West Virginia University. He manages the day-to-day presence on social media for the University on Facebook, Twitter, Instagram, Snapchat, LinkedIn, Pinterest and Google+.
In addition, he leads the conversation on campus about using social media to reach high-level goals and various audiences. Prior to his social media work, Dobies spent time as a senior writer at WVU and was an award-winning sports writer.
Lori Packer, Web Editor, University of Rochester
Lori Packer is the web editor at the University of Rochester, where she and her team are responsible for the design, maintenance, and content development for several central University websites, including the University's homepage and news site. Lori is also part of the design and editorial team for Futurity.org, a news site hosted at Rochester and focusing on the latest innovations coming out of the world's leading research universities.
Before coming to higher ed, Lori was the lead U.S. editor for MSN Search — Microsoft's pre-Bing search engine. She has a bachelor's degree in journalism from Lock Haven University and a master's degree in communications from the University of Washington. She recently completed her MSLIS from the iSchool at Syracuse University, because libraries are amazing. Lori is a Phillies fan, a beer snob, and an insomniac. She is a huge geek who loves Supernatural, Doctor Who, Harry Potter, Lord of the Rings, Buffy the Vampire Slayer, Game of Thrones. She could go on.
Tiffany Broadbent Beker, Web Developer & Social Media Coordinator, College of William & Mary
Tiffany Broadbent Beker is the Social Media Coordinator for the College of William & Mary and a Web Developer with the Office of Creative Services. Her duties range from developing for the university's web presence to managing W&M's Facebook page and leading W&M's Social Media Users Group (SMUG).
She was the technical lead in William & Mary's responsive website redesign and has created sites ranging from an aggregator and directory for W&M's social media communities to an interactive viewbook for incoming students with the W&M Ampersandbox.
She has presented at conferences including HighEdWeb, CASE Social Media And Community, edUi and the College Communicators Association, as well as served as a social media resource and presenter for offices and student organizations across the W&M campus. She serves as advisory chair for Alpha Phi Omega, Nu Rho and is on the board of advisors for the W&M chapter of Camp Kesem.
Should I sign up for the Higher Education Social Media Conference?
Definitely, if you are a:
What is included in my Conference access fee?
The access fee covers 1-year licensing and includes the following:
A 1-year unlimited access to the recordings of all the 2014 presentations and the Q&A session – on-demand through links that we will provide to you.
All session materials (slides handouts in PDF)
2013 Conference Recordings
If you previously registered and paid your registration fee for the 2013 edition, LOG IN
Social content strategy for crazy times: Make content more social
Ma'ayan Plaut, Social Strategy and Projects Manager at Oberlin College
New change to a social platform? It's no time to rethink your social media strategy; stick to your content strategy and all will be fine. Re-center yourself with the mantra "Make content more social" — an attempt to proactively create, host, and share more social stories. In this session, Ma'ayan will show you how moving horizontally rather than vertically through your social spaces allows for more seamless and integrated social experience, with an emphasis on telling your best story, aided by the tools you have at your disposal.

As easy as herding squirrels: Coordinating social media across your campus
Tiffany Broadbent Beker, Social Media Coordinator at College of William & Mary
How do you support and coordinate 500 social media accounts managed by hundreds of people scattered in different units across your campus? In this session, Tiffany will share College of William & Mary's secret recipe to tackle this challenge. She will explain how a social hub and a social media users group can also help tame your school's nuts-loving Social Media Beast.

Thinking outside the box when curating social media content
Erika Fields, Web Content Communications Director at Wellesley College
Curating content for several social media outlets on a wide range of topics and programs can be time consuming, overwhelming and frustrating. You understand social media inside out, but do you know as much about every single program or initiative implemented at your school? In this session, Erika will share the lessons learned on her professional journey to an educated social media strategy by relying on the content experts at her school.

When social media IS the crisis
Jaime Hunt, Director of Web Strategy and Interactive Media at Radford University
Monitoring and responding to social media is a necessary component of any crisis communication plan. But, when tempers rise, social media can become its own crisis, risking damaging your institution's reputation. In this session, Jaime will share lessons learned from Radford University's experience dealing with social media during an on-campus crisis.

How your academic departments can use social media to connect with the right students
Andrew Smyk, Program Coordinator at Sheridan College
Simple communication strategies and social media tools can help maintain student enthusiasm for enrolling in your program and keeping applicants engaged through the "out of sight, out of mind" summer months. In this session, Andrew we will go over how to develop, launch and maintain a cross-channel recruitment and admissions strategy to increase enrollment and recruit highly motivated and focused students for an academic program. This is not an exercise in filling seats, but a way to get the type of student your academic departments want in their programs.

Boosting social media engagement with gamification
Bryan Fendley, Director of Academic Computing at the University of Arkansas at Monticello
Not sure if gamification should be a part of your social mix? Take ten minutes to see why gamification works to boost social media marketing by improving engagement. In this session, Bryan will show who uses gamification in higher ed with success, what legal issues you should know before starting a gamified campaign and the tools you can use to help you get started.

Optimizing images for Facebook, Twitter and beyond
Lisa Sherrodd, Website Strategist at University of Wyoming
A picture is worth a thousand words, right? If you work in social media, you know how true this statement is. In this session, Lisa will tell you how to make your images appear the best on social media platforms. You will learn why paying attention to optimizing graphics for social media is worth your time and leave with practical tips on sizing, image platform and using text in graphics for a professional look and feel.

Instant success: Making Instagram social for your institution
Meg Bernier, Assistant Director Social Media at St Lawrence University
Do YOUR students love Instagram too? We used Instagram to break through and connect with our audience; in less than a year, it has become our most engaging platform for students, younger alumni and prospective students. Learn about how we've made the platform work for us and why our second Instagram account is becoming even more popular than the first.

Get schooled: LinkedIn University pages
Jaclyn Vetrano, Web & Social Media Coordinator at Genesee Community College
LinkedIn has launched LinkedIn University Pages to focus on engaging students and helping them find a job after graduation through a strong alumni connection. Beyond strengthening your school's brand, LinkedIn University allows you to capture student life through photos, videos, and galleries, as well as share news and respond to questions from prospective students. In this session, Jaclyn will help you learn how to maximize your space on LinkedIn University and offer some tips for collaboration to maximize content.

Connecting colleges through Google+
Cara Rousseau, Social Media Strategy Manager at Duke University
Still think Google+ is a ghost town? Think again. Colleges and universities use Google+ in different ways to reach prospective students, connect faculty to media outlets and improve search engine optimization. In this session, Cara will explain how Duke has incorporated Google+ into an overall social media strategy and explain what differentiates Google+ from other social platforms.

A new perspective on social media reporting
Alaina Wiens, Web Content Strategist at University of Michigan-Flint
Good conversations make for good interactions on social media. Good content leads to higher engagement and happier communities. So, which conversations and topics are getting traction across social platforms? What matters to your audience? In this presentation, Alaina will share steps to creating a conversation-driven social media report. With the right data, you'll be able to identify which topics, no matter the type of post, are resulting in the most engagement.

Social media, Google Analytics and SEO: Assessing social media
Joshua Dodson, Web & SEO Analyst at EKY and Analytics Instructor at Higher Ed Experts
How does Social play into the bigger picture of what your institution wants to achieve with its marketing and communications? Do you know what results you get from Facebook? Do you know what you want Twitter to accomplish for you? In this session, Joshua will talk about how you can use Google Analytics to examine the effects of social media and will explain social media's connection to larger search engine optimization goals.