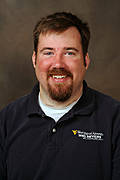 David Olsen, Professional Technologist at WVU
Dave Olsen is a Professional Technologist with the Web Services unit of West Virginia University, where he has worked since 2002.
He is responsible for identifying and implementing new technology that can be used to promote the positive image of WVU, with particular attention to student recruitment.
Dave's past projects include managing the development and deployment of an in-house, Ruby on Rails-based CMS, and overseeing the implementation of Datatel ActiveAdmissions and the e2campus emergency notification system.
Recently, Dave has developed WVU mobile website in just 19 days using MIT Mobile Web, an open-source platform he customized to achieve an even faster deployment.