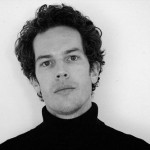 Jason Molin, Web Editor at the McCombs School of Business of the University of Texas
Jason Molin moved to Austin (from Washington D.C.) to be a singer/songwriter like Townes Van Zandt. He studied and taught Audio for the Internet at UT's School of Information. Now he's Web Editor for the Communications Dept. at the McCombs School of Business teaching blogging and social media by day and working with 2010 Texas State Musician Sara Hickman on the side.
Jason loves to share his enthusiasm and vision for how cheap, ubiquitous, Web-based tools can empower artists, educators, and non-profits to take control of their careers and connect to their community. He helps people build identities for the networked world. From tagline to technology Jason translates the rules of the new-media landscape for those who need help feeling comfortable in the brave new world of Google and WordPress, Facebook and Twitter.
At McCombs Jason runs the business school's blogging platform (WordPress) and teaches blogging and social media technologies and strategies. He's also active as branding and technology consultant to English at Work, his wife's non-profit.