Why did my higher ed colleagues take this course?
Several of your colleagues in higher education have reached the highest level of Web Analytics for higher ed by taking this constantly updated professional certificate online course.
Want to stop reporting and start to forecast digital marketing results?
Do you wish you could use data to better inform the next digital initiatives of your school?
Do you want to learn how to use analytics to predict probable outcomes?
Are you looking for a way to get a seat at the decision table at your institution?
Not sure where to start?
This 4-week Predictive Web Analytics online course has been designed to help you reach these goals by teaching you step by step you how to use the right approach to forecast outcomes for your digital initiatives as well as demonstrating the difference your work make for the bottom line of your institution.
May 29, 2018

-

Jun 24, 2018

Register by May 17, 2018
Tuition & fees: $$1200

$

$800

Only 10 seats left
What will I learn about Predictive Web Analytics for Higher Ed?
In this higher ed advanced analytics training course, you will study and practice what you need to know to get to the next level in using data to forecast of the outcomes of your digital initiatives and inform your marketing decisions during this 4-week online course:
Predictive Time Series Analysis: Seasonal Decomposition to analyze trends and seasonal web traffic patterns.
Predictive Time Series Analysis: Forecasting to predict probable future values
A/B Testing to plan, set up, and make decisions on tests using inferential methods of statistical evaluation.
Actionable insights & Recommendations to develop recommendations based on forecasted insights and not just past data.
Really interested in this course?
If you're thinking about taking this course, request more information by filling out this online form:

How will I learn?
You'll learn by:
investing 10 hours per week of your time on your higher ed predictive web analytics training course materials, graded quizzes, discussions with your classmates and a final project.
studying when it's convenient for you as long as you meet the weekly deadlines for class discussion posting and graded quiz submissions.
exchanging with a small group of your peers in our sessions limited to 10 participants working in institutions of higher education.
working on a predictive web analytics hands-on final project: an actionnable report including predictive techniques you can use at work.
getting detailed and prompt feedback from your professor.
Who will be my professor?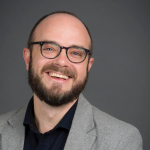 Aaron Baker, Associate Director of Content Strategy- Harvard University
Aaron is a 15-year veteran in the Higher Education industry, with experience in Admissions, Academic Affairs, Information Technology, and Marketing Communications. Aaron is the associate director of content strategy for Harvard University Public Affairs and Communications, where his primary responsibility is measuring the impact of digital content produced by Harvard or written about Harvard. He also serves as a data evangelist, helping writers, editors, and content distributors get a sense of how engagement metrics can inform their work.
Aaron's experience in many aspects of the digital product lifecycle gives him unique insight into what metrics matter most and to whom. He produces reports and dashboards, organizes professional development events for digital communicators, and translates business objectives into action items for developers.
Aaron is a faculty member at Higher Ed Experts where he teaches web analytics for higher ed. He holds a Master of Arts degree in Technical Writing and a Graduate Certificate in Data Science from the University of Arkansas at Little Rock. Aaron has also taught upper-level technical writing and information technology college courses.
Should I take this course on Predictive Web Analytics for Higher Ed Course?
How will this course pay off for my institution?
Your institution should invest in this course for these top 5 reasons:
No travel expenses or down time while you learn much more than you would by attending any 1-day workshop or conference: 4 weeks give you the time to absorb all the concepts and acquire new skills by practicing them.
The focus of this course is Predictive Web Analytics for higher ed: everything will apply to your situation.
Your classmates will all work at universities, colleges or schools: you'll find out how other institutions tackle predictive digital analytics challenges.
You will learn by working on practical assignments: you'll be able to implement best practices at work even before the end of the course.
Your course registration covers everything you need including a 1-year access to all the course materials.
What is included in my course registration fee?
Course materials: screencasts, readings, 3 graded quizzes, 4 graded discussions & 1 graded final project.
Unlimited questions via the "Ask the Prof" discussion board during the 4-week session.
1-year access to the regularly updated online course materials.
Recognized certificate of achievement in Predictive Web Analytics for higher ed upon completion of the course with a final grade of 80% or more.

Don't miss the next session!
May 29, 2018 - Jun 24, 2018
Register by May 17, 2018
Tuition & fees: $$1200 $$800

Only 10 seats left