Master Class by Colleen Jones: Influential Web Content for Higher Ed
October 5th, 2011 – 1PM-2PM ET
Registration fee: $350 (1 live Master Class, 1 year recording access, transcript and handouts)
REGISTER NOW!
Principles for Compelling Content in Higher Ed
October 5, 2011 – 1PM-2PM ET (rain date: October 12, 2011 – 1PM-2PM ET)
Students, parents, and alumni visit your web or mobile site for content that helps them make decisions.
Does your content make decisions easier or harder? Is your content memorable or forgettable? Does your content lead to apathy or action?
If your content isn't making the grade, there's hope.
Colleen Jones, the author of Clout: The Art and Science of Influential Web Content, will teach you how to make your content compelling with principles based on the science of psychology and the art of rhetoric.
What you will learn:
Why content is important to student, parent, and alumni decisions
3 phases of making a decision
4 principles for influencing decisions through compelling content
Tips for evaluating whether your compelling content gets results
Who should attend:
Primary audience: web communications, marketing and communications executives and teams, web services managers, directors and coordinators, web writers, content managers.
May also attend: content contributors/authors, communication directors, marketing managers, publication officers, web designers, web developers and web designers.
Faculty:
Colleen Jones, Author of Clout: The Art and Science of Influential Web Content
A veteran of the interactive industry, Colleen Jones has led strategic initiatives for Fortune 500 companies, government agencies, and research institutions. She regularly consults with executives and practitioners about making their web content more influential. Colleen shares her insights from her years in the trenches in the best-selling new book Clout: The Art and Science of Influential Web Content.
Important information for the Master Class attendees:
Feel free to gather your team members around your computer or a larger campus group in front of a screen with an LCD projector.
Audio is done via voice over IP but you can also access it via a toll free number if it's more convenient for you
Webinar slides are available as PDF files prior to the session for easy note-taking.
Access instructions will be emailed to registered attendees along with links to the presentation files on October 3, 2011 – and will be accessible from the top of this webinar page as well.
In case a webinar needs to be rescheduled by Higher Ed Experts, it will be on the date listed above as its "rain date."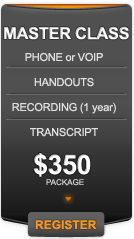 Registration fees: $350
The fee for this Master Class includes the following:
Access to the webinar event and question period
A one year unlimited access to the recording of the event on-demand through a link that we will provide to you.
All webinar materials