Master Class by Kristina Halvorson: Content Strategy for Higher Ed Institutions
Available on-demand – recorded on February 9, 2011
Registration fee: $350 (1 live Master Class, 1 year recording access, transcript and handouts)
REGISTER NOW!


Content Strategy for Higher Ed: Take control of your content strategy
Recorded on February 9, 2011
What's "content strategy"? Go ahead. Pick a definition. This practice (in one form or another) has been around for more than a decade, but somehow we haven't quite agreed on what it is, how it should work, and why it really matters.
One thing everyone does agree on: Dealing with web content is hard. It's complicated, expensive, time-consuming, and often overwhelming. There's new content. Legacy content. User-generated content. Print to web. Text to video. Static to dynamic. The list goes on and on. And for universities, colleges and schools, distributed publishing (and unusually high mountains of content!) introduces entirely new levels of complexity.
Good news: The practice of content strategy gives us tools and processes that can help bring order out of your content chaos. Content strategy plans for the creation, delivery, and governance of content your audiences actually care about. Learn how to introduce it into your organization and climb the content mountain, step by step.
What you will learn:
What's content strategy directly from the expert who wrote THE book about it
How to set up a content strategy plan that works for higher ed institutions
How to get buy-in on new content-strategy processes
Who should attend and why:
Primary audience:web communications, marketing and communications executives and teams, web services managers, directors and coordinators and web content producers.
May also attend: web designers, web developers, teams in charge of an upcoming content management system implementation or a website redesign..
Faculty:
Kristina Halvorson, Author of "Content Strategy for the Web"
Kristina Halvorson is the CEO and Founder of Brain Traffic, a content strategy consultancy. She is the author of Content Strategy for the Web, a book that's being called "the most important thing to happen to user experience design in years" (Peter Morville, Ambient Findability, Information Architecture for the World Wide Web).
Important information for the Master Class attendees:
Feel free to gather your team members around your computer or a larger campus group in front of a screen with an LCD projector.
Audio is done via voice over IP
Webinar slides are available as PDF files or easy note-taking.
Access instructions are accessible from the top of this webinar page as well.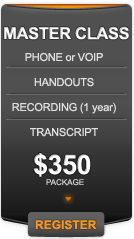 Registration fees: $350
The fee for this Master Class includes the following:
A one year unlimited access to the recording of the event on-demand through a link that we will provide to you.
All webinar materials