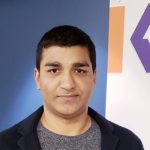 Avinash Tripathi, Executive Director of Analytics – Kaplan Higher & Professional Education, is one of the 12 presenters of the 2019 Higher Ed Analytics Conference.
In this 3-question interview, Avinash shares with us thoughts on what's next for higher ed analytics in 2019, advice to get more strategic with measurement and tips to make analytics reports more efficient
1) What will make a big difference for higher ed analytics and measurement in 2019? Where do you plan to focus your analytics efforts?
Research shows that online prospective adult students consider an average of about 3 universities. It is critically important to be part of this limited consideration set. One of our focus areas is in understanding what resources they use to decide what school to attend, measuring the effectiveness of the resources we provide and finding out which resources we should add to the tool kit. In 2019, it will be increasingly important to know how to leverage digital data to customize various aspects of the student experience through personalization..
2) What's your advice to adopt a more strategic approach to analytics and performance measurement?
At Kaplan student success is our top priority and the "success" part of the equation covers more than just graduation—we are continuously finding ways to leverage data to transform our student experience and support our students broad success. In fact, we leverage data to solve for return on education investment (ROEI) which encompass learning outcomes, career success and more to monitor how our students are performing in the job market after graduating.
3) Analyzing the data and unearthing analytics insights is half the battle. What are your top tips to present/share analytics reports that drive action?
Here are my tips to present analytics reports that drive action:
Build trust with stakeholders (most important)
Visualize the story: plan for a "punchline."Our CEO, Greg Marino, often asks for a 30-second elevator pitch before we even start the presentation, develop that punchline.
Enormous amounts of student data are currently being collected by both traditional and non-traditional universities in US and globally starting from on-boarding a student.
Differentiate the strategic insights from the "noise" in your enormous data repository.
Put yourself in the decision maker's shoes and ask yourself if the information you present is distracting enough. Does it include an "aha" moment that is actionable.
Develop a culture of experimentation, propose as many proofs of concept, A/B tests or pilots to identify potential risks to gain traction based on the data insights.
Focus on two metric at the most at a given point in time and tie them in with the story.
Choose the right visuals. Avoid overloading your audience with charts and metrics.
A conference focusing on higher ed analytics?
The 2019 Higher Ed Analytics Conference (#HEA19) is a must-attend event for higher ed marketing professionals and teams looking for inspiration, ideas and best practices to step up their analytics and measurement game in 2019..
Read below what your higher ed colleagues who attended the past editions of the Higher Ed Analytics Conference said about their experience.
Tags:
HEA19
,
Higher Ed Marketing
,
Higher Ed News