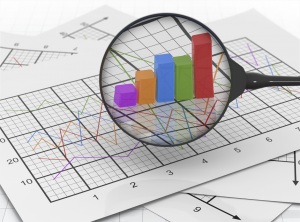 Has your boss (or the president) started to ask for web analytics reports at your university, college or school?
Not yet? Get ready: it will happen in 2013

.
Analytics has finally reached a tipping point in higher education: everybody now wants to measure everything (marketing, IT, business, learning, ec.)
As a higher ed marketing or a web professional, you've got 2 serious advantages:
you've been tracking web data for a long time
you can use a powerful and free analytics platform: Google Analytics used by 97% of the institutions according to the 2012 State of Social Media and Web Analytics in Higher Ed .
Do you want to find out what can be done with analytics?
Are you looking for best practices or practical tips on how to make data-driven decisions?
Entirely focused on analytics in higher education, this 1st Higher Ed Analytics online conference featured a dozen of higher ed professionals working in institutions just like yours (check out our interview series with these higher ed colleagues of yours) — with real analytics solutions to real higher ed problems.
Looking for the conference recordings?
If you previously registered and paid your registration fee, LOG IN (you can also buy an on-demand pass) to get access to the:
11 session recordings
handouts
Conference Program
Harnessing the Power of Google Analytics Goals (10-min session)
Seth Meranda, User-Experience Architect – University of Nebraska-Lincoln

Can't do much with Google Analytics without setting up goals, right? As the most important feature in Google Analytics, they provide immediate context to clickstream metrics. In this session, Seth will help you go back to the (very important) basics. You will explore the importance of goals, when to use each type and review examples of reporting enhancements from goal tracking.

Tracking Online and Offline Marketing Efforts: Setting Your Integrated Tracking Management Plan (20-min session)
Colleen Clark, Marketing Analyst – Ithaca College

Imagine (or remember?) you've been asked to provide insights to drive decision making for all online and offline channels. Where do you start? In this presentation, Colleen will explain you the importance of tracking every marketing effort around all medium channels including print, banner, social, and search engine. She will show you how  an integrated tracking management plan can make a difference to streamline the communications process across all higher ed clients. You will review how to properly implement tagging, note the main issues you may encounter and  the types of engagement metrics you should evaluate.

Analytics Case Study: Homepage Automated Click Event Tracking in Google Analytics (10-min session)
John Mills
In November 2012, Emory added automated, categorized click-event tracking for Google Analytics as part of a ground-up rebuild of its main university web site launched. John will explain how this was implemented, the results in Google Analytics and how they are used.

Extending Your Reach with Customized Dashboards  (20-min session)
Alan Etkin, Project & Web Analytics Manager – BCIT

You've definitely heard about Google Analytics reports, but customized dashboards might be one of the best kept secrets of web analytics professionals. Google Analytics dashboards are perfect for keeping key perfomance indicators (KPIs) top of mind. You can customize them for specific departments or functions, and you can even automate their delivery. In this presentation, Alan will share an advanced strategy – and specific configuration tips – for making the most of Google Analytics dashboards.

Actionable Analytics with Email: 1 project to get you started (10-min session)
Tatjana Salcedo, Web Strategist – University of Vermont

With so much data it's often difficult to know where to start your analysis and generate meaningful and actionable reports. In this presentation, Tatjana will detail one basic but useful Analytics project to get you off and started gathering data. You'll learn what you can do to make improvements in your institution's email marketing efforts.

Infiltrating Social Media Influence Metrics: Badly in Need of Better Benchmarking (10-min session)
Adrian Ebsary, Online Community Specialist – University of Ottawa

How do you justify all the work done on social media? Choosing the right metric to quantify return on investment is challenging with social media. While a number of big name companies such as Klout and PeerIndex offer comprehensive dashboards with content analysis tools for multiple social networking sites, their score algorithms lack transparency. Adrian will examine some social media metrics that provide unique takes on online influence. He will share concrete examples and the strategies for benchmarking effectiveness in online communities used at his school.

Anayltics Success Story: Data-Driven Redesign (10-min session)
Mardy Wilson, Web Content Strategist – Maricopa Community Colleges

Analytics can help you make data-driven decisions, but what if you're not the person making final decisions? In this presentation, Mardy will share her analytics success story featuring the reports created for management in an effort to show the traffic generated to the site through search engine optimization and the usefulness of the site based on event tracking after a redesign. She will explain how analytics demonstrated the importance of the website in her school's paper reduction campaign and its role in meeting students needs by offering direct email contact to all instructors.

How Analytics Solved my Information Architecture Headache (10-min session)
Michelle Tarby, Director of Web Services – Le Moyne College

We've all gotten that call asking for one more call-out button on an existing landing page. The client's eyes tend to glaze over when the dreaded words "information architecture" or "user experience" are uttered. In this presentation, Michelle will show you how she used Google Analytics to inform changes to her college's admission landing page. You'll see how visitor flow to under-performing areas has improved as a result of these changes.

What's Missing in Your Web Content? Site Search Analytics 101 (10-min session)
Amy Pizzolatto, Multimedia Content Specialist – The University of Chicago

Before embarking on a recent homepage redesign project, the University of Chicago studied its Site Search Analytics to understand what content users were searching for once they came to uchicago.edu. Amy looked for prominent patterns—and gaps. In this presentation, she will share a practical example of how to make a site search inventory and group findings into categories to recommend new web pages and navigation changes. Amy will also show you how to set up Site Search Analytics on your Google Analytics account and gives you useful tips to get started.

Sleuthing with Analytics: Using Analytics to Help Pinpoint Challenges (10-min session)
Rebecca Bernstein, Digital Strategist – University at Buffalo

We often think of analytics as a "how did we do/how are we doing" process losing the opportunity to use analytics to help us identify lost opportunities – things we did not even have on our radar screen. In this presentation, Rebecca will guide you through a "sleuthing" case study. She willl give you a peek at how she used analytics up front to inform the strategic approach to developing the UB International Admissions site and to influencing changes in UB's top level website. You'll see a concrete example how to pin point opportunities to better leverage the traffic you already have.

Meet the Analytics Profiler: Profiling Your Actual Audience (20-min session)
Joshua Dodson, SEO & Web Analyst – Eastern Kentucky University

Who is your audience when you work for a higher ed institution? We all use similar labels for them: propspective or current students, alums, parents or donors. But, really who are the people who visit your institution website? In this presentation, our Higher Ed Analytics Prof, Joshua Dodson, will show you how to become an Analytics Profiler – not to catch serial killers, but to understand who your actual web visitors are. He will explore how to utilize a combination of Google Analytics data as well as other external tools to profile your actual audience and make sure your website addresses their needs.

Who teaches the Higher Ed Analytics Conference?
Joshua Dodson, Google Analytics Qualified Web Expert
Joshua is a Google Analytics Qualified Web expert who has worked with numerous colleges and universities to improve their Web presence and better understand their user trends. His extensive back-end Web knowledge is equally matched with an understanding of the importance of driving results on the front end—and proving return on investment. His in-depth SEO experience ties campaigns to results to show true impact.
Before joining Eastern Kentucky University as a SEO and Web Analyst, Joshua worked as a Web Analytics Strategist and a Web Developer for Lincoln Memorial University in Harrogate, TN.
Joshua has presented at industry conferences on advanced Web analytics, open source technology, WordPress for academic libraries, and other topics. He has published extensively on WordPress and his most recent publication for the American Library Association explores methods of Website architecture as related to academic libraries.
Colleen Clark , Marketing Analyst - Ithaca College, NY
As a Marketing Analyst at Ithaca College, one of Colleen Clark's main responsibilities is managing analytics dashboards and reporting associated with the college's website. She is heavily involved with all online campaigns and site optimization including e-mail marketing, SEO, paid search, mobile, and social media. Colleen also dedicates her time training key personnel to access and interpret data on their own. She is also in charge of identifying technical issues with analytics programs and managing resolutions.
Colleen received a certification from NYU in web development and has an MA in Integrated Marketing Communication from Emerson College. She is also Google Adwords certified and worked previously for the NYC-based agency, Razorfish.
Alan Etkin, Project & Web Analytics Manager - BCIT
Alan has been using analytics to manage websites for the past decade, including 7 years at the British Columbia Institute of Technology. He knows first-hand the complexity and challenges of working with post-secondary websites, and has developed a number of tricks for extending the influence of analytics across the institute.
Seth Meranda, User Experience Architect - University of Nebraska-Lincoln
Seth Meranda, the User Experience Architect, develops web strategy and UX/UI for the University of Nebraska-Lincoln (unl.edu). As part of this position, Seth also coordinates a comprehensive web analytics strategy. Seth enjoys designing user interfaces in Photoshop, implementing them with the latest front-end technologies and measuring the results.
In addition to his work at UNL, Seth is an associate consultant for Noel-Levitz, an international enrollment management leader. Seth enjoys his opportunity to work with clients across the country on digital strategies for recruitment, retention and measurement through web analytics.
Seth has had the privilege to present at many national conferences on internet and interactive strategies over the years.
Michelle Tarby, Director of Web Services - Le Moyne College
Michelle creates and implements online tools within content management frameworks and as stand-alone web-based applications. She provides research and analytics to demonstrate success of online initiatives and progress toward achieving desired online goals. As social media tools become increasingly more critical, she develops social media strategies and recommends tools to meet an organization's strategic goals. Once the initiatives are in place, I provide benchmarking statistics to measure performance and success.
She works to help users to reach their professional goals by developing both online and instructor-led training sessions addressing HTML, CSS, DotNetNuke, social media, and web usabillity.
Michelle has served on the planning committee of the HighEdWeb conference since 2004, acting as the co-chair for the Content Strategy and Development Track at the annual conference. She has also served on HighEdWeb Regional conference planning committees.
Amy Pizzolatto, Multimedia Content Specialist - The University of Chicago
Amy Pizzolatto is a multimedia content specialist in Information Technology Services at the University of Chicago, where she's worked for almost five years, most recently as a remote employee from California. She is interested in Site Search Analytics, Search Engine Optimization, Content Strategy, and using metrics to inform website design and development.
Rebecca Bernstein, Digital Strategist - University at Buffalo
Rebecca Bernstein, of University at Buffalo Communications, serves as UB's digital strategist and spearheaded the creation of the University at Buffalo's Web Team, which is responsible for developing and managing UB's digital presence, including its externally focused, top-level Web, social media, and mobile presences. Ms. Bernstein has been involved in UB's Web presence since 1994.
She has been recognized nationally for her design and Web work with more than 100 awards, more Web development awards than any person in higher ed, including most recently, the Gold award from Council for the Advancement and Support of Education (CASE) for UB's top level web presence. Awarded recognition includes multiple gold awards including the grand gold for interactive media from CASE, Best University Web Site from the Web Marketing Association, IBM Best Practices Partner (for MyUB, UB's student services portal), and inclusion of her work in collections of best-designed websites. Ms. Bernstein's vision has been written about in the Chronicle of Higher Education, Educause, CASE Currents, Web Content Management, and other media, and she has lectured at national conferences and webinars, most recently at the ADAPE conference as a keynote speaker.
Adrian Ebsary, Online Community Specialist - University of Ottawa
Adrian J. Ebsary completed his BSc. in Biochemistry and Biotechnology from McGill University, and during that time worked in multiple academic and industrial research labs as well as acting as the McGill Science Undergraduate Research Journal's co-Editor-in-Chief. He studied to receive his MSc. in Biochemistry at the University of Ottawa and during this time founded science podcast and radio show, Peer Review Radio, which several volunteers continue to produce on CHUO 89.1 FM. Adrian's fascination with social media analytics and influence metrics led him to leave his Master's and take a job with the Communications Directorate at the University of Ottawa as Online Community Specialist. He now blogs at AttentionEconomist.com and has spoken at a number of conferences about research on attention and its flow in online communities.
Mardy Wilson, Web Content Strategist - Maricopa Community Colleges
Mardy has been employed in higher education for over 11 years in the IT department and now in Marketing. She has developed and redesigned websites in higher ed and corporate America.
Along the way, she has taught and established the importance of analytics in reaching the strategic goals of a campus.
Tatjana Salcedo, Web Strategist - University of Vermont
Tatjana Salcedo is the web strategist and Analytics guru on the University of Vermont's central web team. In addition to managing central Analytics reports, she teaches campus workshops on leveraging Analytics for improving departmental websites. She is also currently leading the University's responsive web design retrofit project.
John Mills, Online Executive Producer - Emory University
John Mills has worked since 1999 in Emory University's Communications and Marketing Office and has overseen the previous three redesigns of the main university site. He has responsibilities for branding and identity policy on the Web, the university online calendar and the institution's Standard Web Template used by more than 200 departmental sites. Before joining Emory, John worked as a magazine editor for the Metro Atlanta Chamber of Commerce and for the Augusta Chronicle newspaper as a business reporter, web editor and copy editor.
Should I sign up for the Higher Ed Analytics Conference?
Definitely, if you are a:
What is included in my on-demand access fee?
The fee covers a 1-year license to access an unlimited number of times the materials on this website.
It includes the following:
A one year unlimited access to the recordings on-demand.
All the handouts

Please allow for 24 hours before getting access to the materials once you've completed your payment.