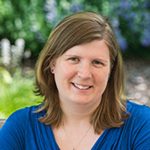 Mandee Englert, Asst. Director of Digital Strategy at Penn State University, is one of the 12 presenters of the 2020 Higher Ed Analytics Conference.
In this 4-question interview, Mandee tells us about higher ed analytics in 2020, a success story, a data analysis technique and what higher ed leaders really need to understand about analytics.
1) What's next in 2020 for higher ed analytics?
I think that Clickstream Data Analysis will become a trend in higher education.
Institutions will begin to look at that user-level data that can help to answer the most important questions like which marketing efforts are able to drive the most applications, that sources like Google Analytics/Adobe Analytics are not able to readily answer.
We plan on focusing our efforts on gaining insights from the vast amount of data already available to us by continuing to connect these data points so that we can understand a user's journey from their first touch on one of our websites all the way to becoming a student at the University.
2) Tell us about your biggest analytics success story!
This year, we focused a significant amount of time on refreshing the look and feel of our University news website. The engagement on the site was low, we had a high bounce rate from marketing channels driving to the site, and users were unlikely to scroll through an entire article.
When working in Google Analytics, heatmaps and performing some basic user testing, we were able to find that users were overwhelmed with the amount of information that we were providing on the pages as we provided several links to related articles and exposure to all of the tags that were related to each article. Especially from mobile devices, it was a stressful user experience to simply read an article.
We worked with our internal design team and explained the areas that users were experiencing friction on the site. We ran user tests against our hypotheses and made changes to the site. Then, we were able to prove that — with simple changes to our font styling, sizing, column layout and some significant changes to our global navigation on mobile devices — our pages/session, time on site, scroll rate, return users and engagement rates increased significantly.
3) What's the data analysis technique (or trick) you've found the most helpful?
What I've found the most helpful is to add Custom Dimensions to our Analytics properties.
They have been extremely helpful in content analysis and journey mapping where we are now able to discover things like:
which group of news stories perform best on our site
how often we should be posting new content
which content is attracting our internal/external audiences
which content is helping to drive conversions like donations or visit registrations, etc.
4) What are the top 3 points higher ed leaders should "get" about analytics?
Analytics can help you receive funding for marketing efforts including SEO, awareness campaigns and even your print advertising materials. If you are able to track the users that are interested in your institution and use analytics to tell the story of why these marketing efforts are important, it builds a case to continue to get funding for marketing efforts that could prove to be very important to your institution.
Analytics can help you track usability and optimized web design of your websites. Rather than spending large portions of your budget on website redesigns based on what your competitors are doing or the opinions of stakeholders at the University, you can rely on analytics to tell you what your users think of your website and react to what is and isn't working – building the best possible experience for your unique audience and the goals you are trying to meet.
Analytics can help you determine where you should be spending your advertising budget and what channels are most effective in driving your goals. By only looking at impressions of your advertising efforts or focusing on the awareness of your brand, you are missing an opportunity to determine how your marketing efforts are affecting actions that you want your users to take including filling out an application, donating or registering to visit the campus.
A conference focusing on higher ed analytics?
The 2020 Higher Ed Analytics Conference (#HEA20) is a must-attend event for higher ed marketing professionals and teams looking for inspiration, ideas and best practices to step up their analytics and measurement game in 2020
Read below what your higher ed colleagues who attended the past editions of the Higher Ed Analytics Conference said about their experience.
Tags:
HEA20
,
Higher Ed News