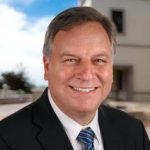 Dr. Nicholas Ladany, Dean, School of Leadership and Education Sciences – University of San Diego, is one of the 12 presenters of the 2020 Higher Ed Analytics Conference.
In this 4-question interview, Nicholas tells us about higher ed analytics in 2020, a success story, a data analysis technique and what higher ed leaders really need to understand about analytics.
1) What's next in 2020 for higher ed analytics?
Nationally, there is a worrisome trend that more and more colleges and universities on the precipice of significant enrollment challenges, and in fact, are in danger of closing in the coming years. The colleges and universities that are able to first collect the data necessary to understand the state of enrollment, and then use the data to stem the potential dip, will be the ones that survive and most likely to thrive in the coming decade. There is not much time to address enrollment challenges but there is hope for those with forethought.
Over the next 12 months we will be deepening our focus on the link of our application analytics with use of scholarship allocation. We believe that this work will further enhance our student yield rate.
2) Tell us about your biggest analytics success story!
The best example was the use of data analytics to seriously examine admissions criteria.
In particular, we looked at how standardized test scores predicted the efficacy of students who were graduating with a professional degree. We found that the standardized test scores were inversely related to performance and as a result, we dropped that particular test from our admissions process.
3) What's the data analysis technique (or trick) you've found the most helpful?
When possible, keeping the results simple to understand for multiple audiences.
Sometimes people working with data analytics provide results that are "over-sophisticated," meaning that they do not translate well, nor do they read the audience at hand. It's like a math professor who doesn't reach students.
4) What are the top 3 points higher ed leaders should "get" about analytics?
First, understand that shared governance is part of the process, particularly with faculty. Trust that when they are given data, they are likely to respond favorably to the task at hand.
Second, ignore data analytics at your own, and your school's, peril. Data analytics enhances efficiency and accuracy in the digital marketing and communications enterprise and it would not be fiscally prudent to ignore them.
Third, positive results, which are very likely when little data analytics have occurred, is often very well received. These positive reactions, in turn, lead to a greater desire for all involved to partake in and understand the process. I've seen joy on the faces of higher education leaders as they venture into the realm of data analytics.
A conference focusing on higher ed analytics?
The 2020 Higher Ed Analytics Conference (#HEA20) is a must-attend event for higher ed marketing professionals and teams looking for inspiration, ideas and best practices to step up their analytics and measurement game in 2020
Read below what your higher ed colleagues who attended the past editions of the Higher Ed Analytics Conference said about their experience.
Tags:
HEA20
,
Higher Ed News