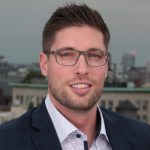 Jason Miller, Digital Specialist at York University, is one of the 12 presenters of the 2020 Higher Ed Content Conference .
In this 4-question interview, Jason tells us about best and worst content trends in higher ed, content measurement, great content ideas and a favorite tool.
1) What are the worst and best content trends in higher ed?
Worst trend? Chatbots. I think most students are not satisfied with the technology. If done perfectly, they may be helpful, but more times than not, they just create more challenges and frustrations than they are worth. Given that a student using the chatbot may need specific questions regarding their personal information or have a more technical question, chatbots are often just a hurdle of customer service. Real support services can react and adapt to the complexity of issues. AI programs are only as useful as the information in their database. More often those making inquiries will skip the bot and go directly to the live support.
Best trend? Humanization with Brand Hosts. New platforms are regularly emerging and require different content strategies to hit their main demographic and content requirements. When comparing a brand's content on Instagram to its TikTok, it can be hard to identify similarities. Brand hosts will create synergy and brand recognition cross-channel. These roles will continue to grow in popularity, beyond media outlets and into higher ed. These people will become the face of social media and provide a personal connection across the many social channels. These brand hosts will be key in showcasing student events, campus experiences, informal interviews and much more, and will humanize the channels by embodying the brand personalities.
2) Why is it still so difficult to measure the performance of higher ed content?
Technology has given us so many ways to measure results. However, this technology has also created many new challenges and touchpoints. With the increase in channels that target audiences are using (Facebook, Instagram, Twitter, Reddit, TikTok, the list goes on), it is increasingly difficult to truly monitor the end-to-end success rate. This is due to the users' journeys not being linear and because digital marketing applications cannot connect or are very costly to speak to each other. Often, engagement analytics sound good on paper, but if they cannot measure overall success, or if there are pronounced gaps along the journey, they are just vanity metrics. Having a platform that can connect with all channels, third-party apps, and any other marketing platforms would help paint a better picture of the buyer's journey. But with increasingly strict APIs, potential privacy issues and emerging channels, measuring performance will always have holes.
3) Share 3 pieces of higher ed content that made you envious or proud.
University of Michigan – Instagram content. They have been highlighted on many occasions in the past, but I echo many others and enjoy their stream of posts and stories. From both a quality and production point of view, they are always on point. Also, they perfectly mesh campus life, branded swag (great job of the custom Air Force Ones https://www.instagram.com/p/B7UcQvbFUPD/ and Lego Stadium https://www.instagram.com/p/B5Bq7rglwUc/) and school pride. One of the best in the industry!
Indiana University Bloomington (IU) – TikTok content. Many universities are slow to jump on this platform, but the way IU was able to grow a large following shows how valuable this platform will be in the future. Their content is fresh, fun, and uses the students as the faces of the brand. They have become the standard for how universities should act on the platform if they choose to adopt.
York University – Convocation content. It may be shameless self-promotion, but outside of our #PeopleofYU campaign (there are some crossovers), I love how we celebrate our annual convocation ceremonies. As a team, we dig for stories of compelling students, find new ways to highlight the events so they are interesting to those students, faculty and the general public who are not participating, and continually get our hashtag #YorkUConvo trending. Here is one example of a fun video we created to commemorate the special season:
4) What's your favorite new tool for content work?
My favourite new tool is Rival IQ. Their tool is very user-friendly and gives a good comparison to our main local competition. From an analytical sense, we review how our social posts/content (or time periods) perform compared to others in the industry, and how they differ. Since our main competitors have similar audiences, this tool helps us refine our digital content strategy. Through social intelligence, we can highlight content opportunities to explore based on other institutions' success. This can also work the other way. Since we want to make sure we are producing unique content, running an internal/external review ensures our concepts remain innovative.
A conference focusing on higher ed content?
Tags:
HECO20
,
Higher Ed News