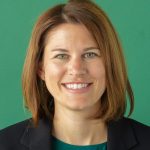 Allison Turcio, Director of Digital Strategy at Siena College, is one of the 12 presenters of the 2020 Higher Ed Content Conference .
In this 4-question interview, Allison tells us about best and worst content trends in higher ed, content measurement, great content ideas and a favorite tool.
1) What are the worst and best content trends in higher ed?
The worst trend is posting content that just does not make sense for that specific platform. I will give you two examples: posting YouTube videos on Facebook and event flyers on Instagram. Content for social media should be native to each platform. Instead of posting the YouTube link (Facebook's competitor!), upload the video directly to Facebook. And of course, there is nothing native about an 8.5″ x 11″ sheet of paper to any social media network!
What I'm looking forward to in 2020 is more content with personality. We've seen it happening with big name brands, which are becoming more human on social media. Who doesn't love Wendy's sass on Twitter? The key is finding a unique voice that's authentic to your institution.

2) Why is it still so difficult to measure the performance of higher ed content?
The biggest roadblock is knowing what to measure. The key is to start with a SMART goal to zero in on what exactly needs tracking, so it's less overwhelming. Here's an example: Increase the number of admitted students engaging with your content by 10% this recruitment cycle. From there, it's clear not only what you'll need to track (e.g. use CRM to assign a tag to students who engage) but what the impact was (conversion to enrollment).
3) Share 3 pieces of higher ed content that made you envious or proud.
The University of Florida's Giphy page, which has over a thousand GIFs and 2 billion views. They seem to have a GIF for every emotion and reaction you'd want to convey on social media. It's the ultimate way to brand user-generated content.

It's hard to pick just one TikTok, but I am going with RIT's "Making it rain glass." It's simple but it tells a story—not just about making glass, but about their lab facilities and hands-on learning. And it has 275K+ views.

Siena College lost its beloved President this year. I'm really proud of the ways we honored him, from the initial announcement to the video that played at his memorial service to the Alumni Magazine.
4) What's your favorite new tool for content work?
Facebook Ads Library is so useful. This tool allows you to enter the name of any Facebook Page and then see all of its ads, active and inactive. It's useful for competitive research and to get inspiration from brands across all industries. Images, copywriting, CTAs, offers—there's so much there. You can even get an understanding of the audience each ad is targeting.
A conference focusing on higher ed content?
Tags:
HECO20
,
Higher Ed News