Let's meet every week for Higher Ed Experts' Free Friday Talk & Learn (#HEETalkLearn):
10-min presentation or panel discussion followed by a Q&A and the weekly segment "#HEETalkLearn Posts that Worked" to support higher ed digital professionals now.
Give us 30-min every Friday and we will share lessons learned, tips and ideas from your higher ed colleagues AND answer a few questions (we will stay 30 minutes more if necessary to answer as many as possible)
Register Now
Apr 10, 2020

11:30 AM ET
Register by Apr 30, 2020
Registration fee: $45

$

Free
What was scheduled on April 3, 2020?
We will host a 10 to 15-min presentation on "Engaging and supporting admitted students" in 2 parts:
"Hosting live admissions online events" by Nitasha Maindiratta, Digital Marcom Manager (NYU Steinhardt)
"Going asynchronous with admitted students" by Nicole Crozier, Online Orientation Coordinator (University of Victoria)
The presentation will be followed by a Q&A about the topic and the event will start with the weekly segment "HEETalkLearn Posts that Worked" by Karine Joly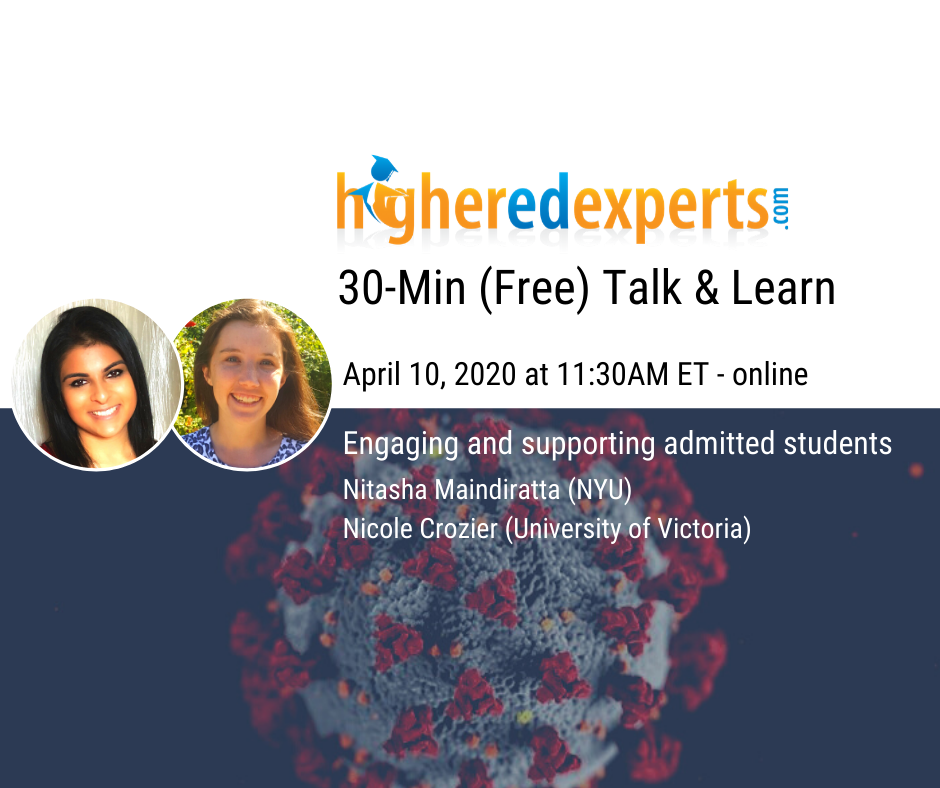 Higher Ed Experts (Free) Friday Talk & Learn at 11:30AM ET (#HEETalkLearn) Faculty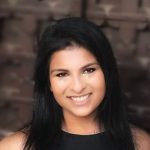 Nitasha Maindiratta, igital Manager - NYU Steinhardt School
Nitasha Maindiratta is the Digital Marketing and Communications Manager at NYU Steinhardt, where she manages social media communications, provides training and guidance to Steinhardt social media content producers, and coordinates on digital marketing campaigns geared towards student recruitment. Prior to joining the Steinhardt team, Nitasha was a Communications Associate at Education Through Music, a nonprofit that provides music education as a core subject to students throughout New York City.
She is working towards her M.B.A. at NYU's Stern School of Business, and received her M.A. in Communications at Johns Hopkins University and B.A. in Journalism and Music at New York University.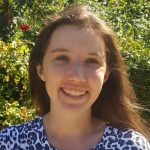 Nicole Crozier, Project Coordinator, University of Victoria
Nicole Crozier is a student affairs professional who has worked in orientation and student life programming at institutions across Canada. She currently works as a Project Coordinator in the Office of Student Life at the University of Victoria, in British Columbia, Canada.
As Project Coordinator, she has led the development and implementation of a new online orientation program for students, as well as marketing and communications strategies for incoming students. Creating engaging and informative digital content is a focus of both her work and her studies as an M.Ed student in Educational Technology.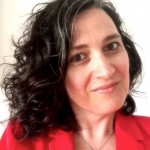 Karine Joly, Digital Marketing Educator and Expert
Karine oversees the development of the professional development curriculum at Higher Ed Experts and has conducted several research projects on the use of digital marketing analytics in higher education since 2011. She developed the Higher Ed Digital Marketing Analytics Roadmap (HEDMAR) Framework in 2016.
Karine taught the capstone graduate course of the MBA in Social Media Marketing at Southern New Hampshire University: Social Media Marketing Campaigns, a course she designed and authored for this SNHU online program. At Higher Ed Experts, she has taught social media marketing to more than 150 higher ed professionals.
Karine has shared her insights about higher ed digital marketing and social media trends since February 2005. She also authors the Internet Technologies column for University Business. She has presented on social media marketing, web analytics and online courses at leading higher ed conferences (CASE, American Marketing Association, EduComm, eduWeb, CUPRAP, HighEdWeb, etc.).
Should I attend the Higher Ed Experts (Free) Friday Talk & Learn at 11:30AM ET (#HEETalkLearn)?
This conference is recommended for teams including:
Want to attend the Higher Ed Experts (Free) Friday Talk & Learn at 11:30AM ET (#HEETalkLearn)?
Apr 10, 2020
11:30 AM ET
Register by Apr 30, 2020
Registration fee: $45 $Free

Only 30/500 seats left

Register only once
Register Now