Focused more on action than memorization, this course will guide you through the creation and implementation of your measurement process for your social media efforts using the Higher Ed Digital Marketing Analytics Roadmap (HEDMAR) Framework.
Why have many higher ed pros taken this course — and why should I?
Several of your higher ed colleagues have developed their social media measurement practice by taking this professional certificate online course from 2015 to 2018. The 2019 redesign of this course was informed by student feedback, changing analytics practices, learning and cognitive research, but also shrinking attention spans and increasing demands on your time.
Do I really need to take this course on Social Media Analytics for Higher Ed?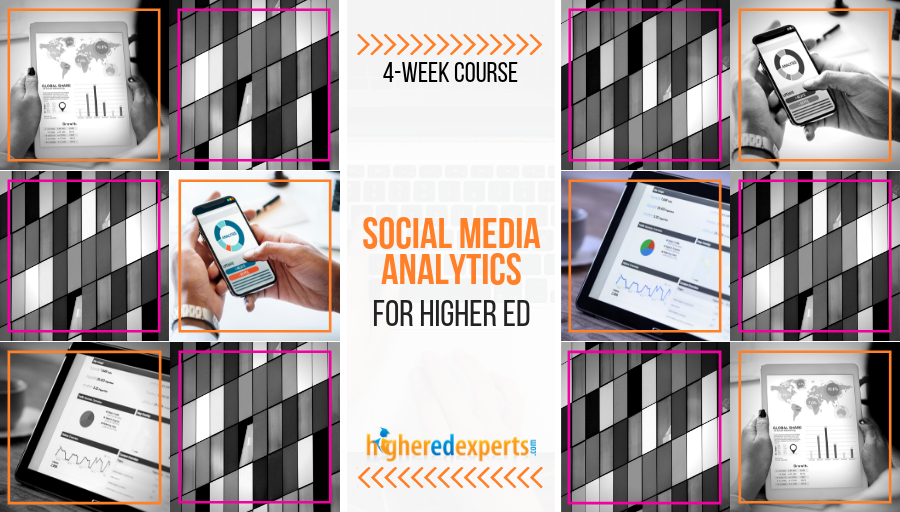 Are you in charge of social media, but feel overwhelmed by all the analytics reports?
Do you need help to measure what matters to demonstrate social media value to your boss?
Do you want to make data-driven decisions for social media at your school?
This 4-week Social Media Analytics online course has been designed (and redesigned!) to help you design and implement a comprehensive social media measurement plan as part of your higher ed marketing strategy, so you can better inform the social media strategy of your department, division or institution of higher education.
Oct 26, 2020

-

Nov 22, 2020

Register by Sep 18, 2020
Tuition & fees: $1200

$

800

Only 10 seats left
What will I learn about Social Media Analytics for Higher Ed?
During this 4-week online course, you will learn to plan, set up and implement a measurement process – specifically designed for higher education – to assess the performance of your social media initiatives, campaigns and accounts with Facebook, Instagram, Twitter and LinkedIn Analytics as well as Google Analytics and Google Data Studio:
Outline a measurement plan identifying the most relevant social media or GA metrics, dimensions and goals aligned with your strategic objectives
Set up and implement the best approach to track and tag properly your data, goals and conversions (social media pixels, UTMs, GTM)
Segment and analyze your social media analytics data to uncover insights
Design an actionable measurement report to share data, insights and recommendations (Presentation, Google Data Studio Reports)
How will I learn?
You'll learn by: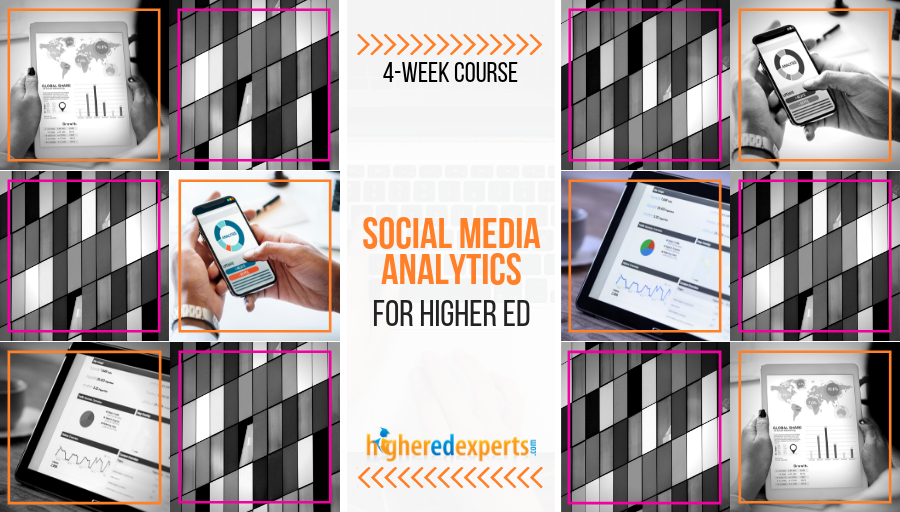 doing what's needed to create and set up a sound and efficient process to assess and measure the performance of your work and identify recommendations to improve its general impact
investing 10 hours of your time per week on crafting the building blocks of your social media measurement practice in weekly hands-on assignments, brainstorm with your classmates solutions to any measurement roadblocks and studying focused course content designed to help you complete your weekly assignments.
studying when it's convenient for you as long as you meet the weekly deadlines for the class brainstorming discussion and practical assignment.
exchanging with a small group of your higher ed professional peers in our sessions limited to 10 students, all working for institutions of higher education.
getting detailed and prompt feedback on all your graded assignments from your professor.
Who will be my professor?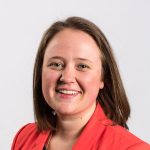 Jessica Stutt, Integrated Marketing Manager - University of New Brunswick
Jessica Stutt is the Integrated Marketing Manager at the University of New Brunswick. She is an experienced marketing professional with a background in marketing analytics and measurement. She has significant experience in collecting and analyzing data from a variety of marketing sources and converting raw data into meaningful, comprehensive reports.
Before joining the Marketing Office at the University of New Brunswick, Jessica worked in marketing at Salesforce Radian6, a social media monitoring platform. Jessica holds a BA and MBA from the UNB as well as a Master of Urban Studies from Simon Fraser University.
She is a faculty member at Higher Ed Experts and teaches social media and digital analytics. She is also a graduate of Higher Ed Experts' Social Media Measurement and Advanced Web Analytics professional certificate programs.
Should I take this course on Social Media Analytics for Higher Ed Course?
This course is recommended for:
How will this course pay off for my institution?
Your institution should invest in this course for these top 5 reasons:

No travel expenses or down time while you work on the creation and implementation of your measurement process while learning: 4 weeks give you the time to absorb all the concepts, practice, get feedback, set up everything and develop new skills through deliberate practice. You can't just do all of this at a conference or a 1-day workshop.
This course focuses on higher education: everything will apply to your situation.
Your classmates will all work at universities, colleges or schools: you'll find out how other institutions tackle social media analytics challenges and join a learning community of higher ed professionals like you.
You will set up your measurement process: you'll create the different building blocks of this process by following the HEDMAR Framework developed for higher ed digital professionals.
Your course registration covers everything you need including a 1-year access to the course materials and any updates made during this time.
What is included in my course registration fee?
Course materials: screencasts, readings, quizzes, weekly online brainstorming discussions & assignments.
Unlimited questions via the "Ask the Prof" discussion board during the 4-week session.
Lifetime membership in the course Facebook group
1-year access to the regularly updated online course materials.
Recognized certificate of achievement in social media analytics for higher ed upon completion of the course with a final grade of 80% or more.
How can I know if this course is a good fit for me?
Take the first step on your learning journey by requesting access to our 7-minute HEDMAR test.
Once we can assess the current maturity level of your analytics practice, we will tell you if this is the course for you or if you should consider another one (we offered 5 different courses in Analytics for higher ed).

Don't miss the next session!
Oct 26, 2020 - Nov 22, 2020
Register by Sep 18, 2020
Tuition & fees: $1200 $800

Only 10 seats left