Why did so many of my higher ed colleagues take this course?
More than 150 of your higher ed colleagues have figured out their social media strategy by taking this constantly updated professional certificate online course since February 2012.
Ready to tackle Social Media Marketing for Higher Ed?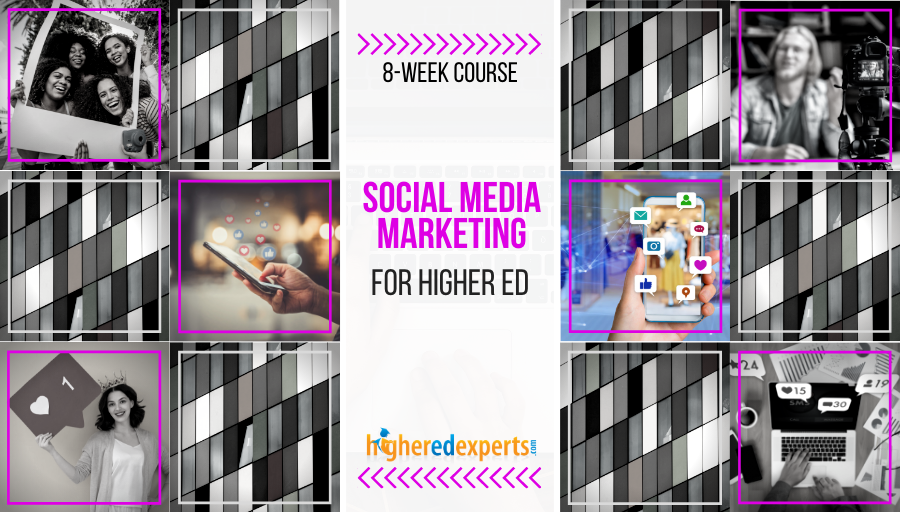 Has social media marketing become your responsibility at your institution?
Are you in charge of your school's social media accounts?
Will you soon design the social media marketing strategy for your university, college or unit?
Such exciting challenges!
Exciting — and overwhelming, we know.
That's why we want to help you as we've helped more than 150 of your colleagues working in universities and colleges.
This course was designed for YOU, to help you get up to speed and optimize your social media strategy and operations at your school.
Jul 12, 2021

-

Sep 12, 2021

Register by Jul 08, 2021
Tuition & fees: $2400

$

1000

Only 5 seats left
What will I learn about Social Media Marketing for Higher Ed?
You will study and practice the building blocks of successful social media marketing for higher education during this 8-week online course:
marketing strategy principles
social media policy, social media platforms terms of service and online community etiquette
competitive landscape and audience analysis
social media marketing analytics and success metrics
content strategy for social media marketing
writing for social media & social media takeovers
social media advertising tactics
integrated marketing approach
Really interested in this course?
If you're thinking about taking this course, request more information by filling out this online form:

How will I learn?
You'll learn by:
investing 10 hours per week of your time on course materials, quizzes, discussions with your classmates and assignments.
studying when it's convenient for you as long as you meet the weekly deadlines for class discussion posting and assignment submissions.
exchanging with a small group of your peers in our sessions limited to a few (<10) participants working in institutions of higher education.
working on weekly social media marketing hands-on assignments you can use the next day at work: presentations, memos, plans, etc.
getting detailed and prompt feedback on all your graded assignments from your professor.
Who will be my professor?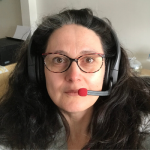 Karine Joly, Digital Marketing Educator and Expert
Karine oversees the development of the professional development curriculum at Higher Ed Experts and has conducted several research projects on the use of digital marketing analytics in higher education since 2011. She developed the Higher Ed Digital Marketing Analytics Roadmap (HEDMAR) Framework in 2016.
Karine taught the capstone graduate course of the MBA in Social Media Marketing at Southern New Hampshire University: Social Media Marketing Campaigns, a course she designed and authored for this SNHU online program. At Higher Ed Experts, she has taught social media marketing to more than 150 higher ed professionals.
Karine has shared her insights about higher ed digital marketing and social media trends since February 2005. She also authors the Internet Technologies column for University Business. She has presented on social media marketing, web analytics and online courses at leading higher ed conferences (CASE, American Marketing Association, EduComm, eduWeb, CUPRAP, HighEdWeb, etc.).
Should I take this course on Social Media Marketing for Higher Ed Course?
This course is recommended for:
How will this course pay off for my institution?
Your institution should invest in this course for these top 5 reasons:
No travel expenses or down time while you learn much more than you would by attending any 2-day workshop or conference: 8 weeks give you the time to absorb all the concepts and acquire new skills.
The focus of this course is social media marketing for higher ed: everything will apply to your situation.
Your classmates will all work at universities, colleges or schools: you'll find out how other institutions tackle social media marketing challenges.
You will learn by working on practical assignments: you'll be able to implement best practices at work even before the end of the course.
Your course registration covers everything you need including a 1-year access to all the course materials.
What is included in my course registration fee?
Course materials: written lectures, readings, videos, quizzes, 8 graded discussions & 8 graded assignments.
Unlimited questions via the "Ask the Prof" discussion board during the 8-week session.
1-year access to the regularly updated online course materials.
Recognized certificate of achievement in social media marketing for higher ed upon completion of the course with a final grade of 80% or more.

Don't miss the next session!
Jul 12, 2021 - Sep 12, 2021
Register by Jul 08, 2021
Tuition & fees: $2400 $1000

Only 5 seats left