Higher Ed Mobile Summit: Winning Strategies, Top Trends and Practical Solutions for Mobile in Higher Education
March 13, 14 & 15, 2012 – 1PM-2PM ET
Registration fee: $350 (3 live webinars with Q&A, 1 year recording access, handouts)
REGISTER NOW!
[tfg_social_share]


The 2012 State of Mobile Web in Higher Ed Survey Report (PDF) Tweet
Higher Ed Mobile Summit: Winning Strategies, Top Trends and Practical Solutions for Mobile in Higher Education
"Higher Ed Mobile Summit" is a 3-webinar series that will help you make the right decisions when it comes to your institution's or department's mobile presence. From winning strategies to top trends and practical solutions, this summit will present all you need to know to be fully prepared for the Year of Mobile in higher education (it's 2012, right?)
March 13, 2012 – 1PM-2PM ET – Rain date: March 20, 2012
Mobile strategy for higher ed
Native apps, mobile dedicated websites, responsive websites and some: there is no shortage of options when it comes to mobile in higher education. That's why it's so easy to make the wrong decision. Dave Olsen, Professional Technologist at West Virginia University, will help you focus on the most important questions and walk you through the strategic thinking required to select the right path for your institution.
March 14, 2012 – 1PM-2PM ET – Rain date: March 21, 2012
Top trends in higher ed mobile
Stewart Foss, Founder of eduStyle and the eduStyle Awards, will present the latest trends in higher ed mobile design identified among the best early adopters of mobile web solutions in higher education. From dedicated mobile websites, native apps to responsive web design websites, Stewart will give you a tour of the the current higher ed mobile landscape.
March 15, 2012 – 1PM-2PM ET – Rain date: March 22, 2012
Practical solutions to set up a mobile web presence by.. yesterday
While you understand the need for a comprehensive mobile strategy, sometimes you might be asked to get a mobile solution up and running ASAP. Nick DeNardis, Associate Director for Web Communications at Wayne State University and the host of EDUCheckup, has done his homework and will guide you through the mobile frameworks and platforms available to higher ed institutions. Nick will show you how to leverage these frameworks and existing resources to build a foundation for your ever evolving mobile presence.
What you will learn:
Why and how to design your mobile strategy
The state of the mobile web in higher ed
Top trends in mobile solution designs
How to use existing mobile frameworks to speed up your development process
Who should attend and why:
Primary audience: mobile strategists and developers, web designers, web developers, webmasters, web communications directors, web strategists and project managers.
May also attend: communications and marketing directors, admissions and alum offices directors and managers and other administrators interested in developing a mobile solution.
Faculty:
David Olsen, Professional Technologist – West Virginia University
Dave Olsen is a Professional Technologist with the University Relations – Web unit of West Virginia University, where he has worked since 2002. Dave has done extensive research on mobile strategies and has presented about the topic at many conferences. He is a recognized and quoted expert on the mobile web in higher ed.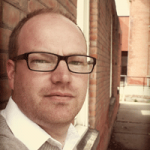 Stewart Foss, Web Designer and eduStyle Founder
Stewart has spent the last decade working in higher ed. He has worked in web management for two institutions, Athabasca University and Grant MacEwan University, and as an instructor at another, Lethbridge College. He is the founder of eduStyle and the eduStyle Higher-ed Web Awards. He also co-authored of the eduStyle Guide to Higher-ed Homepage Usability. He's been working to spread awareness of best practices and draw attention to high quality web design in higher ed through his presentations and work.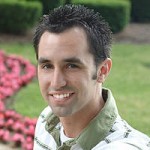 Nick DeNardis, Associate Director Web Communications – Wayne State University
Nick is the Associate Director of Web Communications at Wayne State University. As host of the video blog, EDU Checkup, he reviews higher education sites from the point of view of a first time visitor, while critiquing the design, information architecture and code of the sites.
Important information for Webinar attendees:
Feel free to gather your team members around your computer or a larger campus group in front of a screen with an LCD projector.
Audio is done via voice over IP but you can also access it via a toll free number if it's more convenient for you
Webinar slides are available as PDF files prior to the sessions for easy note-taking.
Access instructions will be emailed to registered attendees along with links to the presentation files on March 12, 2012 – and will be accessible from the top of this webinar page as well.
In case a webinar needs to be rescheduled, it will be on the date listed above as its "rain date."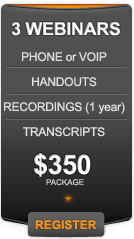 Registration fees: $350
The fee for a webinar series is for a single connection with an unlimited number of attendees at that connection. The fee includes the following:
Access to the webinar event and question period
A one year unlimited access to the recording of the event on-demand through a link that we will provide to you.
All webinar materials