Usability Testing 360: How to run DIY usability tests and dramatically improve your website
June 16 & 17, 2010 – 1PM-2PM ET
Registration fee: $300 (2 live webinars, 1 year recording access, transcripts, handouts)
REGISTER NOW!
[print]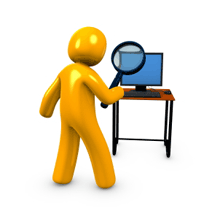 "Usability Testing 360" is a 2-webinar series that will help you improve the usability of your website in no time and with almost no budget. In this series, Chas Grundy, Director of Interactive Marketing at the University of Notre Dame, will share winning strategies, best practices, tools and practical tips to help you set up your own "usability lab." You will also get a unique chance to watch and take part in a usability testing session on real websites, a session conducted by Chas with your help.
June 16, 2010 – 1PM-2PM ET – Rain date: June 23, 2010
Usability Testing 101
If something is expensive, difficult, or time-consuming, chances are you won't do it. Usability testing doesn't have to be this way. This session will cover why testing is useful, different kinds of tests you can perform, how to pull it off without spending a lot of time/budget and how you can use the results to improve your website. Chas Grundy will also share the 10 most common usability issues he has discovered through usability testing.
June 17, 2010 – 1PM-2PM ET – Rain date: June 24, 2010
Let's Get Usable!
In this webinar, Chas Grundy will actually perform a couple of tests on different sites using various methods and tools. The use of screen capture tools, IA testing, and A/B testing methods will be demonstrated through real-time short usability tests. You will be able to see how easy it is to make your website work better. And, one lucky registered participant will get a chance to test a site.
What you will learn:
What usability testing can do for you and your website
What tools to use and how to run usability tests on your own
How to interpret the results into actionable recommendations and design changes
10 common usability issues on higher ed websites
Who should attend:
Primary audience: web designers, web developers, web editors, web managers, web communications directors and web services managers
May also attend: web marketing and communications teams, programmers, project managers and web redesign committee members
Faculty: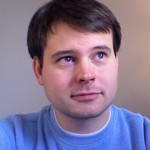 Chas Grundy, Director of Interactive Marketing – The University of Notre Dame
Chas Grundy is the Director of Interactive Marketing for AgencyND – a marketing agency within the University of Notre Dame. As a web marketer, social media advocate, and former developer, he has seen the best and worst of what technology can do for higher education.
Important information for Webinar attendees:
Feel free to gather your team members around your computer or a larger campus group in front of a screen with an LCD projector.
Audio is done via voice over IP but you can also access it via a toll free number if it's more convenient for you. We recommend that you plan to have a telephone available as a back up for the 2nd session.
Webinar slides are available as PDF files prior to the sessions for easy note-taking.
Access instructions will be emailed to registered attendees along with links to the presentation files on June 14, 2010 – and will be accessible from the top of this webinar page as well.
In case a webinar needs to be rescheduled, it will be on the date listed above as its "rain date."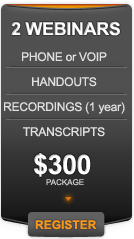 Registration fees: $300
The fee for a webinar series is for a single connection with an unlimited number of attendees at that connection. The fee includes the following:
Access to the webinar event and question period
A one year unlimited access to the recording of the event on-demand through a link that we will provide to you.
All webinar materials