Web Writing Boot Camp: strategies, techniques and tools to write Web content that will be read
December 6, 7 and 8, 2011 1PM-2PM ET
Registration fee: $350 (3 live webinars, access to the exercise area, 1 year recording access, transcripts, handouts)
REGISTER NOW!
Looking for the May 2011 Boot Camp Materials? Log in!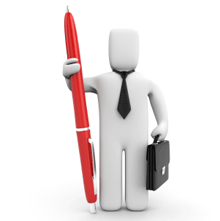 Web Writing Boot Camp is a 3-webinar series that will help you write better and more effective online copy. With its original hybrid format combining practical exercises to its three live sessions, this boot camp was designed to offer a more interactive and hands-on learning experience than traditional webinars.
Our Web Writing Boot Camp will provide all you and your team need to make your web content work.
This series is composed of:
3 live presentations scheduled on December 6, 7 and 8, 2011
A short (strongly recommended but optional) pre-webinar "assignment"
2 practical exercises (recommended but optional) to be posted to the bootcamp blog between the webinars and discussed at the beginning of the second and the third sessions
Pre-Webinar Assignment
Registered participants are asked to send in an example of poor web writing by November 15, 2011 (if you missed the deadline, don't worry we received a few good examples) to karine@higheredexperts with "Web Writing Boot Camp Assignment" in the subject line. This example could be from your own site or someone else's site.
We will use these examples:
1. To get a better sense of the issues on which participants want to work, and
2. As examples during the webinar (all examples will be "anonymized" to protect the innocent)
December 6, 2011 1PM-2PM ET – Rain date: December 13, 2011 1PM-2PM ET
How to reach and connect with readers on the Web
Contexts: What's different about web writing?
What makes web writing different? Context. Web writing has to help your users accomplish their tasks, but also help your institution achieve its goals. It is read in a physically challenging environment (the screen) by users who came to do, not to read. We'll start by looking at the factors that make writing for the web so challenging.
Your goals vs. your users' goals
Brands and authenticity
How web writing is read: where, using what technology, by whom, and why
Web writing as conversation
The best, first thing you can do to improve your web writing is to start thinking about writing as a conversation, not a speech or a lecture. That shift doesn't always come easily in an academic environment! We'll discuss basic principles of conversational writing and look at some examples of moving from lecture-style writing to conversational-style writing.
Six tips for better web writing right now
Once you understand that web writing is a conversation, you can apply that knowledge and improve your web copy right now with the 6 tips we'll share. We'll also talk about the "Mashable problem."
Getting to know your users
Knowing whom you are talking to makes for better conversation. Creating personas that describe your audience give you someone to write to—and help you move beyond generic lists of tips. We'll look at some examples of personas and how you can create personas for your own site.
Boot Camp Challenge #1
Participants will be given a sample persona and a piece of sample writing. Each participant is invited to list five changes they would make to that piece of writing to make it better web writing and fine-tune it for the reader described in the persona.
December 7, 2011 1PM-2PM ET – Rain date: December 14, 2011 1PM-2PM ET
From static pages to social media: Using the genres of web writing
After reviewing the Boot Camp Challenge postings from participants, we'll go more deeply into ways to make your web writing more effective: developing a voice, improving phrases and sentences, structuring longer web writing, and SEO techniques. Then we'll turn to how we need to adapt these techniques to the various "genres" of web writing, with an emphasis on how to craft effective web writing for social media.
Advanced techniques
Now that you know your audience better, you can start revising and focusing your content more carefully. We'll talk about developing a voice, front-loading important content, writing microcontent, and structuring longer web writing.
Getting web writing found (SEO)
Web writing only has value if it gets read. We'll look at
How to use keyword research
How to place keywords placement, and
How to use meta tags.
We'll also look at how good web writing practices can help you do SEO naturally, every time you write.
Genres of web writing
The principles of good web writing get applied differently in different places. We'll look at examples and guidelines for different genres of web writing, including
Home pages, navigation pages, and content pages
Blog and news posts
Videos and multimedia
E-mail
Social media
Good web writing is conversational, and social media is the most conversational genre of web writing. We'll look at how everything we've learned so far applies to social media, including:
How the rules differ for each social media forum (Facebook, Twitter, etc.) and how to figure out what the rules are
Voice for social media
Conversing and catalyzing conversations
What kinds of content work in social media?
Adapting content to social media
When, where, and how frequently to post
Using principles of microcontent for social media
Boot Camp Challenge #2
Participants will be provided with a sample of web writing and challenged to adapt it to a different genre of web writing. (Optionally, participants can choose a sample of writing from their own website.)
December 8, 2011 1PM-2PM ET – Rain date: December 15, 2011 1PM-2PM ET
Making good web writing happen

After reviewing the results of Boot Camp Challenge #2, we'll dive into the most challenging web writing topic of all: making it happen.
Web writing is a challenge on its own. But most of us have to create it with collaborators—many of whom don't understand (or care to understand) the complexities of good web writing. The third day will dive into techniques for working with collaborators and contributors, including style guides, content strategy, and assessment techniques.
Creating a style guide
To provide good content, website contributors need to know the ground rules. We'll look at what a style guide is, and how to create, implement, and share one for your website.
Making content happen: Content strategy
If you're a web writer, you also need to understand content strategy. We'll cover content strategy basics, with an emphasis on the techniques that can be useful for working with website contributors:
Planning for good content
Content inventories
Workflows: where does content come from? How does it happen?
Removing content: when less is more
Creating and using content templates
Content strategy for social media
Assessment
Assessing your writing is the best way to improve it. We'll return to the (possible) conflict between your institutional goals and your users' goals, and then look at some ways you can assess the effectiveness of your web writing, including:
Assessing writing with analytics
Assessing writing with user testing
What you will learn:
What the reading patterns and constraints are, how social media has changed the web writing paradigm
How to apply content strategy principles/basics and how to get all your content contributors to embrace it
How to implement winning storytelling techniques and web writing semantics
How to use more advanced techniques to write content that will be read (SEO, analytics, usability testing, etc.)
Who should attend and why:
Primary audience: web editors, web writers, web content contributors, web communications managers, online marketing specialists, social media coordinators, online magazine editors and writers
May also attend: communication directors, marketing managers, publication officers, print magazine editors/writers, web designers and web developers
Faculty:
Michael Powers, Director of Web Services – Indiana University of Pennsylvania
Michael Powers is Director of Web Services at Indiana University of Pennsylvania, where he has worked since 1999. A former English professor, Michael coded his first HTML in 1993 when he probably should have been reading Shakespeare.
Since that time, he has moved from web-enabled English professor to e-learning developer to web developer and then to his current position.
Important information for Webinar attendees:
Feel free to gather your team members around your computer or a larger campus group in front of a screen with an LCD projector.
Audio is done via voice over IP but you can also access it via a toll free number if it's more convenient for you
Webinar slides are available as PDF files prior to the sessions for easy note-taking.
Access instructions will be emailed to registered attendees along with links to the presentation files on December 6, 2011 – and will be accessible from the top of this webinar page as well.
In case a webinar needs to be rescheduled by Higher Ed Experts, it will be on the date listed above as its "rain date."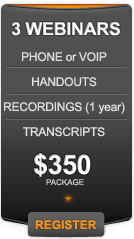 Registration fees: $350
The fee for a webinar series is for a single connection with an unlimited number of attendees at that connection. The fee includes the following:
Access to the webinar event and question period
A one year unlimited access to the recording of the event on-demand through a link that we will provide to you.
All webinar materials