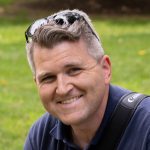 Tim Brixius, Digital & social media specialist at Franklin & Marshall College, is one of the 12 presenters of the 6th Higher Ed Social Media Conference.
In this 4-question interview, Tim tells us about the plan for Facebook in 2019, a new tool, 3 higher ed social media accounts and an inspiring social media campaign idea.
1) Considering how engagement and reach on Facebook have evolved at your school in 2018, what's your plan for 2019?
There is no doubt that our overall organic reach on Facebook has taken a hit from its highest point in the summer of 2016; numbers are down nearly 50%. At the same time, our average interaction per post has been fairly consistent. We have recently shifted to posting less content on Facebook, while making sure that what we do post is more relevant to the audience that matters most to us there, our alumni. We have slightly increased the amount we spend for paid reach and will likely continue doing so in 2019.
2) What is your favorite new tool for your social media work?
I recently discovered Adobe Spark Post, part of Adobe's creative tools that is available as both a web app and mobile app. I use Spark Post to add a little more panache to our Instagram Story posts, as it allows for more creative use of text and simple animation than is possible in the Instagram app. Other nice features: built-in access to stock images and the ability to share templates with the students in my team through Adobe's Creative Cloud.
3) What are the 3 higher ed social media accounts you follow with envy?
New York University – Instagram
New York University does a masterful job of capitalizing on its location in New York City by including many gorgeous shots of the urban landscape. A sense of place is crucial to share with prospective students.
Dr. Paula Johnson – Instagram
I was recently exploring examples of collegiate president accounts to share with our new president as she seeks to establish her own Instagram, and I was struck by the nice mix of images on this account for the president of Wellesley College: close-ups, behind-the-scenes, group shots, archival images, graphics, etc.
Boston College – YouTube
I really like the mix of videos here, especially the 60-Second and Fresh Takes series.
4) What is the coolest social media campaign you've noticed this year?
Knoebels Amusement Resort is a beloved Pennsylvania theme park that has been entertaining generations of families in the Northeast U.S. for nearly 100 years. The resort Facebook Page has nearly half a million followers and many of their posts garner plenty of interaction as fans comment on and share with excitement their own stories of visiting the park. I particularly enjoy the photos they share in the off-season (they are closed from November to April), many of which feature a behind-the-scenes glimpse of the craftsmanship involved in maintaining so many decades-old attractions. One example: a photo of painted benches that garnered 1600 reactions and more than 60 comments!
I often struggle to find meaningful content in Franklin & Marshall's own "off-season" (we have no classes in the summer), but these posts are a good reminder that there is always a way to connect with your biggest fans.
Follow Tim Brixius on @higheredexperts Instagram account for a day on October 22, 2018!
Are you a fan of Instagram Stories Takeovers by students or alums?
You're going to love Higher Ed Experts' #HESM18 Instagram Stories Takeovers where your higher ed social media colleagues share a day in their life.
Make sure you don't miss Tim's 1-day Instagram Stories Takeover on October 22, 2018 – live from the HighEdWeb Conference in Sacramento! – by following Higher Ed Experts' Instagram account now!
A conference focusing on higher ed social media?
The 6th Higher Ed Social Media Conference (HESM18) is a must-attend event for higher ed social media professionals and teams looking for inspiration, ideas and best practices to get ready for 2019.
Read below what your higher ed colleagues who attended the past editions of the Higher Ed Social Media Conference said about their experience.
Tags:
HESM18
,
Higher Ed News