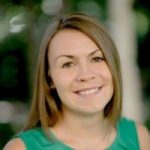 Shay Galto, Manager of Marketing Analytics at the University of Denver, is one of the 12 presenters of the 2019 Higher Ed Content Conference
In this 4-question interview, Shay shares with us thoughts on content creation process and measurement, interesting higher ed content and a favorite tool.
1) What does your content creation process look like?
As the Manager of Marketing Analytics, my role is to work with our content team throughout the creation process and to analyze the success of the content after it has been displayed. As frequently as possible, we work together at onset to establish key performance indicators (KPI) for our website, social, and written content.
From there, we build out a map that loads the content into our KPI buckets. Our Content Manager or Manager of Social then works with campus constituents to build the content. Whether the content is displayed through web, email, or social, we all work together to make sure we are appropriately tracking and analyzing the content. We later use the analysis to inform future content based on what resonated most with our constituents.
What makes all of this work so well is the collaboration between the teams involved. Our content team does an outstanding job keeping all of the pieces moving in the same direction. We could improve by performing this process throughout all of our projects (even the last minute ones!).
2) How is the performance of your content measured at your school?
At the University of Denver we try to measure and evaluate our content holistically. For our everyday projects, we first set key performance indicators, so we know exactly how the content is moving our mission forward. From there, we work to ensure that we have the correct tracking mechanisms in place, whether through UTMs, Google Tag Manager, or a different tool. Then, we build dashboards in Google Data Studio that give a quick visualization of the success of our content.
One example of this is our newsroom stories. The stories all load into key KPIs that our Communications Director set. As the stories are written they are tagged with buckets that we can later use to segment. Before we send them through email, we add UTM tracking codes so we can analyze the acquisitions to our website. After the story is live, we view the data in Google Analytics, but also look at a weekly dashboard that shows the success of our content. We then regroup and discuss what content resonated – through open rates, volume of users, scroll depth, goals achieved, and CTA clicks on the stories. We use those analytics to inform future content.
3) Share 3 pieces of higher ed content that made you envious or proud
I'm happy to put a shameless plug in for our new website! We are in the middle of a comprehensive web overhaul and have been working tirelessly on du.edu. What I love about the site is the accessibility and layout.
Outside of DU, I follow Team Social at Colorado State University, as they always are publishing innovative content. Recently, they released a simple and quick video of their mascot, Cam the Ram, on Valentine's Day. In less than 24 hours, they received close to 25,000 views on Facebook. If you enjoy animal puns like I do, you may want to check it out!
Finally, our Manager of Content Strategy shared with our team the difficult, yet important, work that Brigham Young University has embarked on, which uses social media to help victims of sexual assault. While this is a difficult conversation, they have done an excellent job facilitating and providing resources to their students. Have a look at their entire presentation
4) What's your favorite new tool for your work with content?
We recently started using Google Tag Manager with all of our new websites. We love this tool because it gives us an easy way to measure the success of our content without having to utilize the skills of our developers. This tool makes it easy to track the success of content and to run A/B testing.
A conference focusing on higher ed content?
The Higher Ed Content Conference is a must-attend event for higher ed content professionals and teams looking for new ideas and best practices.
Read below what a few of your higher ed colleagues who attended the past editions of the Higher Ed Content Conference say about the experience.
Tags:
HECO19
,
Higher Ed Marketing
,
Higher Ed News