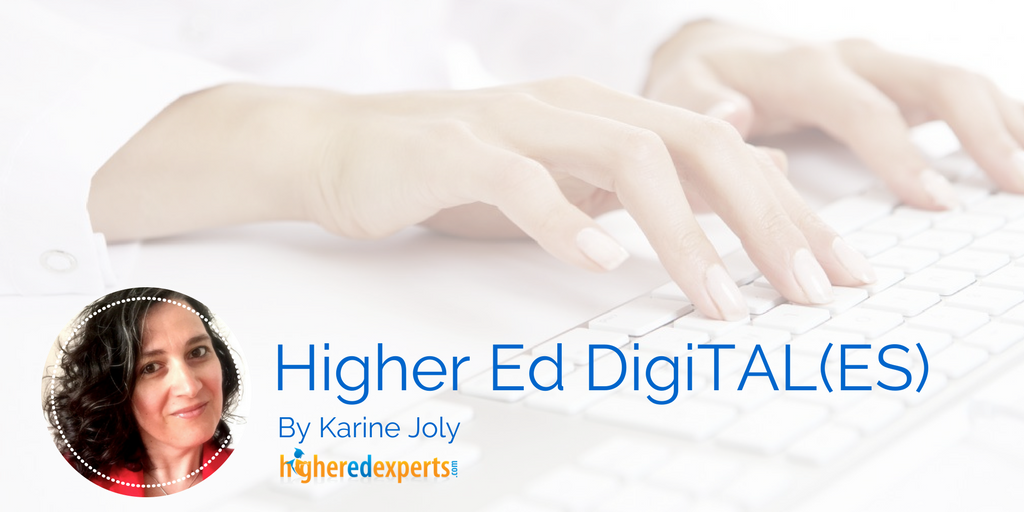 Higher Ed Websites don't get the attention they deserve
Higher ed websites are working hard. As the digital face and headquarters of your school, your website plays a key role in your digital marketing and communication strategy.
Yet, higher ed websites don't always get the attention and love they deserve, because, as higher ed digital professionals, we all have a love-hate relationship with them: too many hands in the pot, too many stakeholders making decisions, posting content or changing fonts! 😉
Higher ed websites often come with governance nightmares, performance challenges and optimization headaches while requiring your web team to juggle with a plethora of different skills.
Higher Ed Websites (almost) never let you down
Despite these intrinsic issues, it still makes sense to invest time and resources in your higher ed website, the only digital property your school really owns (and doesn't rent or borrow – like your social media channels or your advertising campaigns).
Because social media can go down as we saw last week with Facebook & Instagram.
Me trying to log in to Facebook and Instagram for the past five hours! ???#instagramdown #facebookdown pic.twitter.com/eVKT6FELyC

— Berkeley College (@BerkeleyCollege) March 13, 2019
Today is a reminder that #socialmedia must be part of an integrated strategy. We should balance owned, earned and paid media and have ways to connect w/ our audiences & achieve our goals outside of being dependent on 3rd party sites. #HESM #CASESMC

— Tyler Thomas, MA (@TylerAThomas) March 13, 2019
Want to present at a conference 100% focused on higher ed websites?
Since summers are usually a great time to get some (real) web work done, I've scheduled the 2019 Higher Ed WEBSITES Conference in early June to allow the higher ed web community to share great ideas, best practices and lessons learned across web teams in North America (and beyond!).
What makes this online conference really cool is that you don't need a budget travel to present or attend with your entire team (just a big screen).
Launched last year this online conference I organize for Higher Ed Experts is composed of 12 sessions of 10-minute each followed by a Q&A session with all the speakers.
The sessions are focused, not too long, not too short to keep everybody interested and inspired by a dozen of cool ideas or projects.
The Q&A at the end is really cool, because speakers get to answer questions from the audience – "Brady Bunch" style as you can see in this excerpt from the discussion we live-streamed on Facebook last June.
The Higher Ed WEBSITES Conference is fun, useful for the audience – but don't take my word for it, just look below at what some attendees said about their conference experience last year.
But, this online conference is also a great speaking opportunity for any higher ed web pro doing cool new things or solving old problems with fresh ideas.
As I explained at the end of the conference last year (check out the 5 last minutes of the Q&A above), I would love to feature new voices, new ideas, fresh perspectives at the 2019 Higher Ed WEBSITES Conference, but I need your help to do this.
Submit your proposal for a 10-min session by April 3, 2019!
Whether you want to take the plunge to present for the 1st time or you are familiar with the conference circuit (Philly, Milwaukee or Las Vegas are in your future maybe?), you can make a big difference by sharing with your higher ed colleagues what you do, what you struggle with as well as the tools & tactics that work for your higher ed website(s).
Here's a list of possible topics to help you think about what your session proposal could be:
Anything related to higher ed websites
Web design trends for higher ed websites
Website personalization
HTTPS migration
Web Accessibility
Web performance & speed optimization
UX, user design
Usability, usability testing
A/B testing
Compassionate, ethical design
Web redesign project
Iterative redesign process
Data-driven redesign
Information architecture, navigation, search
Content Management system selection process
Content Management systems implementation/migration
Design frameworks & systems
CSS Grid Layout
Unified design system, atomic design
Website security
Search engine & social media optimization at scale for the website
Google Tag Manager implementation tips, lessons learned, case studies
Privacy, data policies for websites, GDPR compliance
Working with a Web agency
Free tools that save time for web teams
And, if you need even more help, have a look at my 60-minute proposal development guide from brainstorming to submitting.
Conference proposal: from brainstorming to submitting in 60 minutes
Ready to take a step to advance your higher ed career?
If you're a seasoned pro, you probably don't need my help to get your conference proposal ready.
But, if you struggle with many things on your to-do list now, here's how you can find a good topic and get your proposal ready in 1 hour of focused work (no interruption).
Take 15-minutes (set up a timer, ask Siri) to list the projects you've worked on, the best practices you've implemented, the tools you've incorporated in your workflow or/and the lessons you've learned over the past 6 to 8 months.
When you're done, take a 2-minute break. Only 2 minutes though 🙂
Now, read the list you've just made and look for 2 points that you would implement/use again if you started a new job at another school. This little exercise will help you find quickly the most interesting topics for your colleagues. Take 10 minutes to come up with your short list.
For each of the topics on your short list, spend no more than 5 minutes to write a short paragraph addressing why this is important, timely or useful and what your colleagues will learn by attending your session.
When you're done, take a 3-minute break.
Read your 2 paragraphs and add a descriptive title for each. If you submit a proposal for the 2019 Higher Ed WEBSITES Conference (Didn't think you should? It's a great way to get exposure with a keynote-size online audience!), don't worry too much about the wording at this stage. I always do a rewrite of session titles and descriptions for the final program. I want to make sure it doesn't read as it was written by 12 different people :-). So, don't spend more than 10 minutes on this.
Take the remaining 10 minutes to submit THE proposal that aligns the most with your professional brand. What do you want to be recognized for in our industry? If you can't choose between 2 topics, submit both. You will also be asked to provide a short bio as well as a photo (think LinkedIn profile photos).
Congratulations, 60 minutes of focused work and you're done!
What's in it for you?
Still not sure you want to submit a proposal for the 2019 Higher Ed WEBSITES Conference?
Let's talk speaker perks!
Not just fame and exposure – although you do get quite a bit of exposure when there are only 12 speakers presenting at a Higher Ed Experts conference 🙂
If your proposal is selected for the live conference, not only will you be able to attend the entire conference for free (a $500 value), but you'll get an extra free pass (another $500 value) so your team can attend as well in a different room.
But, what if your proposal isn't accepted?
I only have 12 speaking spots,but I still want to make it worth your time to prepare and submit your idea for a 10-minute session.
So, I've decided to do a little test by offering an extra incentive for you to submit a proposal:
anybody who works at an institution of higher education and submit a speaking proposal will get a free 4-month access to the on-demand recordings of the 2018 conference (a $400 value).
You'll get this free access as well if your proposal is selected for the conference providing that you accept the speaking invitation. In other words, don't submit just to get the freebie! 🙂
So, if you're into math, here's the HEW19 speaker equation:
10 min = $500 + $500 + $400
Looks interesting enough?
Submit your proposal before April 3, 2019!
Tags:
Higher Ed Experts Faculty
,
Higher Ed Marketers Career Advice
,
Higher Ed News
,
Karine Joly