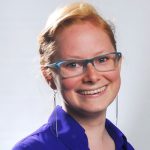 Jeanna Balreira, Creative Director at Trinity University, is one of the 12 presenters of the 2019 Higher Ed Content Conference.
In this 4-question interview, Jeanna shares with us thoughts on content creation process and measurement, interesting higher ed content and a favorite tool.
1) What does your content creation process look like?
At Trinity, content is collaborative. The Office of Strategic Communications and Marketing produces written, video, and photographic content for print and digital distribution. Most content can be categorized as being "partnership" content—produced for partners in enrollment, alumni relations, development, and the Office of the President—and "campus" content, brand stories that highlight faculty, students, staff, and campus news. Our team has a staff video producer, creative producer, brand journalist, digital marketing manager, managing editor, and creative director; we produce stories broadcast on our website (thanks to our awesome web team), published in print (thanks to our great designers), and shared on social (thanks to a team of great interns).
In a weekly meeting, the content team discusses upcoming stories and topics as well as any urgent communication that needs to be written for the campus. Throughout the week, story creators discuss their progress with the managing editor, who works closely with the digital marketing manager to schedule timely communications for our prospective students, alumni, and everyone in between.
Constructive, collaborative feedback is vital to our process: everyone on the content team is empowered to both teach and learn as we evaluate success. This includes crossing media, as writers can give feedback on videos, creatives can give feedback on writing, etc. This allows us to think like different viewers—which we are!
2) How is the performance of your content measured at your school?
Trinity uses both quantitative and qualitative data to measure content success. With tools such as Google Analytics and different social tracking methods, we can determine the reach and impact of a certain piece of content. We know that content has really hit home when people are talking about it on campus or online—especially when they're sharing something new they learned or are excited about.
To further gauge the impact of our content, we are actively working to put this data into perspective of our overarching strategic themes or stories we're aiming to tell.
How can we group content to see what types of content perform better: by topic? theme? type?
How can we evaluate which of our audience members like to consume which type of content: by length? media? distribution channel?
At the end of the day (or month, or quarter), our goal is to have made an impact on our viewers, so that our story becomes an organic part of their story.
3) Share 3 pieces of higher ed content that made you envious or proud
Any issue of Notre Dame Magazine knocks it out of the park for me. I admire their editorial style, their use of alumni writers, photographers, and illustrators, and their courage in addressing current events. Their online issue is just as sophisticated and refined as their print issues, which stand out on my shelves due to their nontraditional size and colorful covers. (Middlebury and Vassar magazines are way up there for me, too!)
Beloit's "Collective" puts out some pretty great content, completely created and curated by a team of student interns—so impressive! Beloit's model is one we continue to watch and be amazed by.
Trinity University is celebrating its 150th anniversary this year. Another San Antonio university, the University of Texas at San Antonio, is celebrating its 50th. It's been fun seeing what UTSA has shared with the San Antonio community as part of its 50th anniversary campaign, and it's been great to celebrate along with them, whether through their magazine, website, or city-wide events!
4) What's your favorite new tool for your work with content?
Airtable has completely transformed the way we manage and produce content collaboratively. We've been able to customize our workflow so that it works for us for all of our different distribution points, from publications to press releases, web stories to social media. We've been able to loop in content producers from across campus and even train our interns.
Runner-up is Frame.io which allows collaborative comments and threads for video feedback. Makes video review a snap, especially with other peoples' comments in perspective!
A conference focusing on higher ed content?
The Higher Ed Content Conference is a must-attend event for higher ed content professionals and teams looking for new ideas and best practices.
Read below what a few of your higher ed colleagues who attended the past editions of the Higher Ed Content Conference say about the experience.
Tags:
HECO19
,
Higher Ed Marketing
,
Higher Ed News