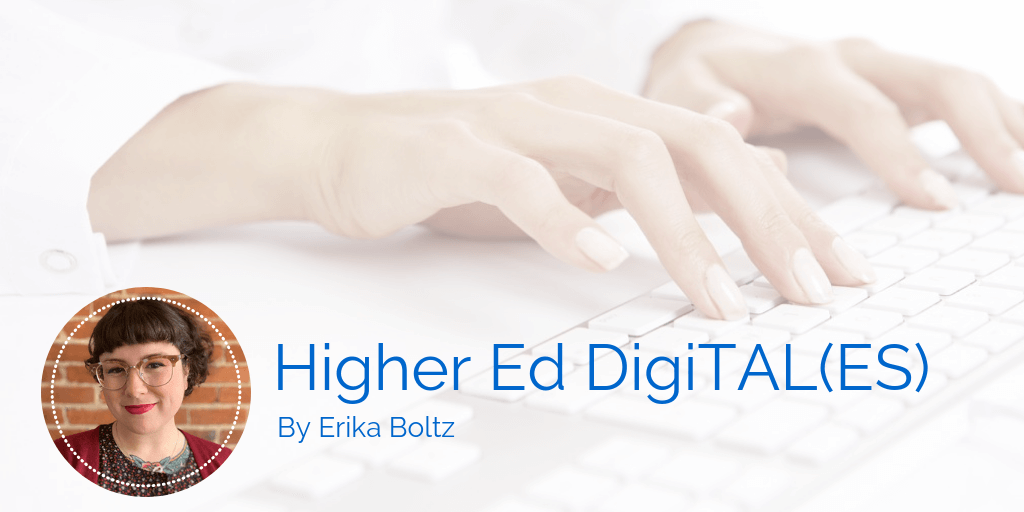 How the #HEWEB19 Fellowship was created to save my session on accessibility
HighEdWeb is one of my favorite conferences. The "for the people, by the people" energy brings a different experience that not every conference has. Funding is tough for all of us when it comes to professional development.
This will be my fourth year attending, but this year it wouldn't be happening without the help of Higher Ed Experts.
Last year I presented at two online conferences (one of the reasons Higher Ed Experts conferences are great), one partially paid by my school and one completely self-funded.
I love presenting and sharing my knowledge with my colleagues, but I personally can not bear the expense anymore. I moved out of state for a new job at the University of Florida last Spring, a move that had a big impact on my life and my conference travels this year.
Before I accepted my new job, I had already been accepted to speak at both eduWeb and HighEdWeb, and I didn't want to cancel on either. So, I went ahead and covered the total cost of the trip and registration to the first conference in August, eduWeb, thinking my professional development funds would kick in by the time HighEdWeb rolled around, but that was not the case.
I didn't have as much lead time to figure out crowdfunding or any alternative options when I got word that the funds wouldn't be dispersing in time. I made a post on social anyway, and to my surprise I received a message from Karine Joly, who I had worked with so much over the last few years.
It is with deep sadness I must announce, due to circumstances out of my control I will no longer be able to attend the @HighEdWeb annual conference.

I still want to help you with social media #a11y, so stay tuned for some materials released closer to the conference!

— Erika Boltz (she/her) (@efboltz) September 4, 2019
From there, this HEWEB19 Fellowship came to be to help me cover my expenses — while I cover the conference for Higher Ed Experts!
Surprise! I officially WILL be attending @HighEdWeb Milwaukee. Forever grateful for @karinejoly + @HigherEdExperts for helping me get me there!

[GIF description: Rachel and Phoebe from Friends jumping up and down excited] pic.twitter.com/kgBT24M2Ci

— Erika Boltz (she/her) (@efboltz) September 12, 2019
I presented at HighEdWeb for the first time last year on social media accessibility and did a take over on the Higher Ed Experts Instagram with a few other alumni. This year you will find me back at it, presenting with the latest accessibility features our favorite platforms are offering and talking about how to bake accessibility into your content strategy.
I'll be covering the conference on the Higher Ed Experts Instagram channel via IGTV with session highlights, alumni and past Higher Ed Experts's presenter spotlights (if you're reading this, come find me before I find you!).
Plus I'll also have some special swag with me this year!
I look forward to connecting with all of you at #HEWEB19 in Milwaukee in October to share ideas and expand the #HESM network.
Meet the Author: Erika Boltz
Erika Boltz is the Social Media Coordinator at University of Florida Health. She is also a graduate of Higher Ed Experts' professional certificate program in Social Media Marketing for Higher Ed who was selected to present at several Higher Ed Experts' conferences including the 2019-2020 Higher Ed Social Media Conference.
Tags:
Higher Ed News