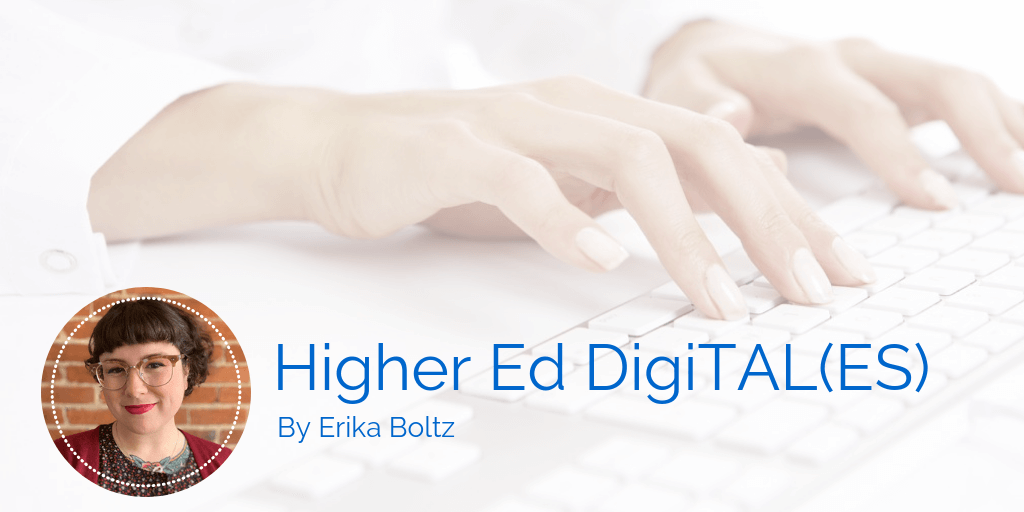 Back from Milwaukee!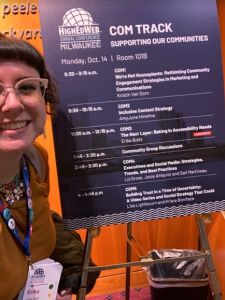 As you know if you've read my previous post for Higher Ed Experts, I presented at the 2019 High Ed Web Conference last week. I spent 32 hours in Milwaukee turning online connections into real-life ones, seeing old friends, sharing ideas and cheese (vegan for me, of course).
So, as promised, here's a recap of my time in Milwaukee and a few of my #GoldenNuggets from this year's conference.
This year the tracks were reconfigured in a way that helps to break down the traditional silos all of us encounter in higher ed. Reframing how the way the conference sessions were organized helped create a more inclusive structure, and brought some folks (that wouldn't have otherwise attended a session) together.
Take good care
A common theme that was running through a number of presentations I attended was bringing the attention back to the people in our community.
Humanity. Self-care. Those things that get pushed aside as we're running on empty triaging issues, navigating tricky interpersonal relationships at work, and always on edge anticipating what could be thrown at us next.
Earlier this month, CNBC reported that 50% of millennials and 75% of Gen Zers have left their job for mental health reasons. The workshop led by Karli Champ, "Avoid the Burnout: How to deal with stress physically, emotionally and mentally at work" was such a timely and refreshing session. We did some physical movement, worked through our stressors and practiced self-compassion.
How we think about ideas, how we see those we work with who may be going through things we're unaware of, and reframing the situation is an opportunity to reduce the daily stress we encounter and practice empathy.
Karli's Google Slides are available online, so make sure you review them for helpful tips and great practice exercise to help you manage your stress at work.
Golden Nugget: Listen to your body. Be inspired by your experiences. Remember that we are all awesome.
Take care of the students you work with. In "Influencer Marketing in Student Affairs" presented by Megan Rolfs, Josie Ahlquist, and Elena Roth ethical concerns were one of the things covered.
Make sure that you're paying students for the work that they're doing. They have a lot on their plate, and by paying them you're not only demonstrating your ethics, but you're ensuring that participating in your student influencer program will be a priority for them.
Using student feedback on the program through regular meetings is also an excellent way to ensure your program is effective.
Important core considerations for student influencer programs from #SNT9 #HEWeb19. Make sure you pay your team ? pic.twitter.com/oGaqdD3TO4

— Erika Boltz (@efboltz) October 15, 2019
Community is everything
Kristin Van Dorn presented on Monday a session titled "We're Not Houseplants: Rethinking Community Engagement Strategies in Marketing and Communications."
This session focused on the importance of engagement within your community and what makes up social capital.
But, it also touched on the loneliness epidemic that's happening all around us (especially on college campuses). In a 2017 survey of nearly 48,000 college students, 64% said they had felt "very lonely" in the previous months. Students also reported feeling overwhelming anxiety (62%), very sad (69%) and that things were hopeless (53%).
Before we can work on engaging with our community, we have to learn more about it.
Some things to ask:
What is the foundational purpose of the community space?
Is your community space conservative or progressive (and not in the political sense)?
In this situation, "conservative" communities want to keep things the same because they love rituals and habits. "Progressive" communities are interested in moving forward and transforming. Meaning is created for progressive communities through emergent activity.
The Google Slides from this session presented by Kristin Van Dorn are available online.
Golden nugget: Tell your community's story, that's how people figure out their role.
Creating community with your leadership was a topic covered in the presentation "Executive and Social Media: Strategies, Trends and Best Practices" by Liz Gross, Josie Ahlquist and Gail Martineau. The social media accounts of Presidents, VPs and Deans are a great way to humanize leadership and drive connections on campus.
The Google Slides of this session are available. Make sure to check them out for great examples.
4 Social Mistakes Campus Execs Make
1. Social Silence
2. Bulletin Board Methods
3. Hands Off Approach
4. Misdirected ROI
Via- @josieahlquist #com4 #heweb19 #hesm

— Jon-Stephen Stansel at #heweb19 (@jsstansel) October 14, 2019
Krista Boniface and Lisa Lightbourn presented an award-winning session (the Red Stapler for the COM track): "Building Trust in a time of uncertainty: A Video Series and Social Strategy That Could".
This "Humans of New York"-style video series works to bring a sense of belonging on a micro level across three campuses with over 90,000 enrollment.
I think it's really great that in this series they made it a point to let what the university stands for come through the people featured rather than hammering academic priorities.
There is a lot of value in documentary-style filmmaking that higher education can benefit from. As we try to move toward that feeling of transparency, this is a very strong execution.
You can watch the whole series This is U of T on YouTube. Here's a 2-minute video introducing the series.
Golden nugget: The answer to uncertainty is to create a sense of belonging.
(en)Lightning Talks… in only 10 minutes!
It's amazing how much insight you can pack in 10-min talks.
Jackie Vetrano and Andrew Cassel (who both presented 10-min sessions in the past at Higher Ed Experts' conferences) didn't disappoint and showed they've mastered the format.
Jackie Vetrano's lightning talk "From "umm…codes?" to UTM codes" was such a helpful break down of a useful analytic tagging practice we should all be using!
Not to mention, Jackie matched her outfit with bitmoji.
Okay but @JackieVetrano 'a bitmoji and IRL outfit coordination ? #HEWeb19 pic.twitter.com/PzYmf8wDit

— Erika Boltz (@efboltz) October 15, 2019
Andrew Cassel also gave an amazing Bob Ross-themed lightning talk "Getting Better at Being The Best: Balancing Learning and Performing". One of my favorite things he brought up was to use your library as a source for content!
Performance vs Learning – my golden nuggets from @andrewbcassel's ?? are to take inspiration from our searches, our libraries (hey @uoftlibraries) and experimentation. #heweb19 #lit5 pic.twitter.com/VhAOVS9p5M

— Krista Boniface ? #heweb19 (@KristaBoniface) October 15, 2019
HighEdWeb always flys by with amazing session after amazing session (Karine Joly picked a few of her favorites – including mine!) and it always seems to go faster as a presenter. The first time I ever presented was for the Higher Ed Experts Content conference in 2018. After that, I was hooked on sharing knowledge and engaging with my community and have been able to present at seven external higher education conferences, including the HighEdWeb conference.
Meet the Author: Erika Boltz
Erika Boltz is the Social Media Coordinator at University of Florida Health. She is also a graduate of Higher Ed Experts' professional certificate program in Social Media Marketing for Higher Ed who was selected to present at several Higher Ed Experts' conferences including the 2019-2020 Higher Ed Social Media Conference.
Tags:
Higher Ed News