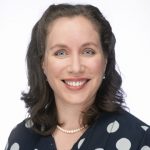 Sonja Likness, Director of social media & content strategy at Duke University, is one of the 12 presenters of the 2019-2020 Higher Ed Social Media Conference.
In this 4-question interview, Sonja tells us about higher ed social media in 2020, a favorite tool, 3 higher ed social media campaigns as well as strategy and measurement.
1) Where do you think higher ed social media is heading in 2020?
There are always new platforms to try! In particular I'm trying to push my @DukeStudents editors into trying out TikTok. As far as older platforms changing in higher ed, I hope we'll see more higher ed institutions (and brands, too!) using YouTube like an influencer would, with a subscriber-model focus, not just a bucket to put all of our embeddable videos in.
2) What's your favorite new tool for your social media work?
Buffer has been around for a while, but we started using it this year to schedule Twitter posts because it includes functionality to put in image ALT tags. ALT tags are more important than ever to us now because of accessibility requirements at our university. Buffer helps us keep our workflow going by allowing us to schedule tweets with ALT tags.
3) What higher ed social media campaigns have recently caught your attention?
Stanford University's moving quote graphics on Twitter caught our eye.
UNC-Chapel Hill, our friends down the road with the other shade of blue, have done some fun templates on Instagram Stories this year that I've made a mental note to copy, er, draw inspiration from—especially the UNC Grad Feels one.
At Duke University, we've started treating YouTube as a place for YouTube-specific content, rather than just a bucket to hold all of the content that we want to embed elsewhere. That means we've started on some series content. One of those series is called Extra Credit. Here's a recent one talking about whether stress is actually bad for you or not.
4) What are your strategic social media goals and how do you measure against these goals?
We want to improve performance over time, especially with engagement rates and click-throughs.
We're not only measuring individual post performance, but performance over time, and taking into account the cycle of our academic year. For example, it's important for us to know that Twitter gets a drop in engagement in July every year. We also try to measure what our reach has on influencing the algorithm to show more of our posts. For example, we've found that varying our Facebook posts to include some sure wins (like basketball and puppies), pulls up the engagement on our other posts as well, depending on the order in which we post everything.
A conference focusing on higher ed social media?
The 7th Higher Ed Social Media Conference (HESM19) is a must-attend event for higher ed social media professionals and teams looking for inspiration, ideas and best practices to get ready for 2020.
Read below what your higher ed colleagues who attended the past editions of the Higher Ed Social Media Conference said about their experience.
Tags:
HESM19
,
Higher Ed News