Sharing #HESM lessons learned in Hong Kong since the COVID-19 outbreak
Rainbow Wong, Senior Manager (Knowledge Exchange & Faculty Advancement) at LKS Faculty of Medicine, The University of Hong Kong, and her team have been on the frontline of this communication crisis battle for a few months now.
On March 13, 2020 she shared lessons learned and tips in a 10-min presentation before answering questions from the 175 professionals in attendance.
Thanks for your patience — these free online events weren't even on our radar at Higher Ed Experts last Monday. So, we're making things up as we go while also dealing with the new normal of school closures for our kids like many of you.
UPDATE: I've just added the Q&A portion of this Talk & Learn using markers/chapters to indicate topics if you want to skip ahead.
This is the list of the questions/answers you can find and access via the markers in this 38-min video:
Do you use FAQ?
When is it OK to start posting non-COVID19 content?
Do you use a COVID19 hashtag?
How did the transition to online go?
How did you take your events online?
How to support social media pros in this crisis?
Documenting & measuring social media outreach
Social media listening & Campus Sonar Report
How to make students feel connected
Content themes according to Campus Sonar report
What about content for graduate students?
How to respond to negative feedback
WVU engaging their community
How do you stay in touch with your campus/faculty?
Remember you're not alone
Weekly Talk & Learn on Fridays: free and to-the-point, but you need to register
If you want a weekly check-in with members of the higher ed digital communication, marketing, web and social media community, we've decided to host free "Talk & Learn" online meetings every Friday until further notice.
When you register, you can tell us what you'd like to see covered.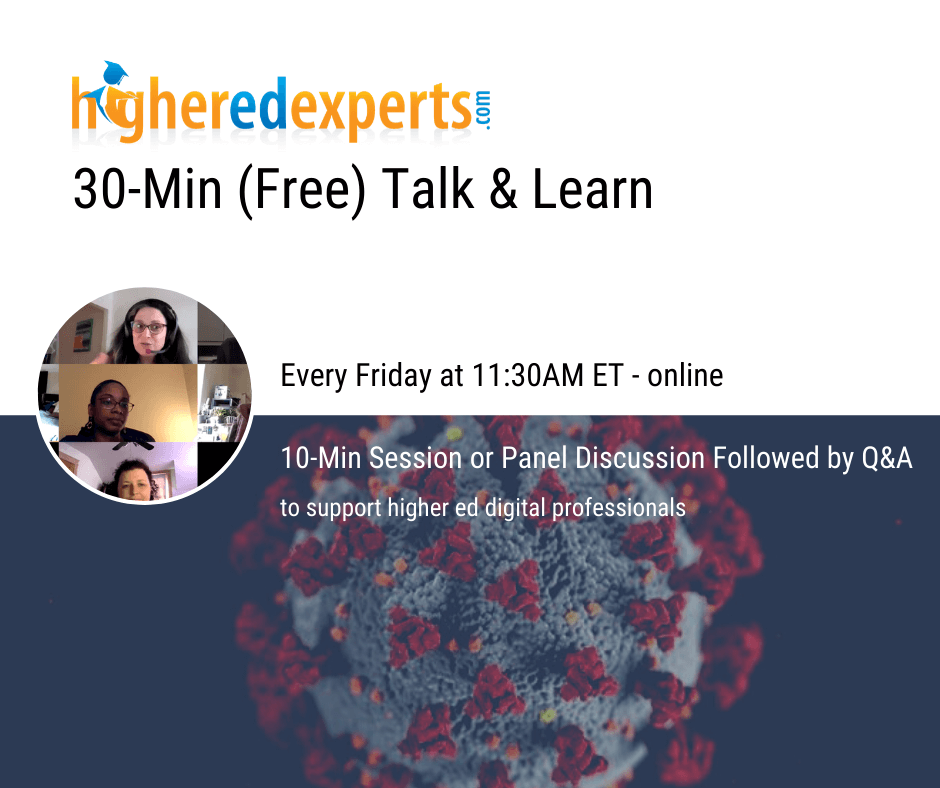 I will use Higher Ed Experts' Zoom "computer audio" (no phone line!) meeting room for these weekly free 30-min Talk & Learn.
So, you need to register ASAP to reserve your free virtual seat.
An Online Conference focusing 100% on higher ed content?
Tags:
COVID-19 Communications
,
HEETalkLearn
,
Higher Ed News
,
Karine Joly