What higher ed content to share now
Last week at the live Friday Free Higher Ed Experts' Talk & Learn, Morgan Goff (WVU), Jon McBride (BYU) and Katie Halberg (WSU) talked about the higher ed content we can post NOW and answered questions from the audience.
On March 20, 2020 they shared short cases studies and tips in the 15-min presentation below before answering questions from the 260 professionals in attendance.
Resources & templates
Supporting and Engaging with Answers by Morgan Goff
Question/Answer Triage Template (Google Doc)
Showing and Sharing New Work Environments by Katie Halberg
Email template to request photos from Faculty(Google Doc)
Helping Students Transition to Online by Jon McBride
President's video
Faculty's videos for students
Email template to request video from Faculty (Google Doc)
How to make an Instagram video
Weekly Talk & Learn on Fridays: free and to-the-point, but you need to register
If you want a weekly check-in with members of the higher ed digital communication, marketing, web and social media community, we've decided to host free "Talk & Learn" online meetings every Friday until further notice.
When you register, you can tell us what you'd like to see covered.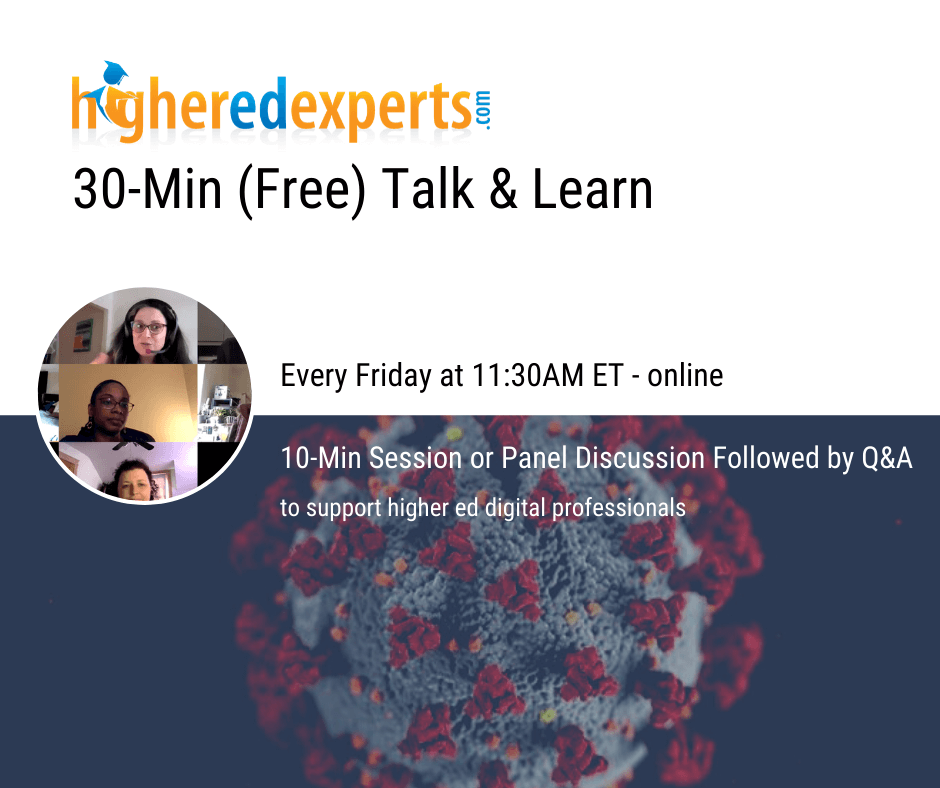 I will use Higher Ed Experts' Zoom "computer audio" (no phone line!) meeting room for these weekly free 30-min Talk & Learn.
So, you need to register ASAP to reserve your free virtual seat.
An Online Conference focusing 100% on higher ed content?
Tags:
COVID-19 Communications
,
HEETalkLearn
,
Higher Ed News
,
Karine Joly