Lessons learned and top mistakes to avoid when hosting online events
Samantha Dickinson (University of Cincinnati) and Karine Joly (Higher Ed Experts) presented a 14-minute session on "Lessons Learned Hosting Online Events" in 2 parts:
" Hosting online events for admitted students"
" Top mistakes to avoid when planning & hosting online events"

Allison Turcio (Siena College) and Morgan Goff (WVU) joined the panel for the Q&A after the sessions.
Q&A Panel on Hosting Online events
Weekly Talk & Learn on Fridays: free and to-the-point, but you need to register
If you want a weekly check-in with members of the higher ed digital communication, marketing, web and social media community, we've decided to host free "Talk & Learn" online meetings every Friday until further notice.
When you register, you can tell us what you'd like to see covered.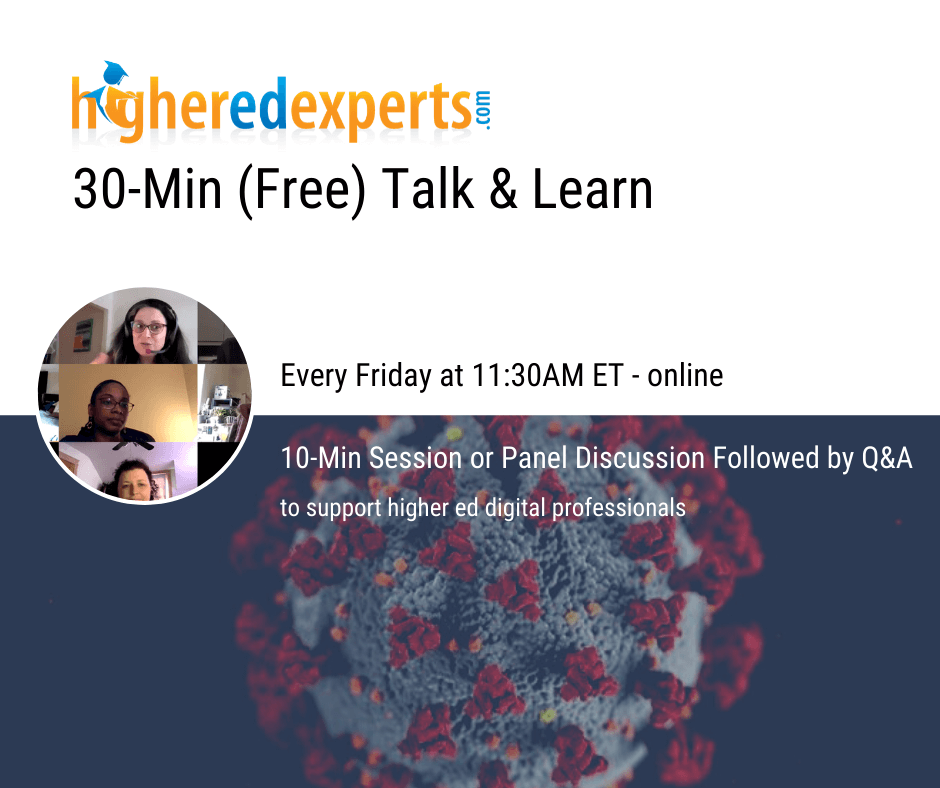 I will use Higher Ed Experts' Zoom "computer audio" (no phone line!) meeting room for these weekly free 30-min Talk & Learn.
So, you need to register ASAP to reserve your free virtual seat.
Tags:
COVID-19 Communications
,
HEETalkLearn
,
Higher Ed News
,
Karine Joly