Website Redesign Boot Camp: What you need to know to get ready for your next web redesign
February 7, 8 & 9, 2012 – 1PM-2PM ET
Registration fee: $350 (3 live webinars, 1 year recording access, transcripts, handouts)
[tfg_social_share]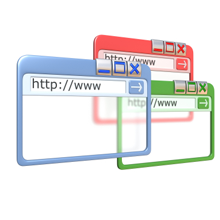 "Website Redesign Boot Camp" is a 3-webinar series that will help you get ready for your next (or first) big (or small) website redesign by providing a great overview of the latest web design trends in higher education, lessons learned from a successful institution-wide redesign project as well as an analytics-driven redesign.
February 7, 2012 – 1PM-2PM ET – Rain date: February 14, 2012
Top trends in higher ed redesigned websites
Stewart Foss, Founder of eduStyle and the eduStyle Awards, will present the latest trends in higher ed web design identified among the best redesigned websites (homepage, departmental, admissions, etc.) in 2011. He will also share a few tips to maximize your chances to win one of the prized 2012 eduStyle Awards.
February 8, 2012 – 1PM-2PM ET – Rain date: February 15, 2012
How to plan for and manage a successful web redesign project
Mike Richwalsky, Director of Marketing Services at John Carroll University, will share lessons learned during the institutional web redesign project – coupled with a CMS implementation – he's about to complete at his institution . From research, information architecture and communications with stakeholders to usability, design and content considerations, Mike will explain how to get ready for big (and small) web redesign projects.
February 9, 2012 – 1PM-2PM ET – Rain date: February 16, 2012
Road map to a successful analytics-driven website redesign
Web Analytics can tell you so many things about your website and web visitors – that is if you take the time to dig up and use these insights. Shelby Thayer and Dave Housley, both Web Strategists at Penn State World Campus, will share lessons learned from their recent data-driven website redesign. Shelby and Dave will explain why and how to conduct a redesign informed by analytics and usability testing (before, during and after the project launch) to tie design decisions to measurable institutional or departmental goals – and get opinions and politics out of the redesign.
What you will learn:
How to evaluate and determine the characteristics of a well-designed website.
How to handle the project planning and communication to stakeholders.
Why and how to conduct an data-driven redesign project.
Who should attend and why:
Primary audience: web designers, web developers, webmasters, web communications directors, web strategists, project managers.
May also attend: communications and marketing directors, stakeholders to be involved in an upcoming redesign.
Faculty:
Stewart Foss, Web Designer and eduStyle Founder
Stewart has spent the last decade working in higher ed. He has worked in web management for two institutions, Athabasca University and Grant MacEwan University, and as an instructor at another, Lethbridge College. He is the founder of eduStyle and the eduStyle Higher-ed Web Awards. He also co-authored of the eduStyle Guide to Higher-ed Homepage Usability. He's been working to spread awareness of best practices and draw attention to high quality web design in higher ed through his presentations and work.
Mike Richwalsky, Director of Marketing Services – John Carroll University
Mike Richwalsky is director of marketing services at John Carroll University, located in Cleveland, Ohio, where he is responsible for the University's web development and electronic marketing. Mike has managed the redesign of more than 100 websites as part of an institutional project for the past year.
Shelby Thayer, Web Strategist – Penn State University
Before coming to Penn State, she was a web producer and designer for a computer networking company where her main job functions included email marketing, web design, and web analytics. In her current role at Penn State World Campus, Shelby has overseen the recent data-driven redesign of this website.
Dave Housley, Web Strategist – Penn State University
Dave Housley leads the Interactive Projects group for Penn State Outreach Marketing. Recently, he was the project manager for the redesign of the Penn State World Campus site. Before coming to Penn State, Dave worked as the Director of Client Services for Breakthrough Strategies, an online communications and fundraising firm for nonprofits, and the Internet Communications Manager for the Peace Corps, where he oversaw a web redesign that resulted in a 30% increase in online inquiries. As an outside consultant, he's coordinated redesigns for the Christopher Reeve Foundation and the Appalachian Regional Commission.
Important information for Webinar attendees:
Feel free to gather your team members around your computer or a larger campus group in front of a screen with an LCD projector.
Audio is done via voice over IP but you can also access it via a toll free number if it's more convenient for you
Webinar slides are available as PDF files prior to the sessions for easy note-taking.
Access instructions will be emailed to registered attendees along with links to the presentation files on February 6, 2012 – and will be accessible from the top of this webinar page as well.
In case a webinar needs to be rescheduled, it will be on the date listed above as its "rain date."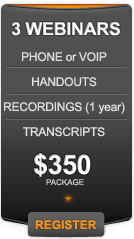 Registration fees: $350
The fee for a webinar series is for a single connection with an unlimited number of attendees at that connection. The fee includes the following:
Access to the webinar event and question period
A one year unlimited access to the recording of the event on-demand through a link that we will provide to you.
All webinar materials