Exclusive Preview of the 2016 Student E-Expectations Survey Part 2: Higher Ed Websites
This is the 2nd part of the 4-installment series on the April 2016 Ruffalo Noel-Levitz survey results. This survey focuses on the E-expectations of college bound seniors and juniors (n=3,117) and will be officially released next Wednesday. If you read the first part, just skip to the next section without reading the short intro below
As I explained in my first post focusing on Social Media, Stephanie Geyer from RNL shared with me the complete survey data set she'll present about for the first time at the 2016 National Conference on Student Recruitment, Marketing, and Retention in Dallas, TX.
Since it was first launched in 2005, the E-Expectations of College-Bound High School Students Survey has become the gold standard of research on the digital expectations and habits of the new class of college freshmen (high school seniors) and the new crop of prospective students (high school juniors).
As you'll see in some of the charts I'm sharing with you in this post, RNL has also included data from previous surveys.
Here's the key to understand the abbreviations used in the charts:
Co16 Jrs Spr 15: Juniors from the spring study in 2015, class of 16
Co16 Srs Fall 15: Seniors from the fall study in 2015, class of 16
Co16 Srs Spr 16: Seniors from the spring study in 2016, class of 16
Co17 Jrs Spring 16: Juniors from the spring study in 16, class of 17
Students and Screens: Mobile & SmallER
Whether or not you've witnessed the recent craze around the Pokemon Go mobile game, you know that most college students can't live without their little screens (and, frankly, neither can most of us).

High School students aren't any different: 45.7% of Juniors and 42.7% of Seniors use their mobile devices to browse the web all the time while 54.6% and 51% respectively use them if no PC is available.
Close to 84.5% of Juniors and 86% of Seniors use a smartphone (as opposed to a cell phone or a tablet) as their mobile device of choice to access websites.
When it comes to their most recent college website visit, a large variety of devices is used – not only smartphones, even though about a third of Seniors and 42% of Juniors actually use a smartphone.
With only 15% of Juniors and 17% of Seniors using a traditional PC for their most recent visit to a college website, it's crucial to optimize your admissions website and other areas of interest for prospective students for SMALLER screens (laptop, smartphones and tablets) than what your Web Designers and Developers have on their desks.
Higher Ed Websites: Influential, Reliable and Friendly
If you're in charge of your school's website and need a pick-me-up or some data to back up your request for more resources, the E-Expectations Survey has you covered.
With close to 70% of students considering college website as a resource influencing interest in a school, it's fair to say that every dollar or minute invested in your website is a good investment – even with the 7-point decrease for Juniors year-over-year.
What I've found intriguing in this year's data is the 10-point increase for Print from 38.2% of Juniors in 2015 to 47.7% of Juniors in April 2016. It's probably too early to say, but it will be interesting to see next year if this upward trend announces a come-back for Print as a key differentiator after many institutions cut down drastically their print budget in the past few years.
Coming back to higher ed websites, they are not only seen as influential by a large majority of students, but make a difference in their perceptions of a given school. Like books and their covers, perceptions about an institution and its website are intertwined at a deep level.
While the majority of surveyed students make the rational decision that the quality of the education offered at an institution can't be directly correlated to the quality of its website, aren't first impressions everything?
They are indeed when they are formed from visiting your school website as it's also seen, as I explained in my first post, as a reliable source of college info by almost all the surveyed students.
Last but not least, the website is also seen as the best place to answer questions about your school for 62% of Juniors (a bit less for Seniors as they are at the end of the recruiting funnel), far beyond other options.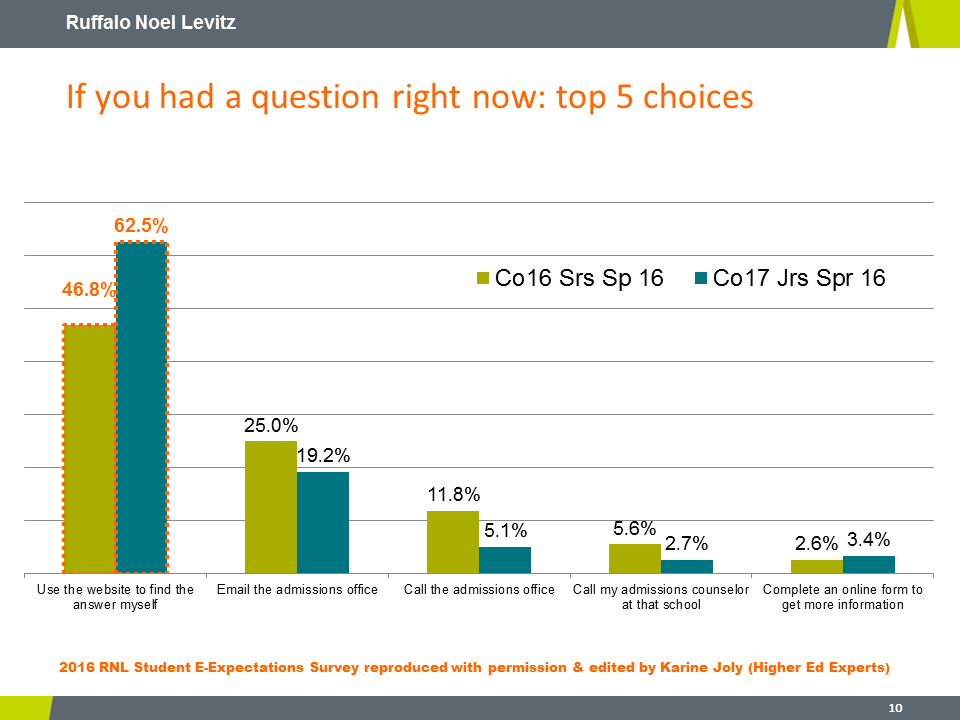 While this doesn't mean you should bring back the good old and ugly FAQ page on your website, your web content should definitely be written to answer questions from prospective students.
This is the reason why our professional certificate online course on Web Writing for Higher Ed focuses so much on this specific skill.
Top Content on Higher Ed Websites for Prospective Students: Money, Admissions & Program Information
When asked what web content they would look at if they were to visit a college site now (in April 2016), 24% of the Seniors and 19% of the Juniors selected cost and tuition info, THE most picked type of information among the different options presented to them.
While almost 18% of the Juniors selected application process details – the 2nd most popular option, only 4 other options were selected by at least 10% of the surveyed students.
These 4 other options were from the most popular to the least: Scholarship/aid info, course catalogs, program details and program listing.
The survey also asked students about the type of content that indicates school value.
Not surprisingly, job and graduate school placement information ranks high in this list.
The voice of current students or alums via quotes or testimonials is also important as it takes 2nd place.
Next: Insights on Search & SEO
Stay tuned (or subscribe to my newsletter) for my next post in this series with insights from the 2016 RNL Student E-Expectations Survey about the roles Search and search engine optimization play.
Tags:
2016 E-Expectations Research
,
Higher Ed News