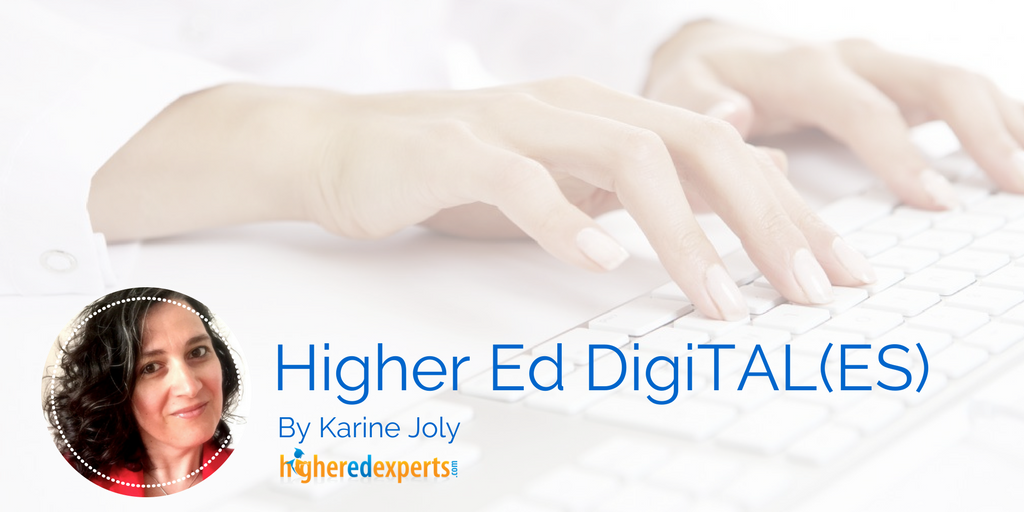 Higher Ed Experts loves conferences (even when they are organized by others!)
Summer is a great time to learn no matter how you do it.
While we love the flexibility and quality of the deep learning you can get from our online training programs (on-demand conferences or 4-week professional courses), we believe conferences should also be part of your professional development diet.
What makes traditional conferences great is the fact that you get exposed to lots of new ideas and meet new people. Conferences are usually not the place for deep learning, but they are the perfect way to reboot your creative juices, hear about fresh ideas and have transformative conversations.
This is why Higher Ed Experts has sponsored more than a dozen of great conference keynotes so far:
Steve Krug at HighEdWeb 2010
Here's the video we had produced with Todd Sanders and a group of great higher ed pros to introduce the keynote talk at the conference

Shawn Henry at HighEdWeb 2011
Here's the video we had produced with Mike Richwalsky to introduce the keynote talk at the conference

9 keynotes in total at the HighEdWeb regional conferences in 2013 (Arkansas, Florida, Michigan, New England, West Coast) and 2014 (Michigan, New England, South East and Pittsburgh)
Jeff Selingo at eduWeb 2013
Nikki Sunstrum at eduWeb 2017
I also had the honor of giving keynotes at eduWeb 2008 in Atlantic City, NJ and #PSEWEB 2015 in Montreal, Canada.
We don't do booths at higher ed marketing conferences – only keynote sponsorship or scholarships, because we're educators not consultants or vendors.
We don't grow rice for you – like consultants and agencies do, we teach you how to grow your own rice. 🙂
Still sponsoring great keynotes in 2018
This year again, we are partnering with 2 of the top conferences for digital professionals working in higher education to bring you great keynotes: eduWeb and #PSEWEB.
Why not HighEdWeb despite our long history of partnering and sponsoring a dozen of keynotes with the organizers of this great conference?
Since the regional conferences are no more, it's just a question of budget: HighEdWeb national keynote sponsoring packages exceed our total marketing budget 🙂 The caliber of the speakers (Sir Ken Robinson and Manoush Zomorodi this year) is totally aligned with the ticket price, but, as a small professional school, we just can't afford it.
I would have loved to get the opportunity to sponsor the lightning talks at HighEdWeb 2018, because they look a lot like mini-keynotes presented by great higher ed pros (very similar to what we offer in our 4 annual online conferences: 10-minute sessions with keynote-size audiences!), but this isn't a sponsorship option unfortunately.
But enough about what can't be, and let's talk more about the 2 keynotes we get to help bring to you if you're attending the eduWeb or the #PSEWEB conferences this summer!
Meet the eduWeb 2018 and the #PSEWEB 2018 keynotes: Amma Marfo and Dr. Rumeet Billan!
At eduWeb, taking place this year in San Diego, California on July 23-25, we have chosen to sponsor the closing keynote, a talk on creativity presented by Amma Marfo, a professional speaker and author with a background in student life and higher ed communications.
I got a chance to interview Amma last week so you can find out more about the keynote she'll give, but also more broadly about her take on creativity and how it can be used by higher ed digital professionals. I will publish her complete interview soon, in the meantime, here's a 1-min excerpt about her keynote topic:
At #PSEWEB, taking place in London, Ontario in Canada on August 13-14, we have chosen to sponsor the opening keynote, a talk on psychological capital and resilience, presented by Dr. Rumeet Billan, an entrepreneur and a learning architect.
I also interviewed Rumeet earlier this week to find out more about her keynote and her work. The complete interview will be published soon, but here's the 1-min excerpt on the topic of her keynote:
No travel budget to go to conferences this year?
Our next course session starts on July 16, 2018. Registration will close on July 11, but our summer special will get you an on-demand conference of your choice for free (a $400 value!) if you register for a course.
No travel required and you can study from the beach, the pool or the quad as long as you have access to wifi!
Tags:
Higher Ed Experts Faculty
,
Higher Ed Marketers Career Advice
,
Higher Ed News
,
Karine Joly