A quick overview to help higher ed web teams
As the Coronavirus (COVID-19) updates are top of mind for many working in higher education digital communication, I checked on March 5 how a very small sample (only 10) of institutions based in the US and Canada feature this info on their homepage.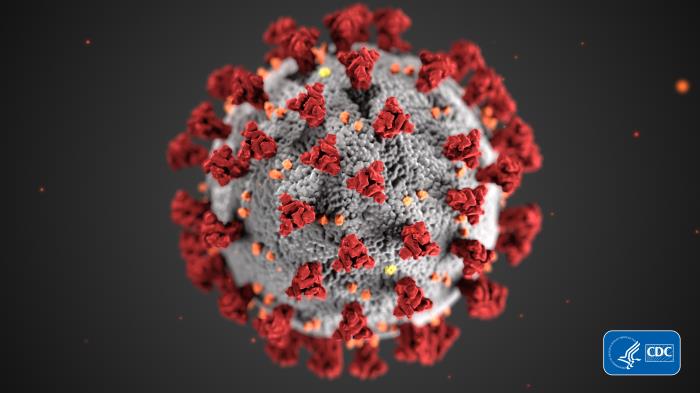 Please note that this sample of homepages is NOT meant to be (and might NOT be at all) representative of how this information is handled on the majority of higher ed websites.
I've added orange frames around the information related to COVID-19 so you can spot it faster.
Hopefully, this quick research will be helpful to your web team looking for examples from other institutions.
2 examples from universities that had to close due to possible cases
University Canada West
This small private institution based in Vancouver (BC, Canada) has just closed its downtown campus for 3 days due to a presumptive case. A page featuring FAQs is the first news item link.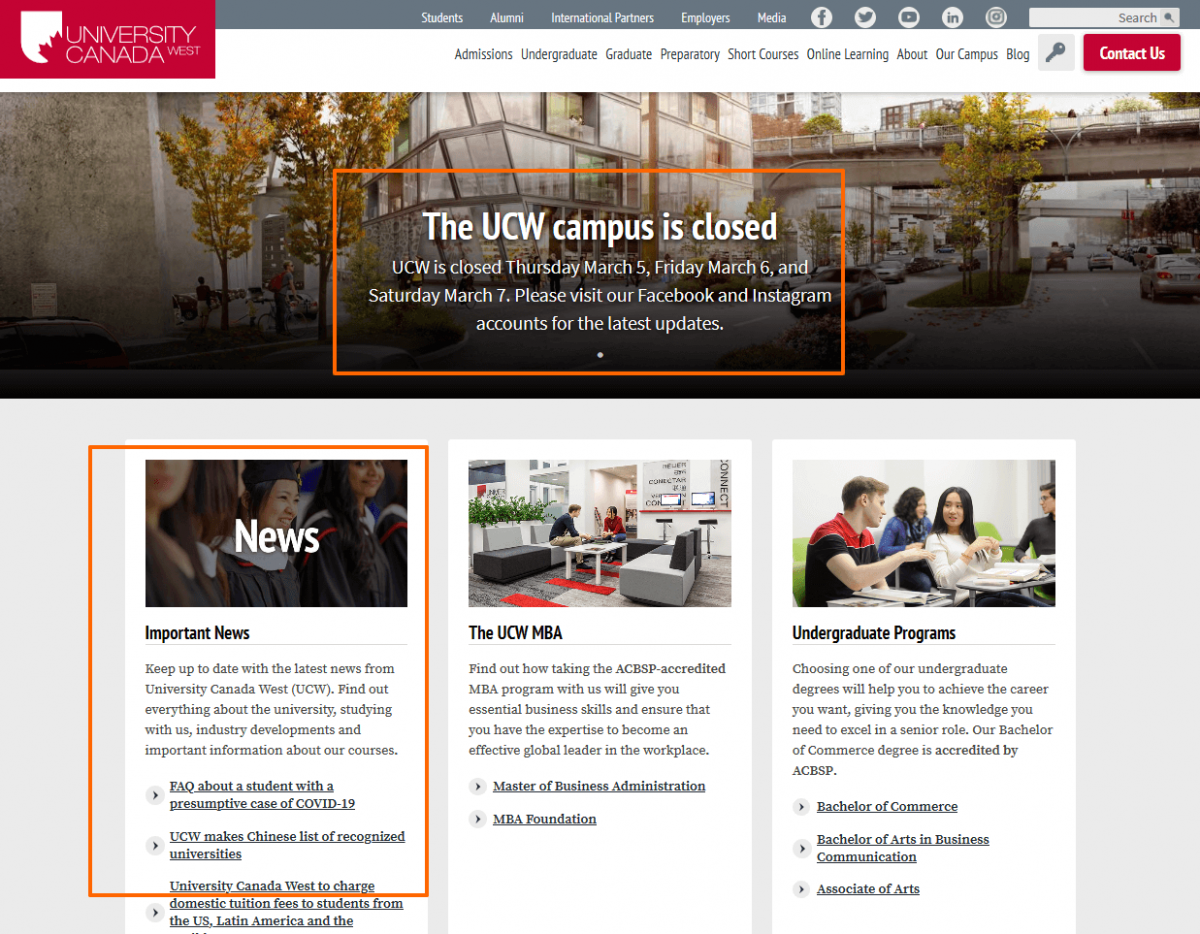 Yeshiva University
Classes have been canceled until March 10 on 2 different campuses of Yeshiva University after a student tested positive for COVID-19).
The "Heath Alert" top bar on the homepage links to a page listing the updates from the president of the university.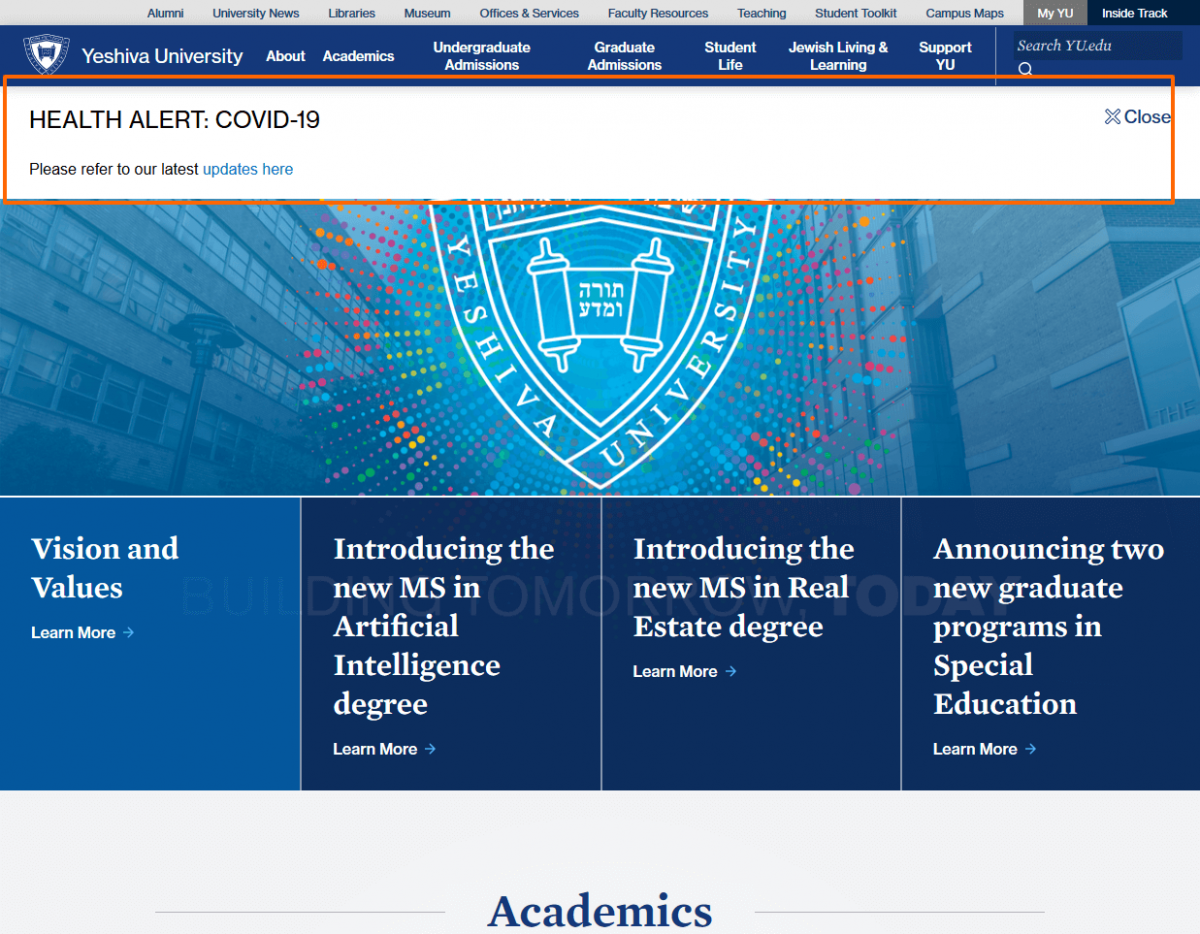 8 schools without any reported cases
The University of British Columbia (UBC)
Since UBC has a large campus in Vancouver as well, I've also checked their website. The "Coronavirus (COVID-19) and UBC's response" info box is displayed just below the main navigation bar and points to the Campus Notifications page.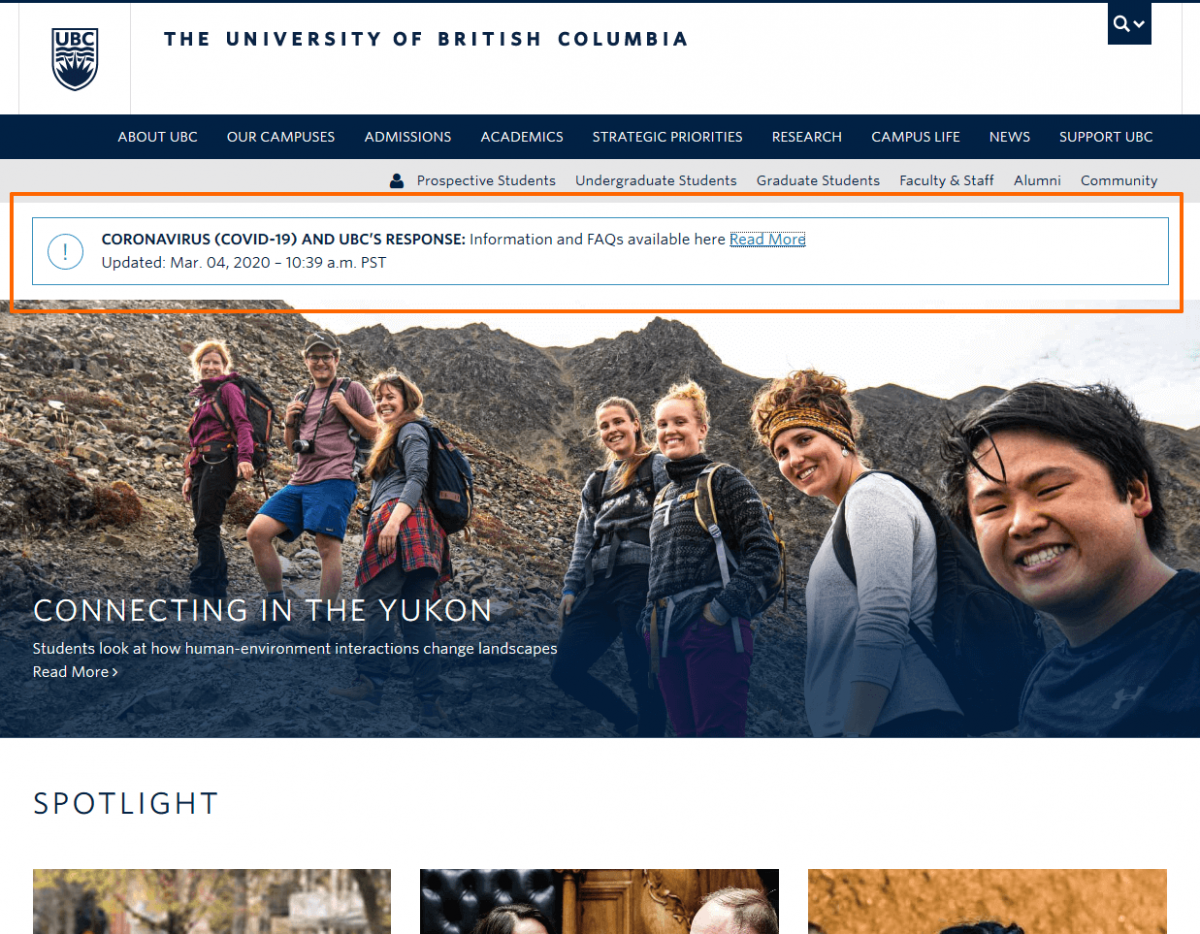 University of Victoria
UVic is based in Victoria, BC on the island of Vancouver (it's not in Vancouver, but in the region). It's impossible to miss the expanded green tab at the top of the homepage featuring the latest update, contact information and a link to a dedicated page for COVID-19.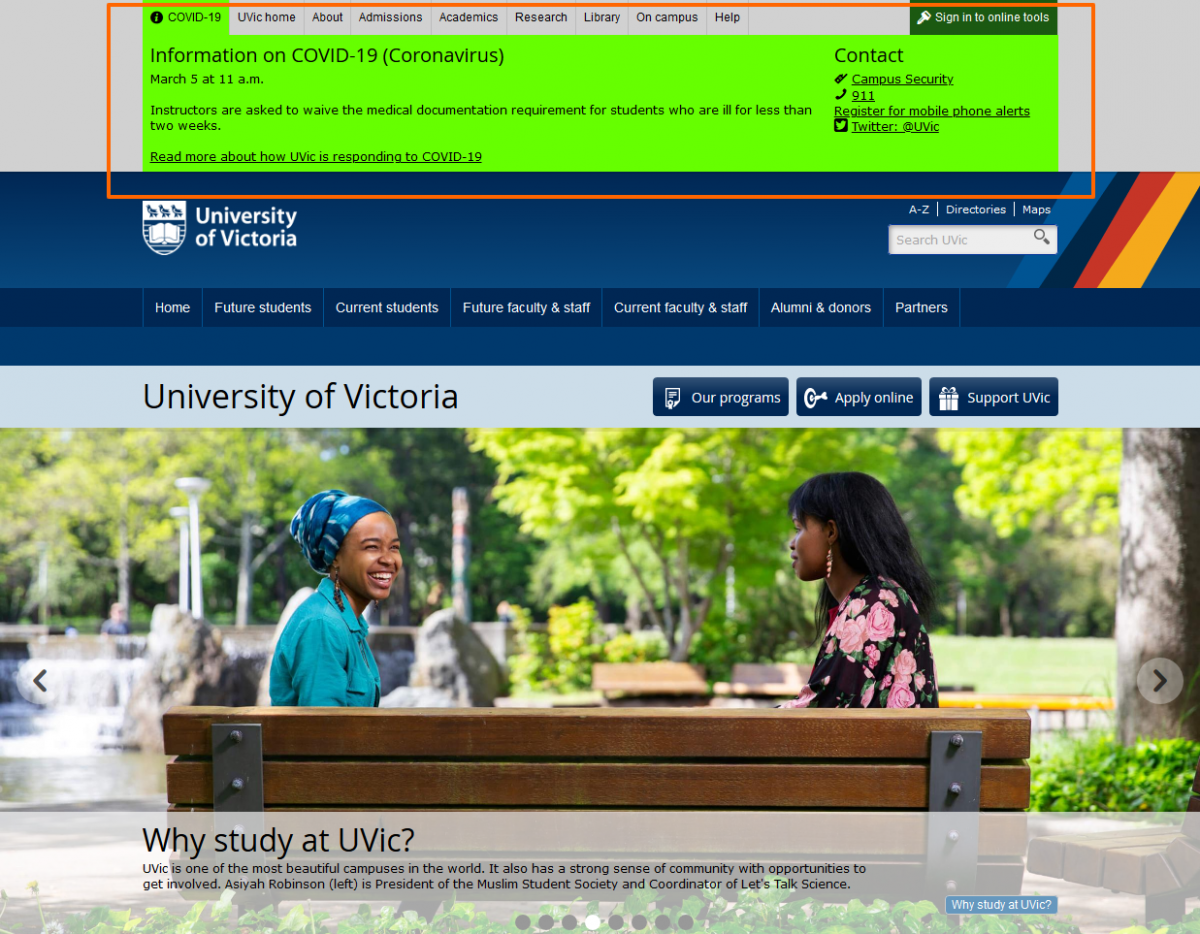 NYU
Since Yeshiva University is based in NYC, I had a look at NYU. Once you click on the large hero visual to start your exploration, you get this mosaic of cards including one focusing on the information on the Coronavirus taking half the space and leading to a dedicated page with risk level (low), updates and resources.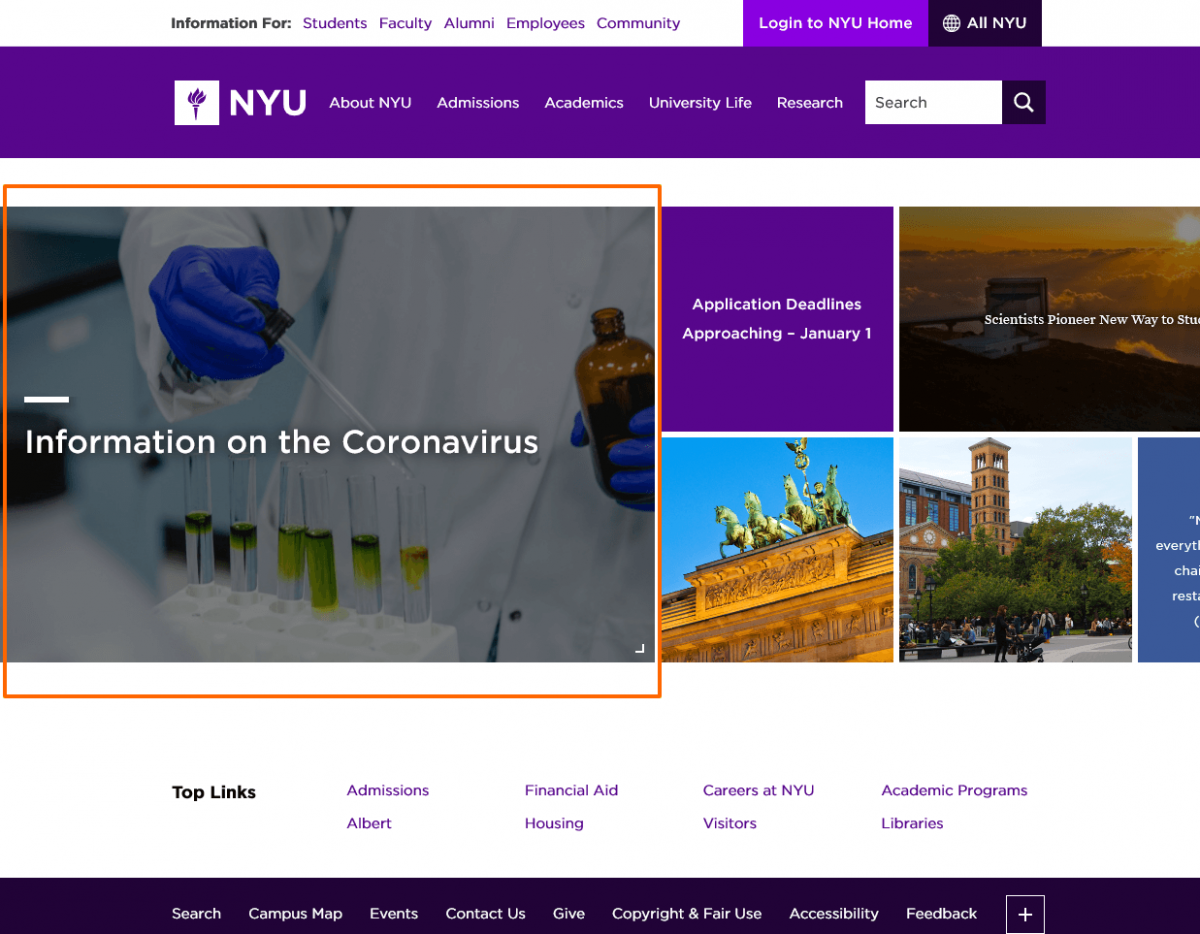 SUNY Plattsburgh
Based in the State of New York, but hundreds of miles from the Big City, SUNY Plattsburgh uses a "COVID-19 Info" tab in a contrasting color at the top of the homepage to direct visitors to a Health Advisory page about the Coronavirus.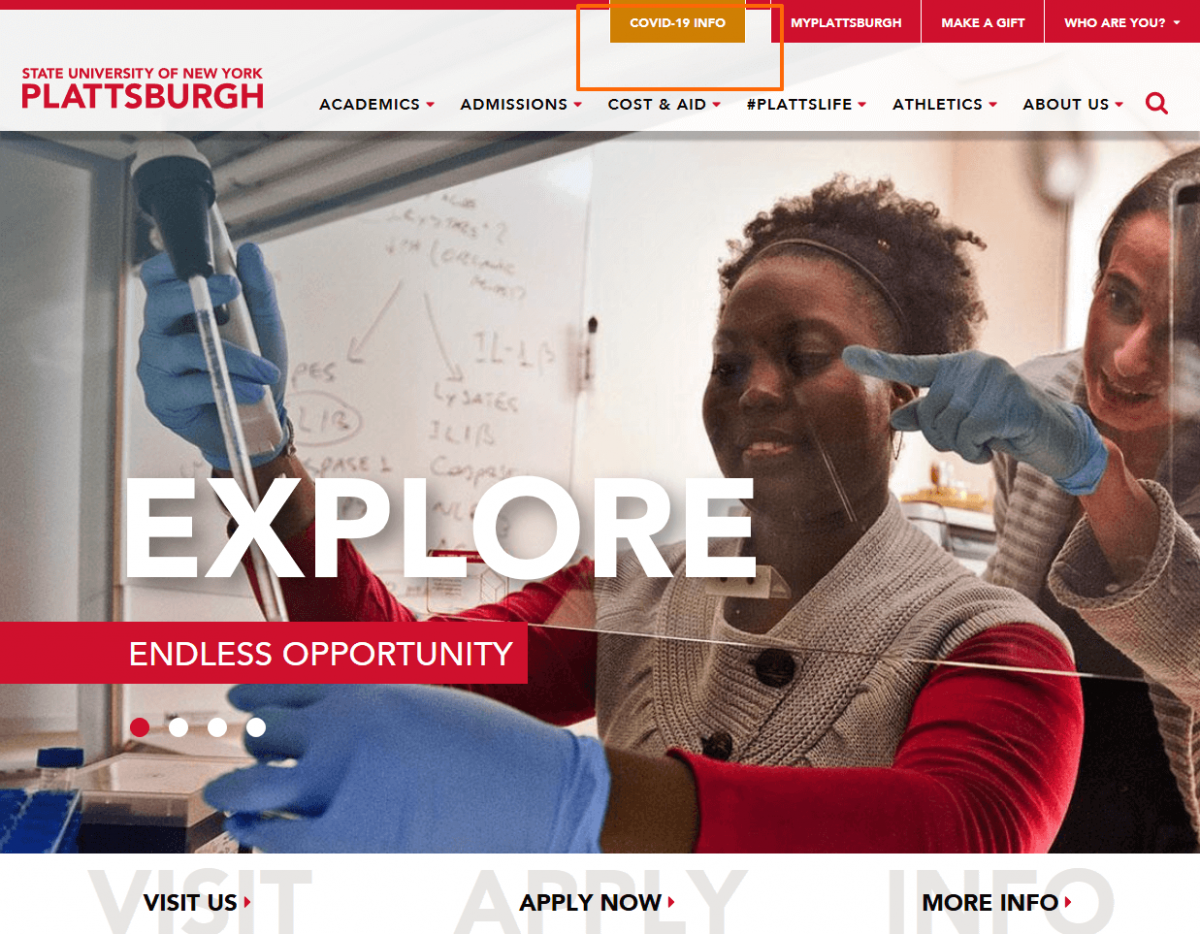 UC Davis
In California, UC Davis uses a yellow "Coronavirus Information" bar above the main hero visual leading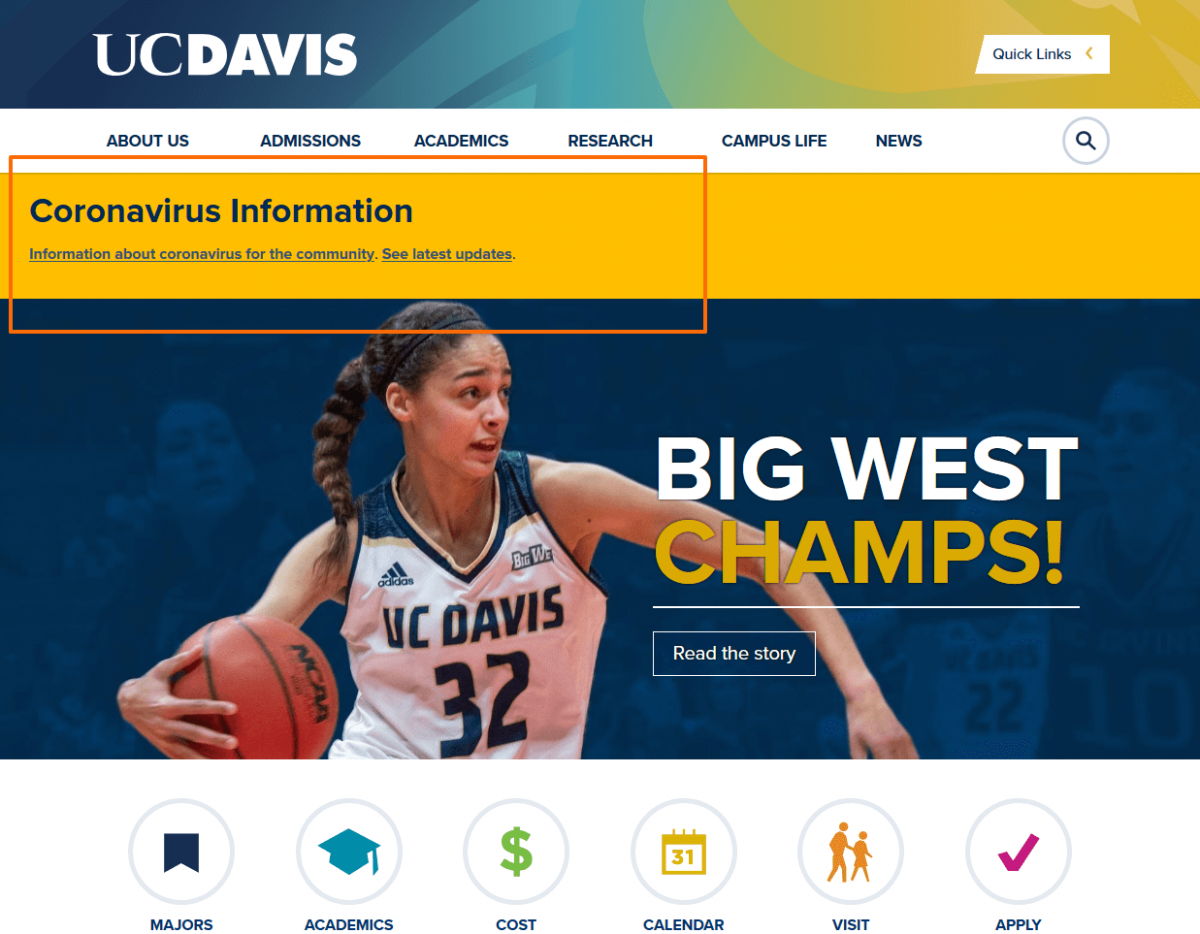 University of Florida (UF)
UF displays its "Guidance on Coronavirus" box below the fold under the main visual of the homepage.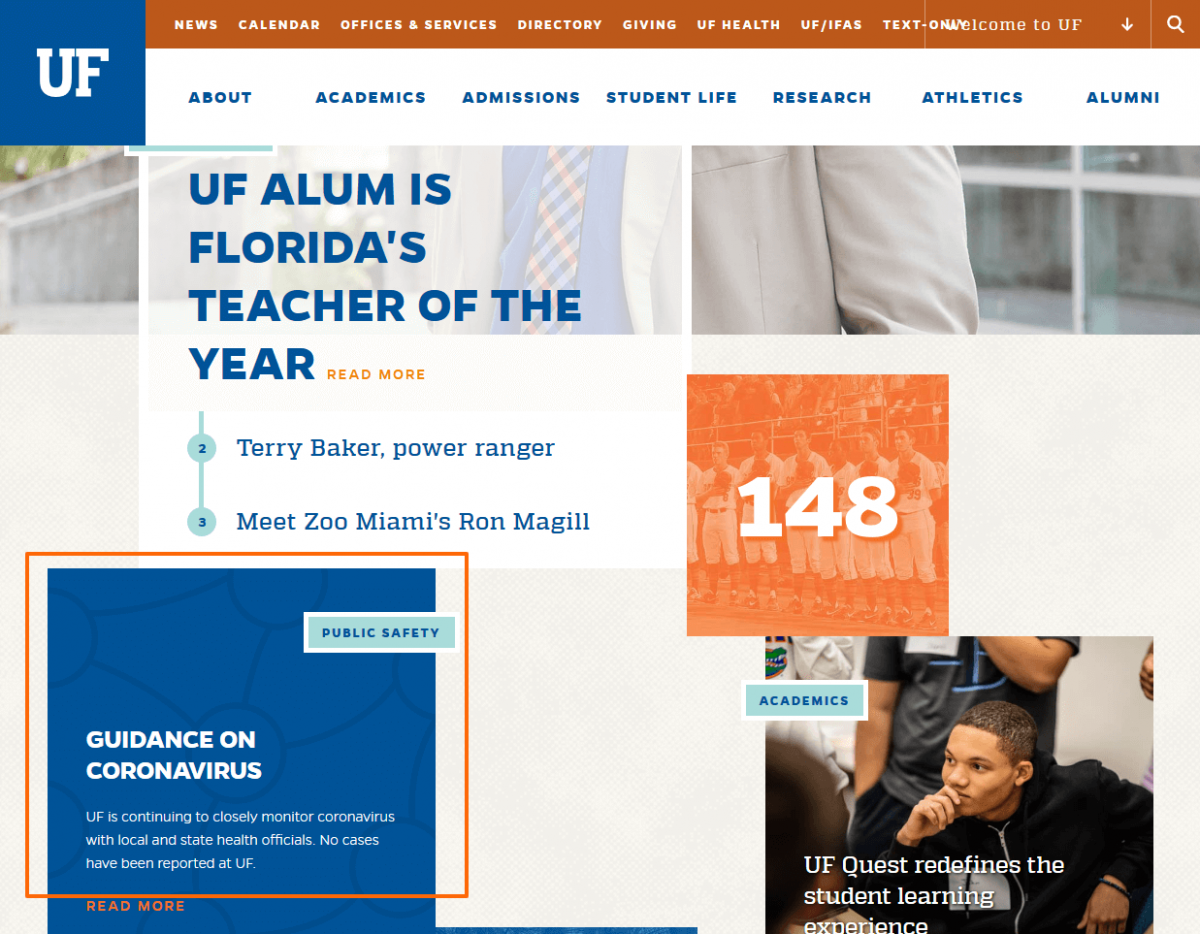 UNC Chapel Hill
The University of North Carolina at Chapel Hill use a similar approach by featuring the "Coronavirus Updates" in its regular news section on the homepage.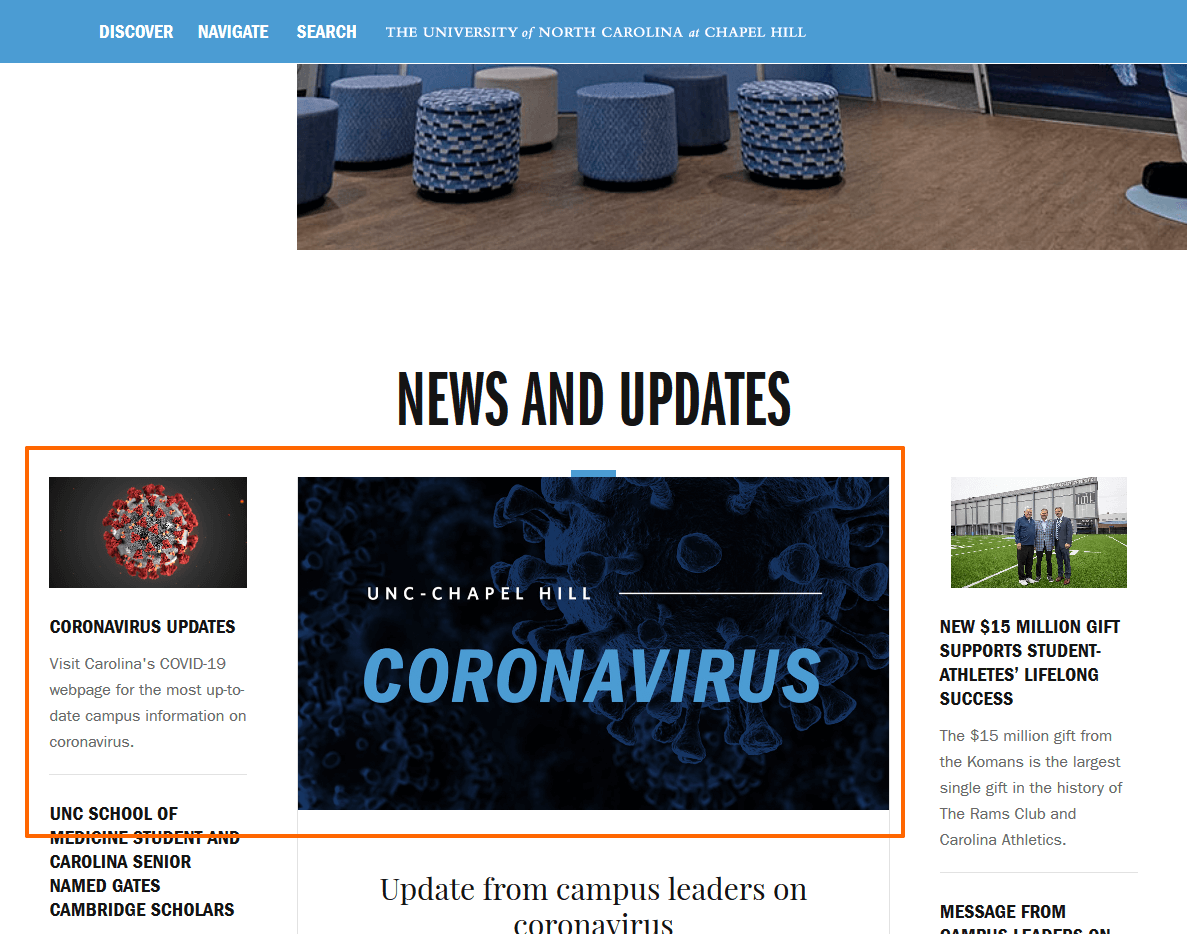 The University of Vermont
A similar approach is taken by the University of Vermont that chose to use a Campus Spotlight to feature information on COVID-19 directing to a dedicated page on the Office of the President website.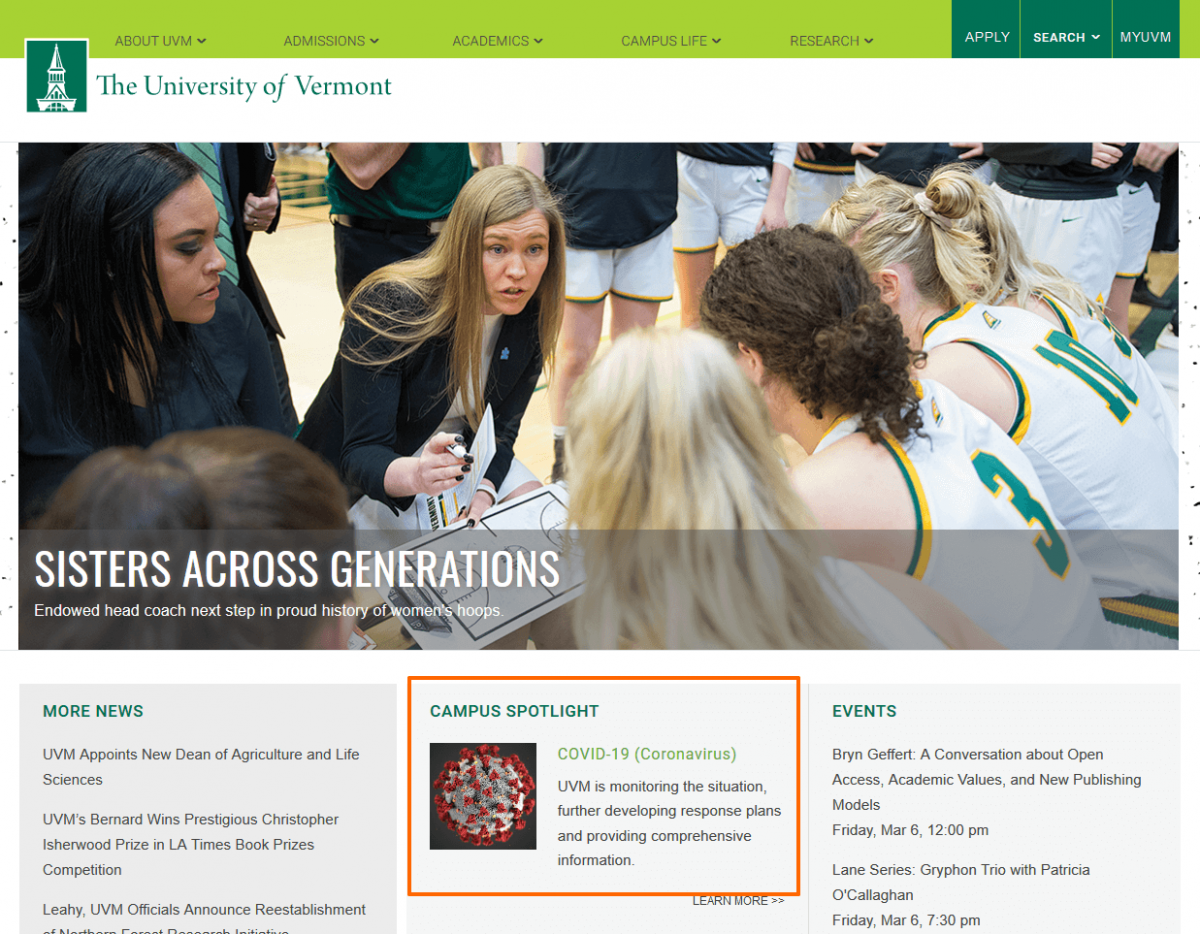 Mobile versions of these 10 higher ed websites
Update: I've shared the mobile versions of these 10 websites as a "COVID19 Info" story highlight on the Instagram account of Higher Ed Experts.
Guidance from the CDC
If you want to know the type of information your higher ed executives use to make their decision, check out the CDC's Interim Guidance for Administrators of US Institutions of Higher Education (IHE) to Plan, Prepare, and Respond to Coronavirus Disease 2019 (COVID-19)
Taking care of Higher Ed Websites?
If you're in charge of the design, development or maintenance of higher ed websites, your colleagues want to hear about your best practices, challenges, solutions, tips and lessons learned!

So why not submit a proposal for a 10-min session at the 2020 Higher Ed WEBSITES Conference before April 1st (no joke!)?

This conference is online in June and if your proposal is selected, your team will get to attend for free.

Tags:
COVID-19 Communications
,
Higher Ed News
,
Karine Joly