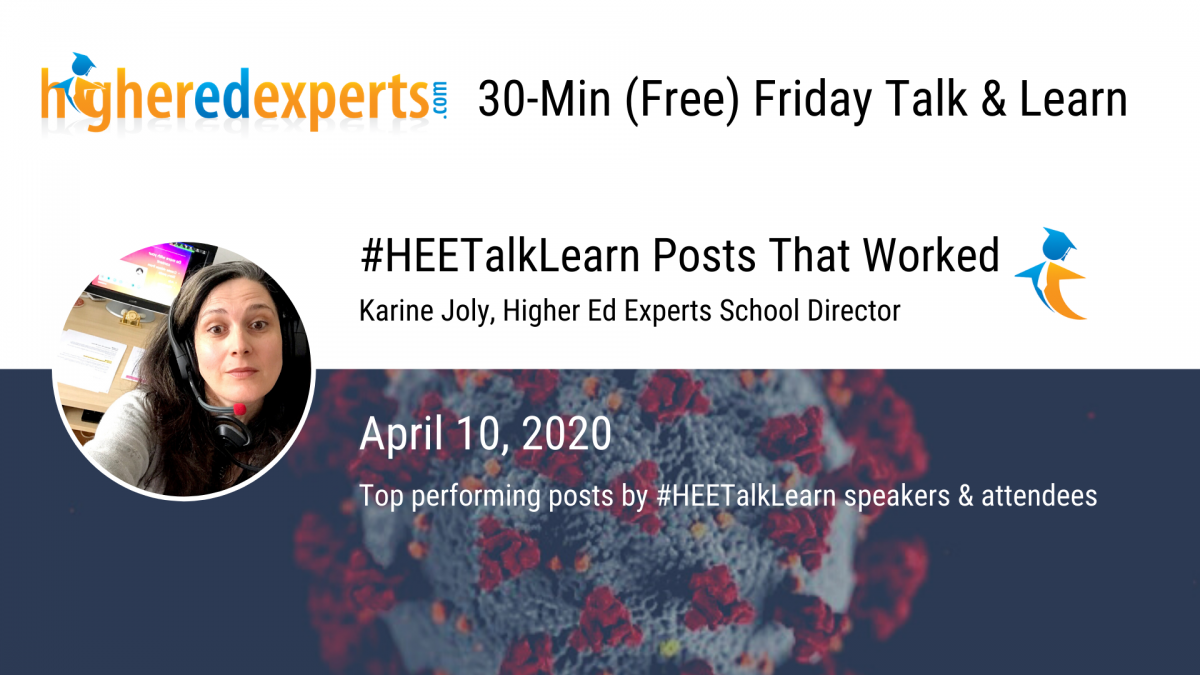 Posts that Works from the #HEETalkLearn Speakers & Attendees
Every week at the Higher Ed Experts' Free Friday Talk & Learn we have a 10-min session on a given topic, but I also share a quick round up of the best performing posts of the previous week suggested by speakers and attendees along with templates when possible.
Featured this week in this 3-min segment:
#MyViewFromBYU Story Takeover Remote Edition
Favorite Recipes from Bowdoin Dining
WVU "Pick your Quarantine House"
Penn State Institute for Democracy's "Democracy Woofs" podcast
Henry's Community Challenge at Flagler College
Remote Takeovers, Favorite Recipes, Quarantine Houses and More
In "Posts that Worked" every week I highlight top performing posts to help you share, adopt and adapt posts that worked for others.

Let's start with BYU — Jon McBride shared this week that MyViewFromBYU Instagram Student Story Takeovers have resumed. The 1st takeover from this new remote edition was from a student volunteering with a local organization to deliver groceries to those who are elderly or immunocompromised. This student also taught people how to make their own masks out of old t-shirts. This Instagram story was really well-received by the BYU community.

Chelsea Doyle from Bowdoin College shared a cool case study: a series started with their Dining Services – which consistently gets rave reviews from students. It's almost like a gourmet restaurant.

They ran an Instagram story asking students the dishes from Dining Services they miss the most. They got more than 200 replies and started to feature a recipe from the top picks every week, then asking community members to share a photo of the resulting dish. Reach and engagement went through the rough – proof that food is THATt powerful on social media.

At West Virginia University, Morgan Goff shared this "Pick your Quarantine House" post. This lighter content got great engagement from the community. The theme plays on a trend currently doing the rounds on social media. The team selected a few WVU personalities for each house and comments followed. Definitely something easy to replicate at your school.

Jenna Spinelle – who presented at #HEETalkLearn on April 3 and is the host of Democracy Works, the podcast of Penn State Center for Democracy shared an example of well-received lighter content. An April Fools Day: the announcement of a new podcast: Democracy Woofs. Shared in the email newsletter and on the Facebook page, this lighter was well-received by their audience.

Last post that worked for this week comes from Flagler College in Florida – this campaign was designed and scheduled before everything happened but has shown better engagement than expected: Henry Flagler's community challenge aims at keeping admitted students engaged by earning points for showing up on social media by sharing their photo within this green frame that was mailed to them and liking and commenting on Fun Fact Posts about the school.

That's it for this week's top performing posts. If YOU have posts that work, send them my way via email karine@higheredexperts.com or DM me on Twitter @karinejoly. I will make a selection for this segment next and share on the hashtag the other ideas.

Resources & templates
#HEETalkLearn Posts That Work (April 10):
Bowdoin Dining Favorite Recipes Instagram Story Highlight
Bowdoin Dining Services Instagram account
Bowdoin College sharing 1st recipe on main Instagram account
WVU "Pick your Quarantine House" (Twitter)
Democracy Woofs podcast announcement (Facebook)
Henry's Community Challenge – guidelines for admitted students (PDF)
Got a post that worked?
If YOU have posts that work, send them my way via our contact form or DM me on Twitter @karinejoly.

I will make a selection for the "Posts that Worked" segment and share on the #HEETalkLearn hashtag the other ideas.
Weekly Talk & Learn on Fridays: free and to-the-point, but you need to register
If you want a weekly check-in with members of the higher ed digital communication, marketing, web and social media community, we've decided to host free "Talk & Learn" online meetings every Friday until further notice.
When you register, you can tell us what you'd like to see covered.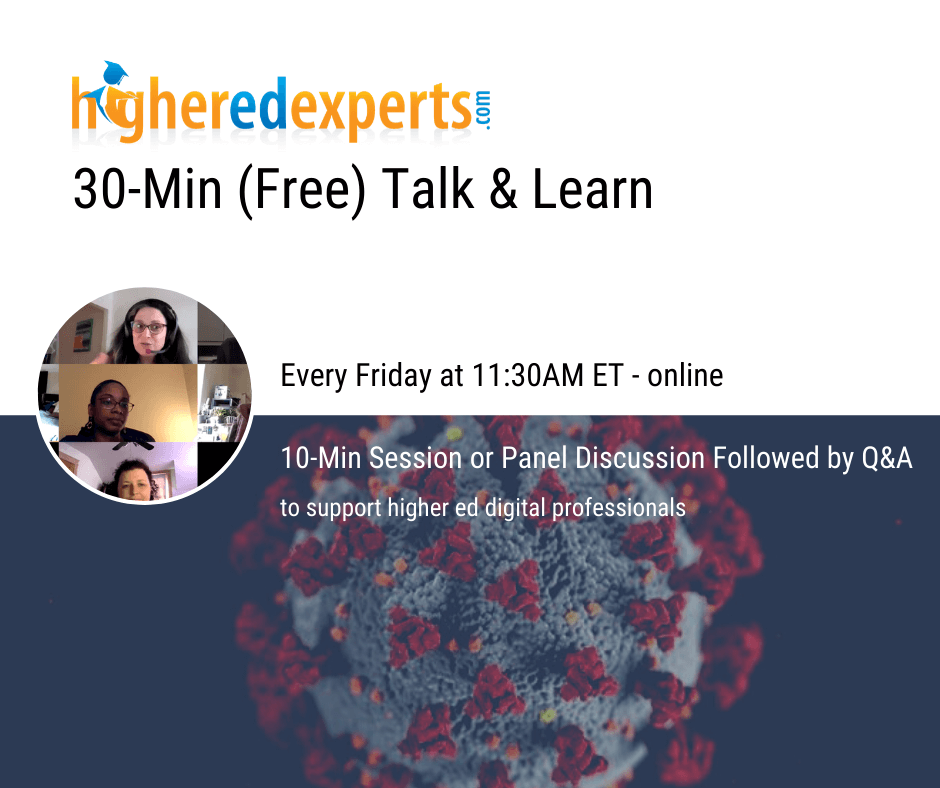 I will use Higher Ed Experts' Zoom "computer audio" (no phone line!) meeting room for these weekly free 30-min Talk & Learn.
So, you need to register ASAP to reserve your free virtual seat.
Tags:
COVID-19 Communications
,
HEETalkLearn
,
Higher Ed News
,
Karine Joly
,
PostsThatWork