Going with Plan B for Graduation Day
Last week at the live Friday Free Higher Ed Experts' Talk & Learn, Christine DeHahn Pass (Purdue University) and Jon McBride (BYU) presented a 14-minute session on "Going with Plan B for Graduation Day" in 2 parts:
"Planning an on-demand commencement"
"Celebrating the Class of 2020 — differently"

We've also highlighted the virtual commencement in Minecraft planned on May 22, 2020 by Quaranteen University, a group of students.
Resources & templates
Planning for an on-demand commencement
Purdue University's Commencement Website
Celebrating the Class of 2020 — differently:
How to make an Instagram Video of you talking to the camera (PNG file)
Quaranteen University May 22 Commencement Ceremony
Quaranteen University Website
List of schools (domain names) with students enrolled for May 22 Commencement Ceremony in Minecraft (Google Sheet)
Q&A Panel on Plans B for Commencement
Weekly Talk & Learn on Fridays: free and to-the-point, but you need to register
If you want a weekly check-in with members of the higher ed digital communication, marketing, web and social media community, we've decided to host free "Talk & Learn" online meetings every Friday until further notice.
When you register, you can tell us what you'd like to see covered.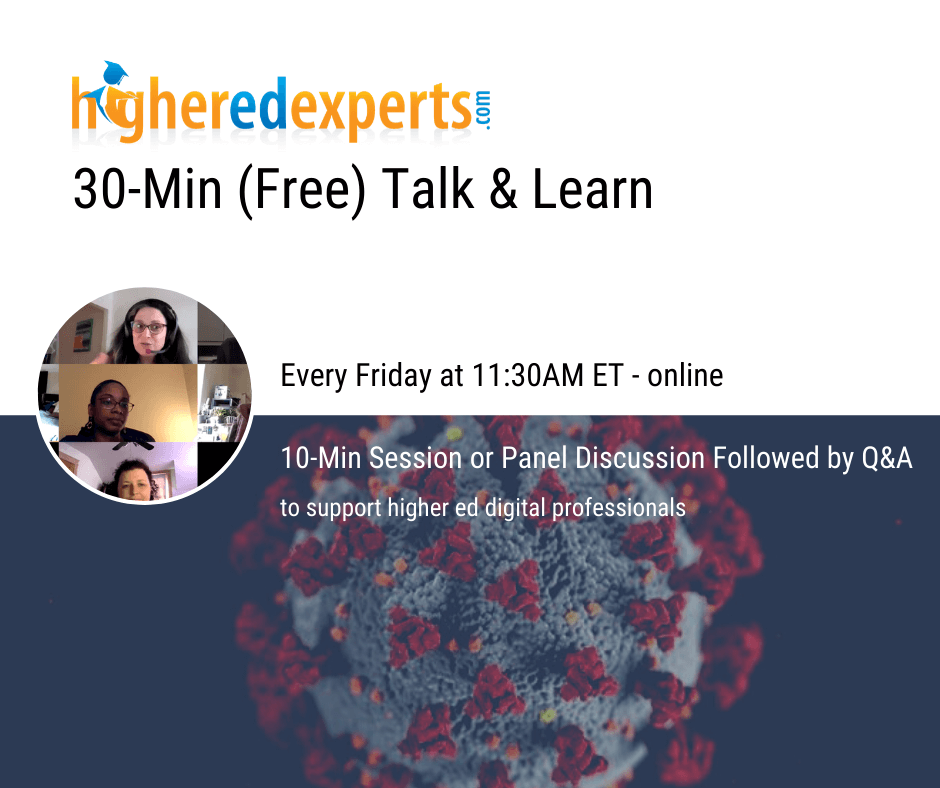 I will use Higher Ed Experts' Zoom "computer audio" (no phone line!) meeting room for these weekly free 30-min Talk & Learn.
So, you need to register ASAP to reserve your free virtual seat.
Tags:
COVID-19 Communications
,
HEETalkLearn
,
Higher Ed News
,
Karine Joly