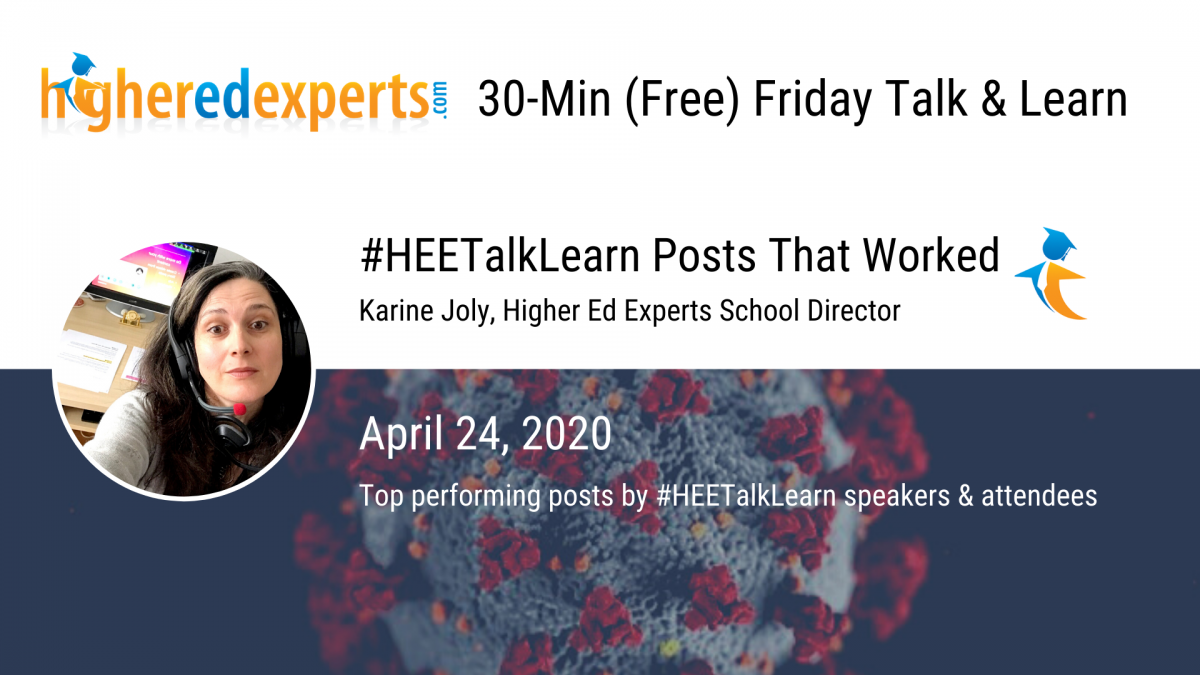 Posts that Works from the #HEETalkLearn Speakers & Attendees
Every week at the Higher Ed Experts' Free Friday Talk & Learn we have a 10-min session on a given topic, but I also share a quick round up of the best performing posts of the previous week suggested by speakers and attendees along with templates when possible.
Featured this week in this 4-min segment:
AR Instagram filter for admitted students from Wheaton College
"In My Own Words" letter series by student athletes from Wright State University
"Proudly Binge Watching" list from NYU screen scoring academic program
"Best of Binge" Twitter polls by WVU Student Life
Self-Care Tips blog posts and Instagram stories from UNL
Social Distancing Tips Video from the University of Michigan.
Augmented Reality Instagram Sticker, Watching, Self-Care & Distancing Tips
In "Posts that Worked" every week I highlight top performing posts to help you share, adopt and adapt posts that worked for others.

Let's start with Wheaton College and their Instagram augmented reality (AR) sticker. Anice Barbosa and David Laferriere have worked on this project to create an Instagram tattoo based on the design of a temporary tattoo done earlier this year.

This AR filter was used on Wheaton College Day, the event for admitted students. So, they could show their pride on social media. It was promoted on the website and via a quick Instagram video. Admitted students — and even some faculty members — loved it.

Anice is sharing the process used to create this filter.

At Wright State University, past presenter Katie Halberg has shared this week the series created by WSU Athletics unit: "In My Own Words." This series features touching and emotional letters from student athletes and resonated a lot with its target audience.

At NYU, past speaker Nitasha Maindiratta worked with NYU screen scoring program to compile a list of all the Netflix, Amazon Prime, YouTube titles scored by alums, students or faculty.

So students can embrace binge watching proudly!

Binge watching is definitely a top activity now — so Sean Hines from West Virginia University social team — like past speaker Morgan Goff — has been quite successful with a "Best of Binge" competition he ran through Twitter polls.

An idea super easy to adapt for your audience.

At UNL, Katie Black has worked on a project promoting self-care tips for students.

This was started with a blog post sharing tips from Big Red Resilience coaches and ambassadors. Then, later turned into an Instagram Story at the end of which students were asked to share their own tips via the question sticker.

This resulted in great, positive engagement.

Last, at the University of Michigan, Nikki Sunstrum and her team have also focused on sharing tips to maintain social distancing among students with a video shared on Twitter

It's witty and full of good advice.

That's it for this week's top performing posts. If YOU have posts that work, send them my way via email karine@higheredexperts.com or DM me on Twitter @karinejoly. I will make a selection for this segment next and share on the hashtag the other ideas.
Resources & templates
HEETalkLearn Posts That Worked (April 24):
Anice Barbosa's process for Wheaton College's AR Instagram filter
WSU "In My Own Words" series with students athletes
NYU Binge Watching — Proudly Instagram post
WVU Best of Binge Twitter competition
UNL Self-Care Tips Medium Post
University of Michigan "Social Distancing and You" Video
Got a post that worked?
If YOU have posts that work, send them my way via our contact form or DM me on Twitter @karinejoly.

I will make a selection for the "Posts that Worked" segment and share on the #HEETalkLearn hashtag the other ideas.
Weekly Talk & Learn on Fridays: free and to-the-point, but you need to register
If you want a weekly check-in with members of the higher ed digital communication, marketing, web and social media community, we've decided to host free "Talk & Learn" online meetings every Friday until further notice.
When you register, you can tell us what you'd like to see covered.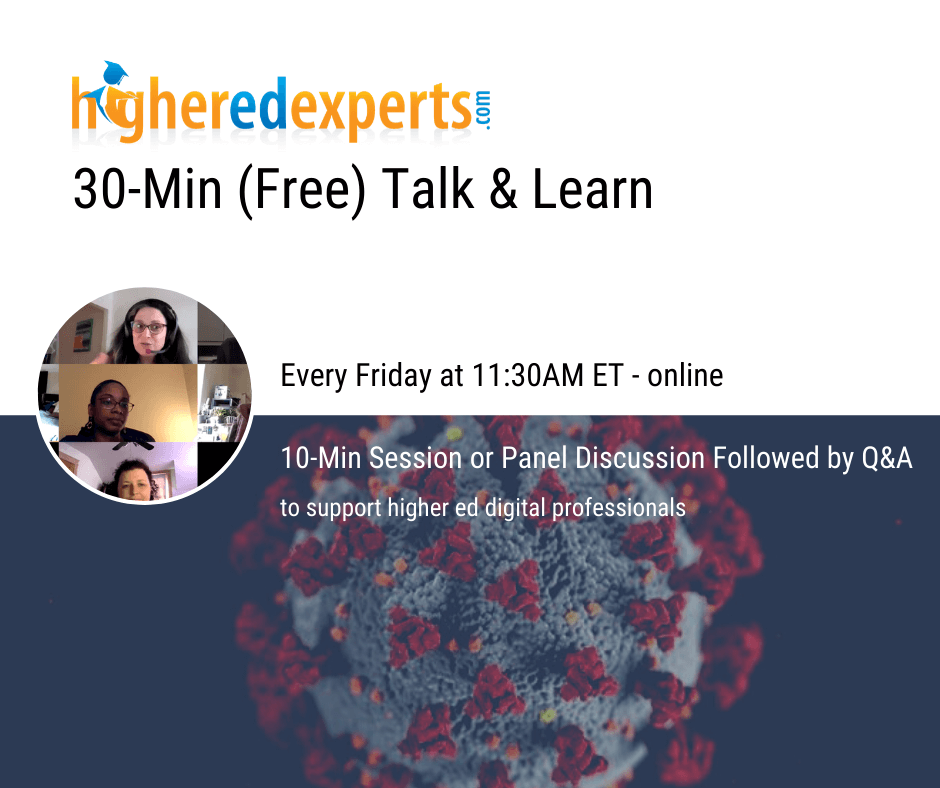 I will use Higher Ed Experts' Zoom "computer audio" (no phone line!) meeting room for these weekly free 30-min Talk & Learn.
So, you need to register ASAP to reserve your free virtual seat.
Tags:
COVID-19 Communications
,
HEETalkLearn
,
Higher Ed News
,
Karine Joly
,
PostsThatWork