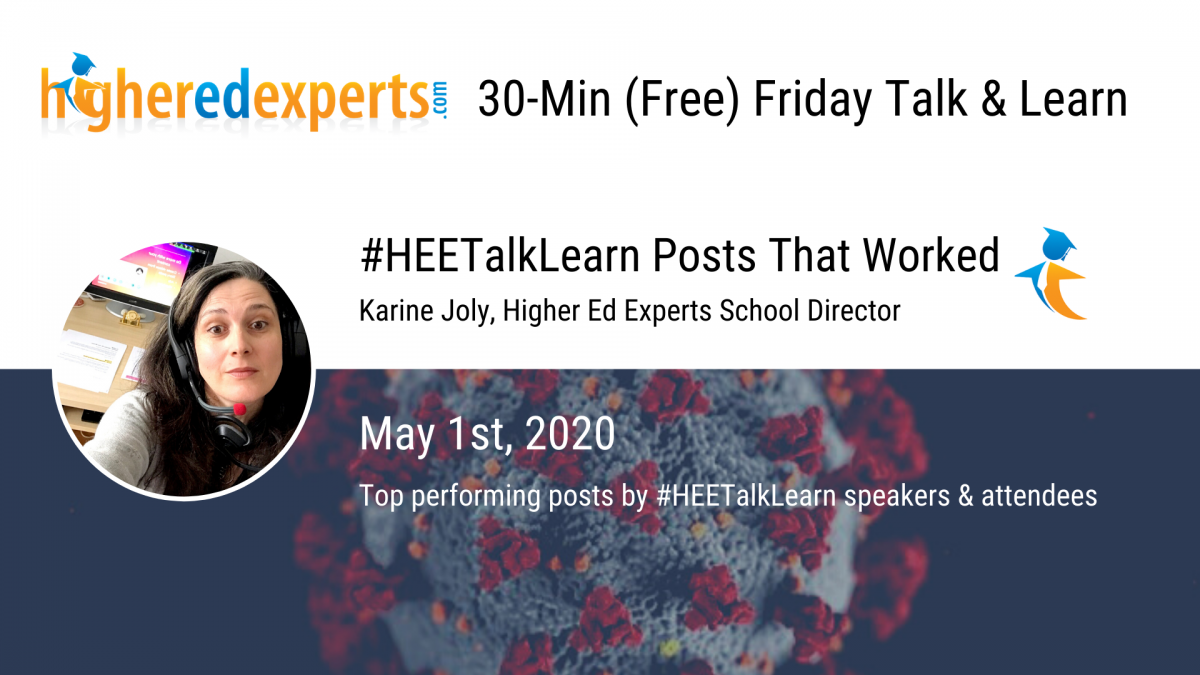 Posts that Works from the #HEETalkLearn Speakers & Attendees
Every week at the Higher Ed Experts' Free Friday Talk & Learn we have a 10-min session on a given topic, but I also share a quick round up of the best performing posts of the previous week suggested by speakers and attendees along with templates when possible.
Featured this week in this 4-min segment:
Midwestern University's creative masks
University of Georgia's See a Dawg, Send a Dawg Tag Game
ODU's Padlet Walls for Graduates
Niagara College's YouTube Premiere Video to celebrate international graduates.
Michigan State University's video for the Class of 2020
Creative Masks, Tag Instagram Challenge, Padlet Walls, Celebration Speakers & Ceremony YouTube Premiere
In "Posts that Worked" every week I highlight top performing posts to help you share, adopt and adapt posts that worked for others.

Let's start with Midwestern University, a healthcare graduate school. Karen Johnson shared this Instagram post featuring suggestions from Physical Therapy Students and Faculty for… creative masks.
The post hit the mark with their target audience composed of healthcare professionals — looking for some comic relief.

At the University of Georgia, Jamie Lewis ran a very successful Instagram challenge: See a Dawg, Send a Dawg.

In this tag game, community members were invited to nominate other Dawgs and keep the chain going. Started with UGA social media ambassadors, it grew from there with the help of their mascot and football players.

This is commencement season everywhere and at Old Dominion University, past Talk & Learn panelist Jamila Walker came up with a comprehensive package for the Class of 2020. 

But besides Instagram Stories, special Zoom Backgrounds and filters you've seen elsewhere, Jamila set up 2 Padlet Walls to invite the ODU community to congratulate graduates with messages on these virtual walls — and it worked.

At Niagara College Canada — today's panelist Jonathan Belgrave ran a YouTube Premiere celebration for the graduates of his school's international program.  

He collected and edited video messages from Faculty. The resulting video, a well-produced 30-min video, was released as a YouTube Premiere and watched live by a hundred students who were very active in the chat while watching. 

Last, at Michigan State University, today's panelist Ellen Doepke and Anthony Siciliano worked together on a scripted video for the Class of 2020.

The goal?

Celebrate the 2020 graduates but also acknowledge their feelings. The most notable and coolest alums delivered this message of support in an emotional and inspiring 2-min video we're going to watch now.

With so many Celebration Speakers, the resulting video is pure magic. 

That's it for this week's top performing posts. If YOU have posts that work, send them my way via email karine@higheredexperts.com or DM me on Twitter @karinejoly. I will make a selection for this segment next and share on the hashtag the other ideas.
Resources & templates
HEETalkLearn Posts That Worked (May 1st):
Midwestern University's Creative Masks Instagram Post
ODU Padlet Walls for the Class of 2020 (Graduates, Family & Friends)
Niagara College Canada's Graduation Celebration for international programs YouTube Video
Michigan State University's Class of 2020 Celebration Video:
Got a post that worked?
If YOU have posts that work, send them my way via our contact form or DM me on Twitter @karinejoly.

I will make a selection for the "Posts that Worked" segment and share on the #HEETalkLearn hashtag the other ideas.
Weekly Talk & Learn on Fridays: free and to-the-point, but you need to register
If you want a weekly check-in with members of the higher ed digital communication, marketing, web and social media community, we've decided to host free "Talk & Learn" online meetings every Friday until further notice.
When you register, you can tell us what you'd like to see covered.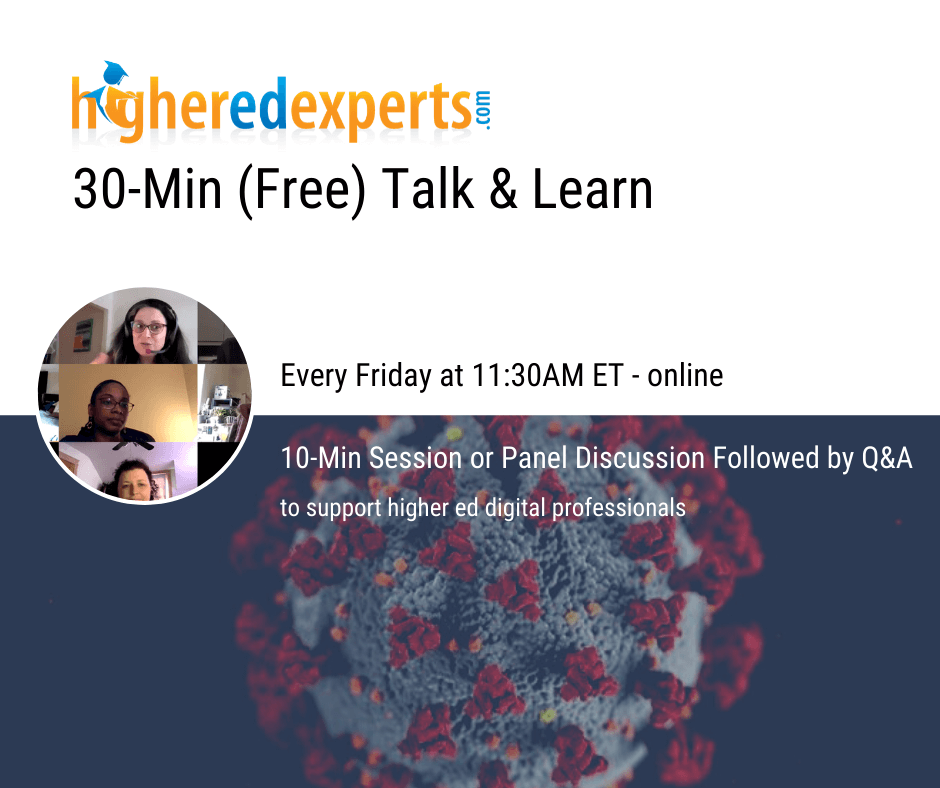 I will use Higher Ed Experts' Zoom "computer audio" (no phone line!) meeting room for these weekly free 30-min Talk & Learn.
So, you need to register ASAP to reserve your free virtual seat.
Tags:
COVID-19 Communications
,
HEETalkLearn
,
Higher Ed News
,
Karine Joly
,
PostsThatWork