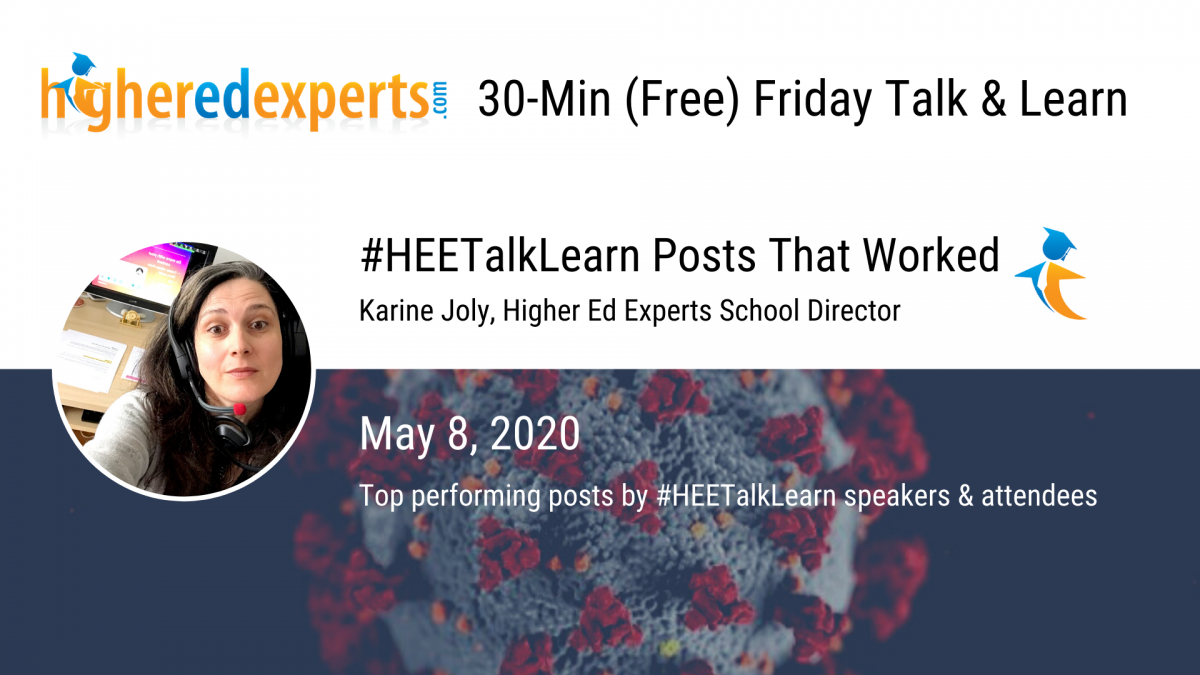 Posts that Works from the #HEETalkLearn Speakers & Attendees
Every week at the Higher Ed Experts' Free Friday Talk & Learn we have a 10-min session on a given topic, but I also share a quick round up of the best performing posts of the previous week suggested by speakers and attendees along with templates when possible.
Featured this week in this 6-min segment:
UCF Commencement Videos
Tom Hanks' 5-min commencement speech for Wright State University
Slippery Rock University's Day of Caring
Flagler Giving Tuesday Now Facebook Live — accessible!
NYU Appreciation Day
UL Lafayette Study Break Videos & Coloring Pages
William & Mary's Virtual Alma Mater
UCF Commencement, Tom Hank's 5-Min Speech, Giving Tuesday, Virtual Alma Mater & Coloring Pages
In "Posts that Worked" every week I highlight top performing posts to help you share, adopt and adapt posts that worked for others.
Let's start with Slippery Rock University in Pennsylvania that ran its giving day last Friday raising more than two hundred and fifty thousand dollars – almost twice as much as the previous one. Marissa Cozza, one of today's panelists, used the Rock Strong Challenge to gather supportive messages with or without a donation – providing more than 1 way for members of SRU to show they care.

At Flagler College in Florida, for Giving Tuesday Now, Holy Hill and team set up multiple Zoom live events – with a sign language interpreter. Shared on Facebook, these focused on stories of impact with students, faculty and friends – helping the school reach its fundraising goal.
At NYU Steinhardt, past speaker Nitasha Maindiratta did an Instagram post for teacher appreciation day – asking followers to share a purple heart emoji to show support — engagement went through the roof, a technique that can be easily adapted at your school for other occasions.

At the University of Louisiana Lafayette, Amy Windsor shared well-received posts created to support students during finals week.
5-minute nature videos to provide a quick study break
and coloring pages featuring popular campus scenes. 
In this time of elevated stress, this content generated positive engagement among students.
At Wright State University, past speaker Katie Halberg had a great time this week, because her school got to share a 5-min commencement speech by Tom Hanks – a friend of the university. Unsurprisingly it resulted in amazing reach and engagement. So, Tom does work.

At William & Mary, another past speaker, Kelly Holdcraft saw great reach and engagement for her 3-week project involving more than 200 students and alums: a virtual choir singing their school alma mater.
The University of Central Florida held its virtual commencement ceremonies last Saturday — as Facebook premieres for each of its 14 colleges. The videos were complete with music, speeches, commencement speakers, a slide per graduate, a virtual alma mater that Carly McCarthy shared
And an inspiring video made just for the Class of 2020 – let's watch it!

That's it for this week's top performing posts. If YOU have posts that work, send them my way via email karine@higheredexperts.com or DM me on Twitter @karinejoly. I will make a selection for next week's segment.
Resources & templates
HEETalkLearn Posts That Worked (May 8):
Slippery Rock University's "Day of Caring" Giving Day Website
SRU Thank You Rock Strong Tweet
Flagler College's Live Giving Tuesday Now Zoom Facebook Live
NYU Steinhardt's Instagram Post for #TeacherAppreciationDay
UL Lafayette's Campus Scenes Coloring Pages & Meditation in Nature Videos
Wright State University's 5-min Commencement Speech by Tom Hanks
William & Mary's Virtual Alma Mater Video
UCF Spring 2020 Virtual Commencement Ceremonies on Facebook
Got a post that worked?
If YOU have posts that work, send them my way via our contact form or DM me on Twitter @karinejoly.

I will make a selection for the "Posts that Worked" segment and share on the #HEETalkLearn hashtag the other ideas.
Weekly Talk & Learn on Fridays: free and to-the-point, but you need to register
If you want a weekly check-in with members of the higher ed digital communication, marketing, web and social media community, we've decided to host free "Talk & Learn" online meetings every Friday until further notice.
When you register, you can tell us what you'd like to see covered.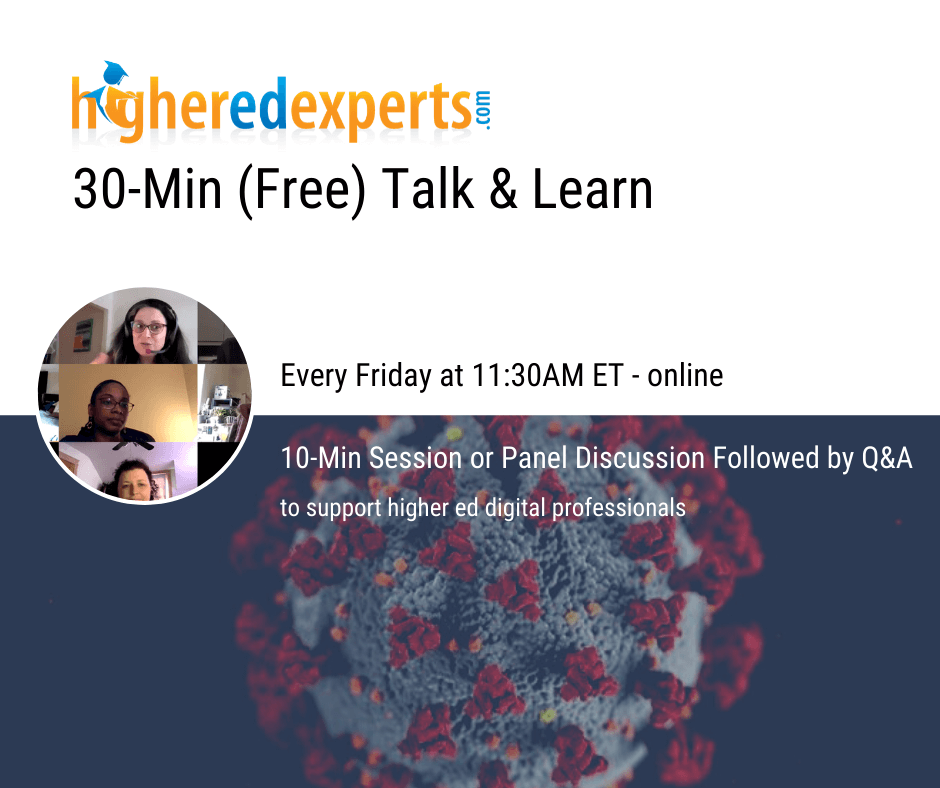 I will use Higher Ed Experts' Zoom "computer audio" (no phone line!) meeting room for these weekly free 30-min Talk & Learn.
So, you need to register ASAP to reserve your free virtual seat.
Tags:
COVID-19 Communications
,
HEETalkLearn
,
Higher Ed News
,
Karine Joly
,
PostsThatWork