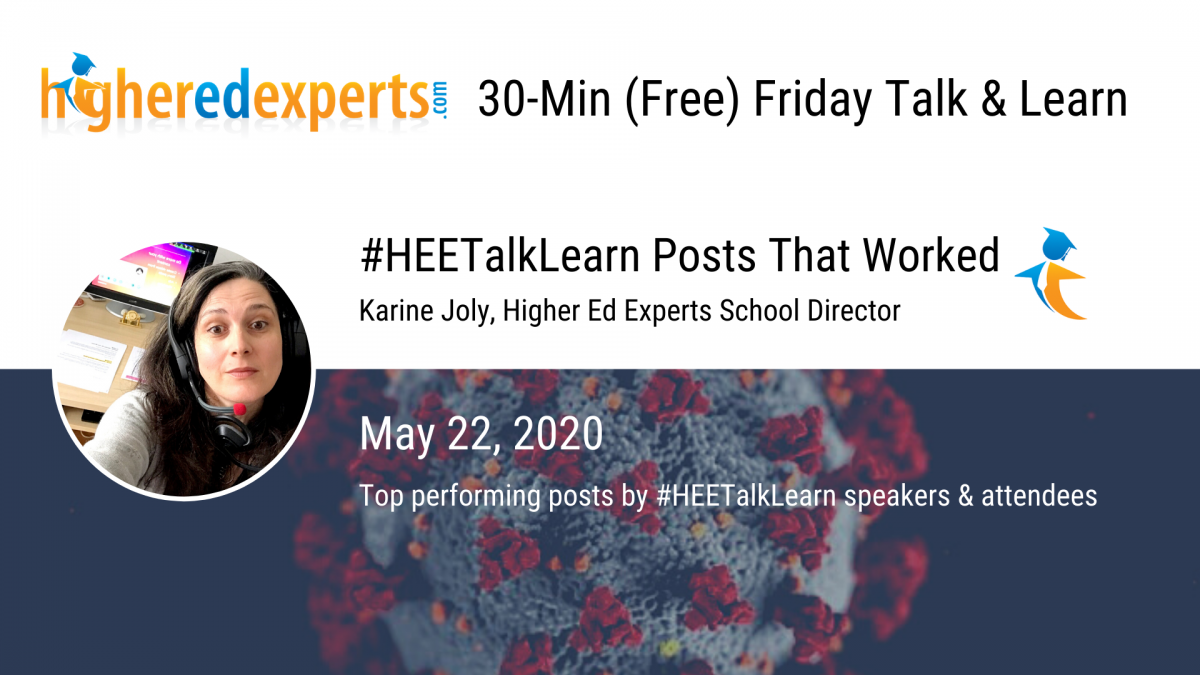 Posts that Works from the #HEETalkLearn Speakers & Attendees
Every week at the Higher Ed Experts' Free Friday Talk & Learn we have a 10-min session on a given topic, but I also share a quick round up of the best performing posts of the previous week suggested by speakers and attendees along with templates when possible.
Featured this week in this 5-min segment:
Shots from popular downtown spots from WSU
Pick 3 Challenge at UNL
Phin Faves at Lemoyne College
One more video (with guest star Brad Pitt) at Missouri State
WVU's TikTok Graduating Dance Video
Pick 3 Challenge, Campus Faves, Brad Pitt's Message, Grads on TikTok
In "Posts that Worked" every week I highlight top performing posts to help you share, adopt and adapt posts that worked for others.
Let's start with Wright State University, past presenter Katie Halberg shared this week a super simple Instagram post that got great engagement.

A collection of shots from popular places in downtown Ohio. Something that really worked well with alums and is very easy to replicate.
In a similar fashion but with an added twist – at the University of Nebraska-Lincoln, Taylor DeMaro shared what UNL did with the Pick 3 Challenge, a challenge that has been doing the rounds on social media lately.
A post you can create with a few shots of popular campus places. For UNL, impressions went through the rough on Instagram, Facebook and Twitter — and engagement was high as everybody was invited to post a comment to share their personal selection.

At Lemoyne College, Michelle Tarby shared a couple of weeks ago what she did for Lemoyne's Accepted Student Day: an Instagram Story highlight: Phin Faves.
A collection of suggestions from current students of all the "can't miss" experiences on campus: events, classes, professors and so on. Another idea very easy to replicate and a good resource to build over the summer.

At Missouri State University, the dynamic duo Kevin Ajee and Chris Nagle did it again this past weekend with one more video to celebrate MSU class of 2020. A video featuring Missouri State's President and guest star Brad Pitt with a short message for graduates.

Star power for the win — and great engagement on social media.
Last at the University of West Virginia, past speaker and today's panelist Morgan Goff shared one of the many pieces of content the team created to celebrate the class of 2020 last weekend: a TikTok themed around graduation.
A few of the WVU grads were asked to send videos, videos that were then compiled into one TikTok. The fun result was also shared on other platforms: Instagram Stories, Twitter, and Facebook – with great results in terms of engagement.

Let's watch the it now.

That's it for this week's top performing posts. If YOU have posts that work, send them my way via email karine@higheredexperts.com or DM me on Twitter @karinejoly. I will make a selection for next week's segment.
Resources & templates
# #HEETalkLearn Posts That Worked (May 22):
Wright State University's Downtown Pictures Instagram Post
UNL Pick 3 Challenge Twitter Post, Facebook Post & Instagram Post
Lemoyne College's Phin Faves Instagram Story Highlight
Missouri State University's One More Video with guest start Brad Pitt
WVU Graduating TikTok video
Got a post that worked?
If YOU have posts that work, send them my way via our contact form or DM me on Twitter @karinejoly.

I will make a selection for the "Posts that Worked" segment and share on the #HEETalkLearn hashtag the other ideas.
Weekly Talk & Learn on Fridays: free and to-the-point, but you need to register
If you want a weekly check-in with members of the higher ed digital communication, marketing, web and social media community, we've decided to host free "Talk & Learn" online meetings every Friday until further notice.
When you register, you can tell us what you'd like to see covered.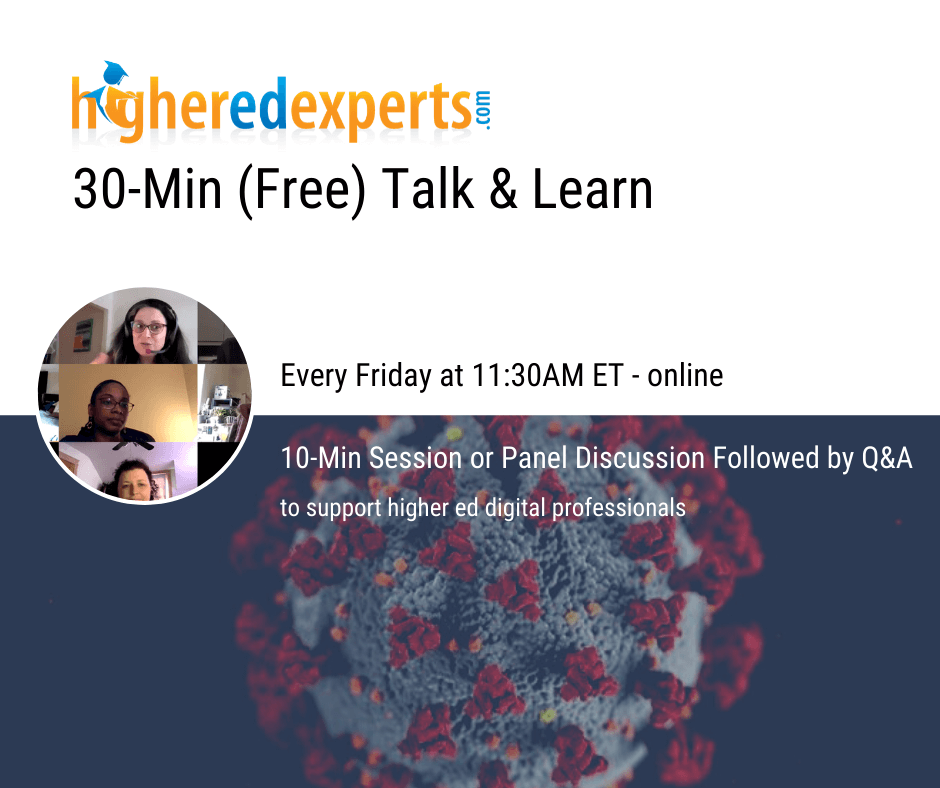 I will use Higher Ed Experts' Zoom "computer audio" (no phone line!) meeting room for these weekly free 30-min Talk & Learn.
So, you need to register ASAP to reserve your free virtual seat.
Tags:
COVID-19 Communications
,
HEETalkLearn
,
Higher Ed News
,
Karine Joly
,
PostsThatWork