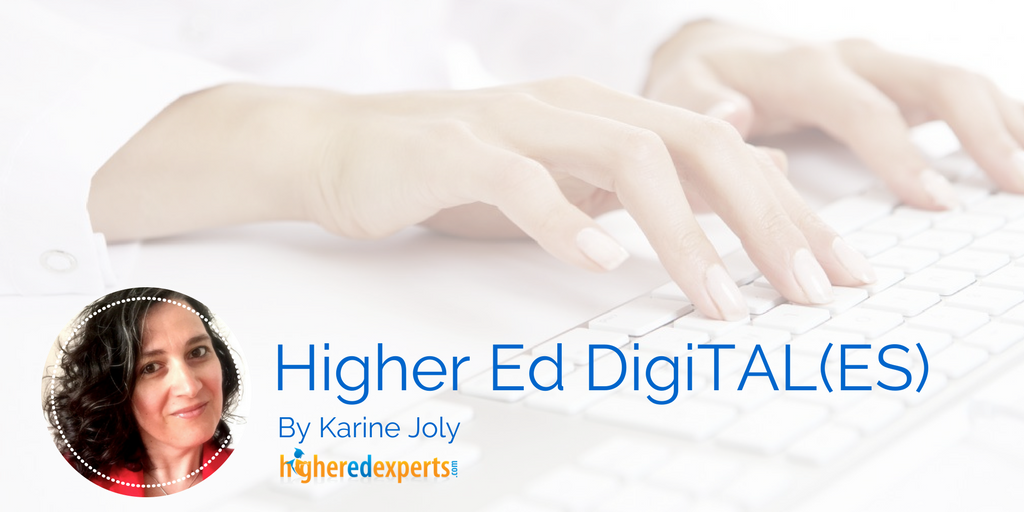 Higher Ed DigiTAL(ES) is a series on career advice for digital marketers and communicators working in higher education. Expect tips, tricks, tools and tales collected through a decade helping your higher ed colleagues learn and grow in their digital career.
What's preventing you from submitting a conference proposal?
What is the biggest reason for NOT submitting a session idea to the call for proposals of a higher ed marketing conference?
The fear of a rejected proposal!
I know, because my presenter story includes dozens of presentations (including a couple of keynotes) at several conferences but also several rejected proposals.
Rejection is never fun – whether you find out your idea (it's always the topic that gets rejected, not the presenter) didn't make the cut via an email or by checking the program when it's finally announced to the world (yep, it can happen too, even if ghosting presenters isn't the norm in higher education).
Yet, a proposal that isn't selected for the program is never a waste of time. On the contrary, taking the time – even if it's only for an hour – to reflect on your work is always time well spent.
Moreover, a proposal that isn't chosen for a conference can end up being selected by another or open the door for a future presentation.
3 Stories from higher ed marketing conference presenters, your peers
Presenter stories are rarely linear.
After working personally with hundreds of your higher ed colleagues on their conference presentations for the past decade, I've witnessed and followed many of these stories.
Today, I'd like to share the story highlights of 3 of your colleagues who decided to get out of their comfort zone, take a chance and submit a session proposal to one of the conferences Higher Ed Experts in the past.
Krista Boniface, University of Toronto
Krista Boniface, the social media professional behind the University of Toronto flagship accounts, had only participated to a panel and presented at her school when she submitted her first proposal for the Higher Ed Social Media Conference (HESM) in 2017.
It was really good. Yet, it got waitlisted, because other topics were a slightly better fit for the conference program.
But, it's THIS proposal that started the conversation between Krista and me. A few months after, I encouraged her to submit another proposal for the Higher Ed Content Conference (HECO). When Krista mentioned Instagram Highlights in an email about her proposal ideas, my curiosity was instantly piqued. I knew this would be a great topic for our HECO18 conference — and her session was a hit with conference attendees in April 2018.
"After my HECO experience, many people got in touch with me and my understanding and connection to the Higher Ed community really flourished," she wrote when I asked about her "presenter story." Presenting at HECO gave Krista the confidence to submit proposals to other conferences — and, ultimately to present for the first time at the PSEWeb Conference last summer.
"You have nothing to lose by submitting a conference proposal to share your insights. What you have learned in your role will matter to others," she added in her email. According to Krista, everyone is learning and has something to contribute in the higher ed community.
Hey! It's my face in @karinejoly's @higheredexperts drop-in at #pseweb! As a past #HESM conference presenter, I can totally vouch. The webinars have been a great way to get our community together. pic.twitter.com/wQrlABjuaY

— Krista Boniface (@KristaBoniface) July 9, 2019
After presenting at the PSEWeb Conference this summer, Krista co-presented with her colleague, Lisa Lightbourn, at the 2019 HighEdWeb Conference in Milwaukee, WS and their session won the Best of Track award!
Whoa. @lilight & I just won best in track. ? Fellow first-time presenters & long-time presenters, I am blown away by your work.

To my director @chrisboutet who has supported my growth & #ThisIsUofT from the start, thank you. This one's for you, #UofT! ?#heweb19 #hesm https://t.co/W48HAtfrzn

— Krista Boniface ? #heweb19 (@KristaBoniface) October 16, 2019
Erika Boltz, UF Health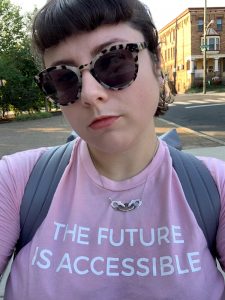 I met Erika Boltz (Forsack) in my online classroom in the summer of 2017 when she was the Social Media Strategist for VCU Arts. I was impressed by the quality of her ideas and work during the 8 weeks of my course on social media marketing for higher ed. A few weeks after completing the course, Erika was hired as the Social Media Strategist for the entire university.
The timing of the call for proposals for the HESM Conference wasn't optimal as she had just started her new job, so I encouraged her to submit a proposal to another of our conferences.
When we discussed via email what she was working on in her new position — training on accessibility social media administrators at her school, I knew right away I wanted her to present about it at the HECO18 conference. So, I kept following up (bugging her) to make sure she would submit a proposal by the February deadline. Her session on social media accessibility ended up being one of the top rated by attendees.
Mail day ? I had such a great experience presenting at #HECO18

Thanks @karinejoly! pic.twitter.com/VW9x6gvmEv

— Erika Forsack (@ErikaForsack) June 4, 2018
HECO18 was Erika's first conference as a presenter, but it sure wasn't the last 🙂 In 2018, she presented at the College Communication Association Conference at Norfolk State, the UCDA Conference as well as the 2018 High Ed Web Conference and the 2018 Higher Ed Social Media Conference! This year her conference circuit includes the 2019 eduWeb Summit, the 2019 High Ed Web Conference and the 2019 Higher Ed Social Media Conference.
Came back from the snow day to this!

Thanks @higheredexperts @karinejoly ? pic.twitter.com/aWJ4rinrJu

— Erika Boltz #a11y (@efboltz) December 12, 2018
"Following HECO, I had folks from all over reaching out to connect on future projects about accessibility and even had a job offer," (the job she has now!) she wrote in her email, before adding that someone she met through HECO was supportive in her applying to the High Ed Web Conference.
Erika's advice to her higher ed colleagues who have never presented before?
"Take the time to get to know people, and step out of your comfort zone (…) You got this."
Erin Supinka, Dartmouth College
Erin Supinka, Assistant Director of Digital Engagement at Dartmouth College, had 7 presentations for different conferences (HighEdWeb, Confab, SXSW, etc.) under her belt when she submitted her first proposal for the HESM Conference in September 2017. Since Erin was an alum of our professional certificate program on social media measurement for higher ed, I also bugged her to submit a proposal for the Higher Ed Analytics Conference. She did and ended up presenting at both conferences.
Yet, Erin remembered still having doubts after her proposal was accepted: "Something that plagues me constantly is the little voice in my head that tries to convince me that my idea isn't good enough. That voice sticks around even after I've had a proposal accepted. Karine knows exactly how to help you tell those voices to get lost."
I have to say that this is probably one of the coolest piece of feedback I've ever received on the work I do with conference speakers. I try to do my best to support, guide and help all our conference speakers, so they can give their best, shine and confidently keep writing their presenter story after we work together.
The thinking involved in coming up with a conference proposal has forced Erin to set aside time to articulate – and showcase – her thoughts on the work that matters the most. "I've been able to take both presentations back to my office and supervisors and demonstrate to them all the work they may not be aware of that goes on in my day-to-day," she added in her reply about her presenter story.
Happy, happy, joy, joy! Loving my newest office addition. Thanks, @karinejoly and @higheredexperts. #hesm17 was a blast. Can't wait to do it all over again for #hea18!?? pic.twitter.com/PfJUcvCeIn

— Erin Supinka (@ErinSupinka) December 7, 2017
According to Erin, presenting at the HESM17 and HEA18 conferences organized by Higher Ed Experts has helped her identify truly how much she had to share and "directly resulted in the submission (and acceptance!) of several conference proposals," including eduWeb18 and HighEdWeb18. Erin's session at this last conference was voted the best of the conference among the 100 presentations presented there.
Congratulations to our Red Stapler award winners, and our 'Best of Conference' superstar Erin Supinka! #heweb18 #RedStapler #BestofConference pic.twitter.com/MyJGkRGTar

— HighEdWeb (@HighEdWeb) October 24, 2018
Get out of your comfort zone, start your higher ed conference presenter story!
Presenter stories are rarely linear, but they all start with professionals getting out of their comfort zone by submitting a proposal.
Higher Ed Experts conferences are a great place to take this first (or the big next!) step on your presenter journey, because my job is to help you showcase your expertise.
As a small school for digital professionals working in universities and colleges, Higher Ed Experts strives to provide a platform for new voices or fresh ideas from more experienced voices to advance the careers of all our learners, you and your colleagues.
If you read so far and do some work on higher ed content, why not take this step now — or if you are a seasoned presenter, why not take it again with us this year?
Take that leap, submit a proposal for the 2020 Higher Ed WEBSITES Conference before April 1st, 2020 and start your presenter story. I can't wait to hear about it and meet you!
Conference proposal: from brainstorming to submitting in 60 minutes
If you need more help, here's my guide on how to find a good topic and get your proposal ready in 1 hour of focused work (no interruption).
Take 15-minutes (set up a timer, ask Siri) to list the projects you've worked on, the best practices you've implemented, the tools you've incorporated in your workflow or/and the lessons you've learned over the past 6 to 8 months.
When you're done, take a 2-minute break. Only 2 minutes though 🙂
Now, read the list you've just made and look for 2 points that you would implement/use again if you started a new job at another school. This little exercise will help you find quickly the most interesting topics for your colleagues. Take 10 minutes to come up with your short list.
For each of the topics on your short list, spend no more than 5 minutes to write a short paragraph addressing why this is important, timely or useful and what your colleagues will learn by attending your session.
When you're done, take a 3-minute break.
Read your 2 paragraphs and add a descriptive title for each. Don't worry too much about the wording at this stage. I always do a rewrite of session titles and descriptions for the final program. I want to make sure it doesn't read as it was written by 12 different people :-). So, don't spend more than 10 minutes on this.
Take the remaining 10 minutes to submit THE proposal that aligns the most with your professional brand. What do you want to be recognized for in our industry? If you can't choose between 2 topics, submit both. You will also be asked to provide a short bio as well as a photo (think LinkedIn profile photos).
Congratulations, 60 minutes of focused work and you're done!
This post is an updated version of a post originally published in August 2018.
Tags:
Higher Ed Experts Faculty
,
Higher Ed Marketers Career Advice
,
Higher Ed News
,
Karine Joly