What are your top professional goals for 2015?
What do you need to learn to get there?
As you know Higher Ed Experts is the only school focusing exclusively on digital professionals like you working in universities and colleges. Many institutions have started to recognize the professionalism of our grads when it's time to select candidates for promotions or new positions.
Our professional certificate onilne courses for higher ed can help you get ready for 2015 and beyond.
And, until the end of the year, they can also help your team get some quality training — for free.
A $400 Gift for Your Higher Ed Team?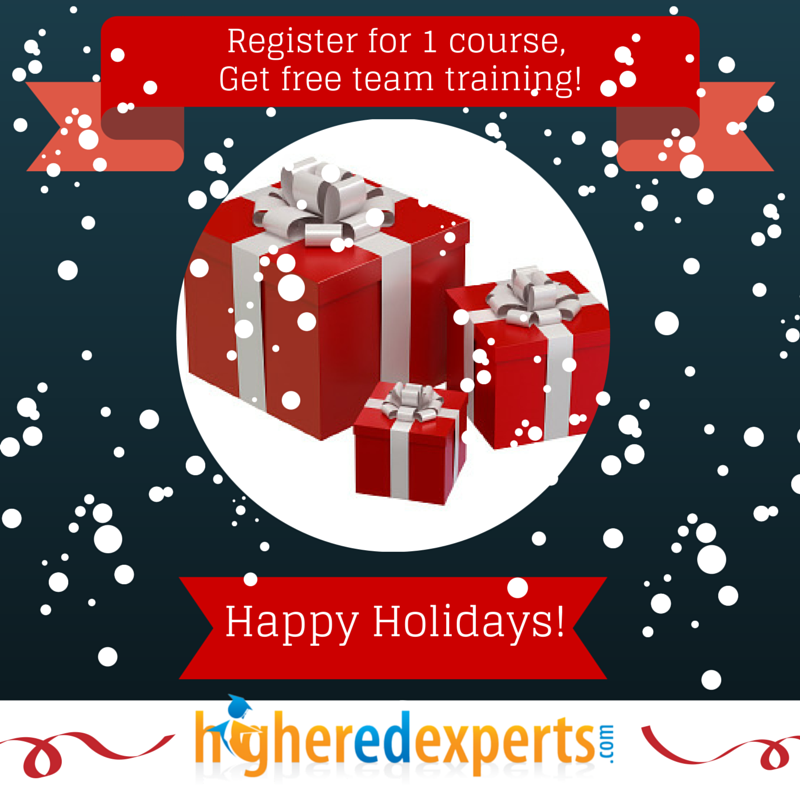 Just register and pay (credit card or PO) for an online course – for you – by December 31, 2014 to receive a 12-month access – for your team – to 1 of our on-demand conferences (up to $400 value) about social media (yep, the conference we held earlier this month), web content strategy, responsive web design or project management.
What Your Higher Ed Colleagues Say about The Professional Certificate Courses They Took
We have several 4-week online courses for higher ed starting on January 20, 2015, so why not find out what Higher Ed Experts Grads say about them?
Oh, and remember to register and pay for your course by December 31st, 2015 to get this offer — available until the session is sold out.
You will get access to the on-demand conference of your choice the week before the start of your course. We will contact you then to find out about your choice.

Tags:
Higher Ed News